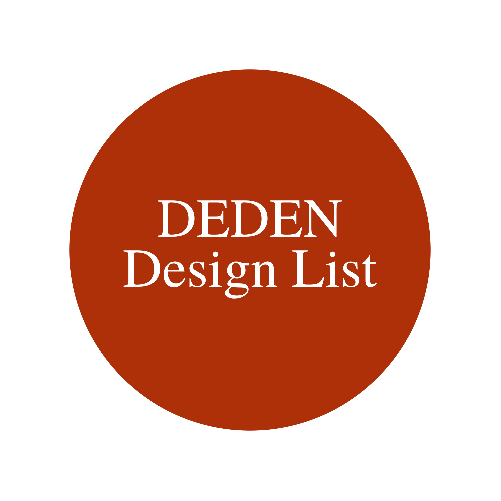 A monthly list curated by Antonella Dedini
We are proud to publish the very first edition of The List, Deden Design List's monthly feature for Design Italy. Each month, we'll showcase a specific category of iconic pieces of design, with this first list being dedicated exclusively to outdoor furniture.
Patios, terraces, gardens, yards, and the like need furniture that has two functions: that of keeping in step with the styles of the time, as well as providing maximum comfort.
Since the dawn of time, people have been furnishing outdoor spaces. This month's The List will be a journey to understand which pieces are at the forefront of contemporary outdoor furniture design, while also delving into the essential materials and features of garden furniture, which have to be weather-resistant, light-weight, and easy to store.
So without further ado, let's take a look at some of the pieces that over the centuries and decades have made their mark on the outdoor seating design landscape.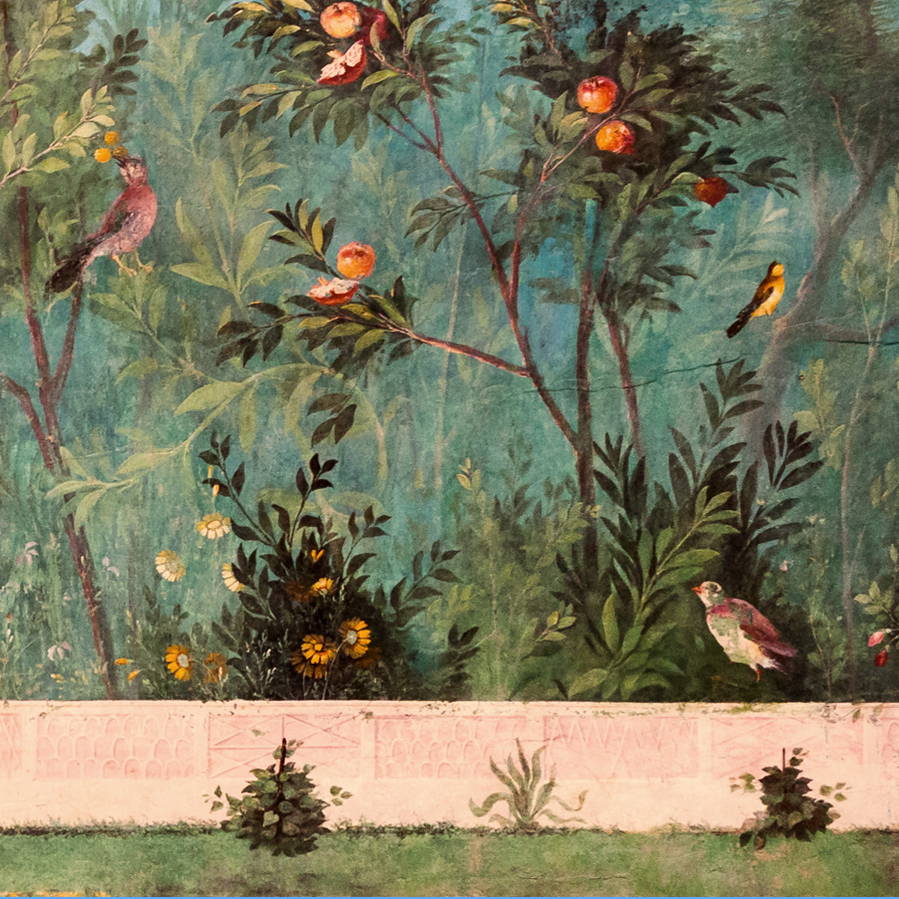 Gio Ponti, Lio Carminati, Peacock armchair, Vittorio Bonacina & Co, 1948–60

The Peacock chair is perhaps the most famous outdoor chair ever designed. Made entirely of rattan, an extremely strong, light material, the chair is often also referred to as a Manila chair or a Philippine chair due to its likely having originated in Southeast Asia as early as 1600. Featured in famous portraits and settings throughout history, the chair has a high, curved, and enveloping backrest that gives it the appearance almost of a throne.
Rattan, a vegetable fibre obtained by processing certain species of climbing palms, is one of the most used materials in garden furniture thanks to its being waterproof and breathable. This natural fibre is obtained from plants belonging to the Calameae palm tree tribe in the subfamily Calamoideae, and is not to be confused with wicker, which is finer, or bamboo, which is hollow and stiffer.
One of the most famous modern versions of the classic Peacock chair is the Gio Ponti and Lio Carminati's version which they created in 1948 for Italian company Bonacina. Their rendition was produced for the outfitting of the cabins and living areas of the famous oceanliner Conte Biancamano. It then met with great success in private homes and became a timeless icon.

Discover the Peacock Armchair PAVO REAL by Patricia Urquiola for Driade on Design Italy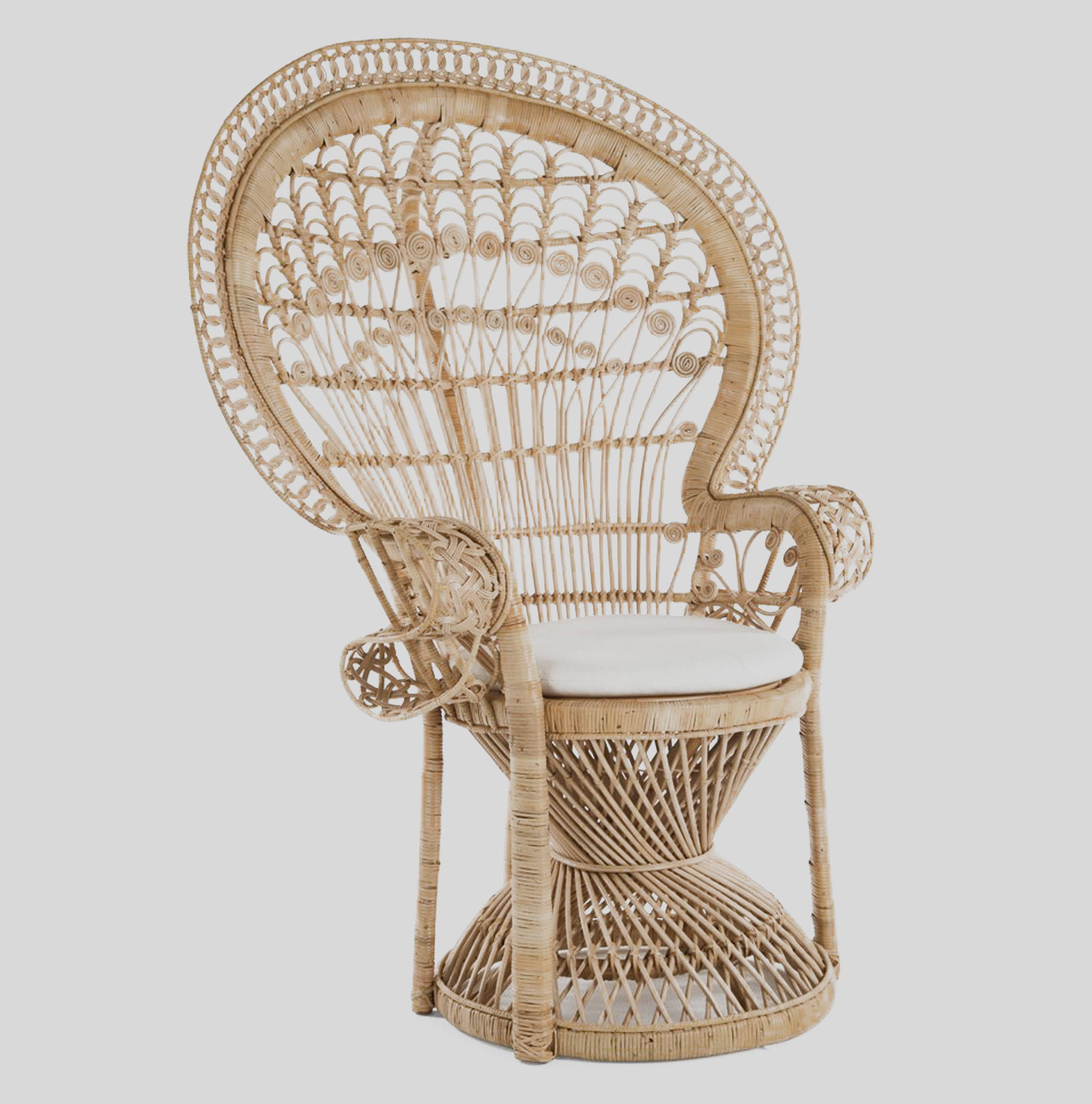 Wrought iron furniture, 1860

The booming industrial revolution in the mid-19th century gave way to the application of various new materials for the production of furniture.
Around 1860, Europe began facing difficulty in using cast iron to make outdoor furniture given that the material was too expensive, heavy, and durable for the nascent consumer society. It was thus replaced by a new metal: chairs were created from curved, welded iron rods, with seats and backrests often made from thin and flexible or perforated sheets to allow rainwater to drain easily.
The new technique gave way to inexpensive and extremely practical outdoor seating with sinuous lines that soon began proliferating everywhere. This furniture required more maintenance than cast iron furniture, but was far easier to move around. Often found in the paintings of the Impressionists of that period who depicted them in parks, cafes, and private gardens, they quickly become protagonists of a changing society.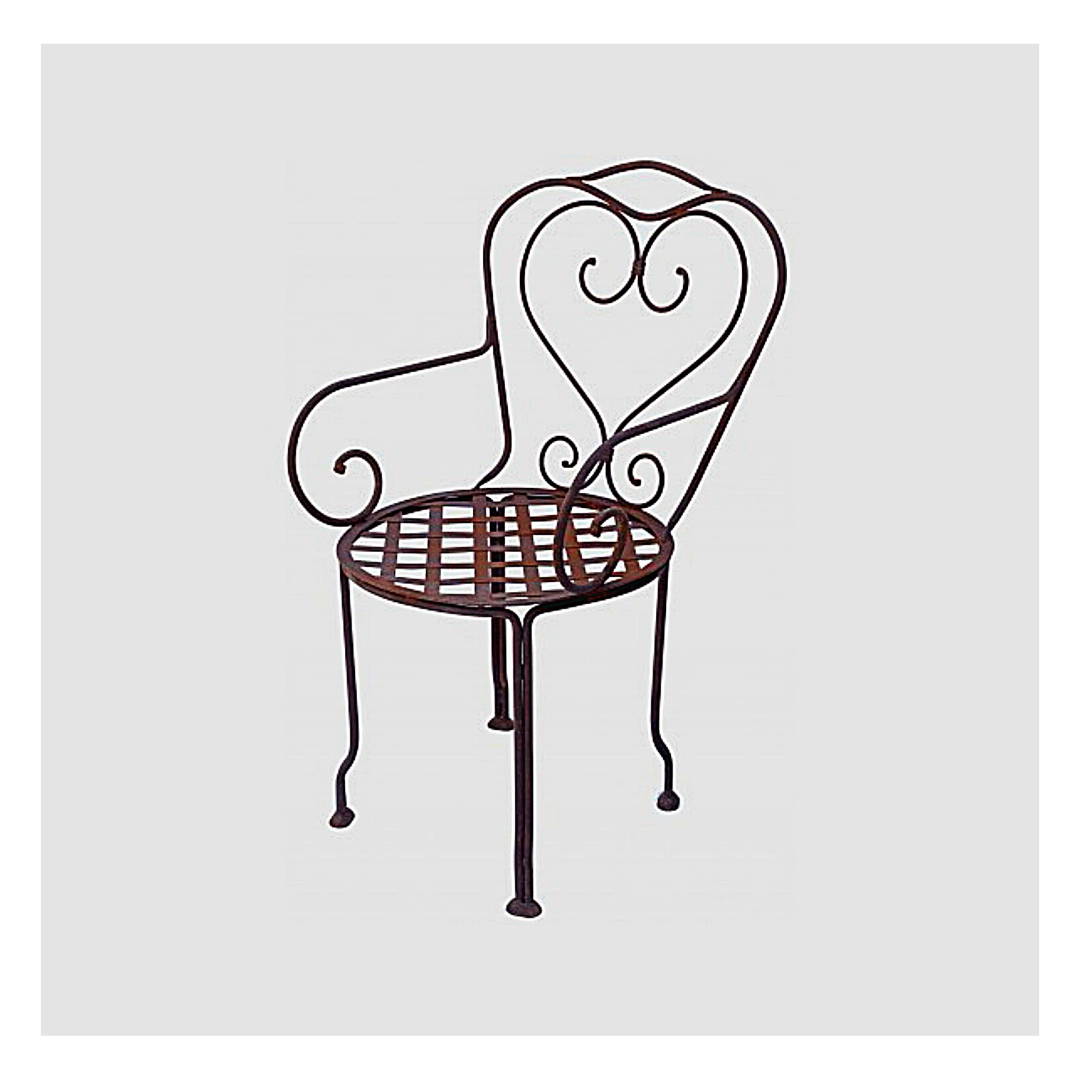 Ludovica + Roberto Palomba, Sissi Green Chair, Driade, Italy 2017


In Europe in the mid-19th century, thanks also to the Art Nouveau movement, a new formality pervaded public places, gardens, and homes. The new, semi-industrial production of furniture made use of new materials including wrought iron, as well as new techniques such as in Michael Thonet's bentwood chairs.

Furniture thus became prototypes of a concept of comfortable living that we still find in contemporary projects that experiment with new materials yet still maintain ties with unforgettable forms of the past.
The Sissi chair by Ludovica + Roberto Palomba is a flawless example of a modern piece that is a tribute to the past. A synthetic, highly wear-resistant and light material is used to create this monobloc in polypropylene, reinforced with fibreglass, creating forms that call to mind the work of Viennese artisans.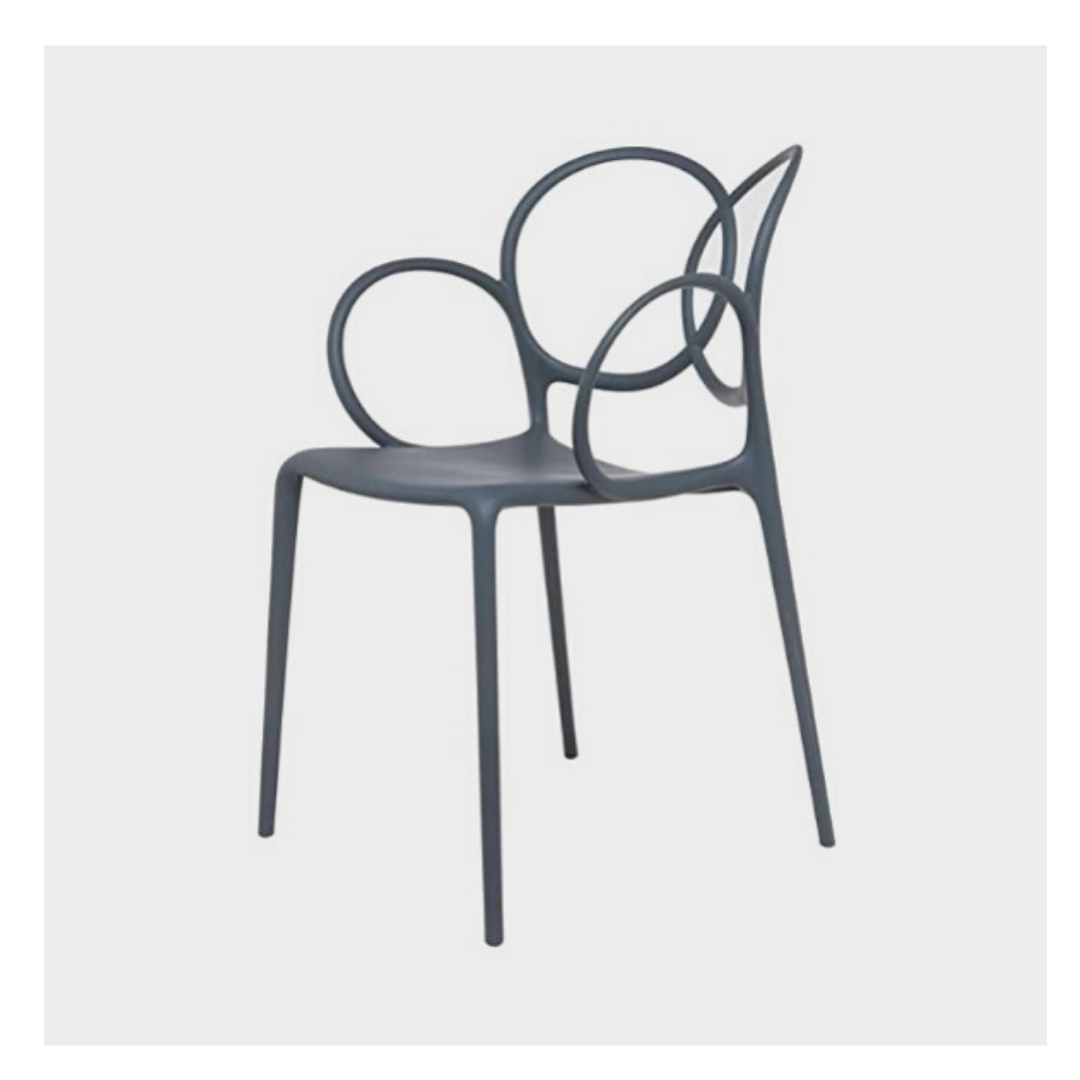 Richard Riemerschmid, rattan and pinewood armchair, Germany, 1904
Richard Riemerschmid, a German architect who was a central figure in the Art Nouveau movement, was a multifaceted designer of architecture, furniture, fabrics, glass, and furniture that aimed to replace the prevailing floral tastes of the time and replace them with unpretentious geometric lines. He was one of the founders of the Deutscher Werkbund movement (1907) and his goal was to bridge the gap between industry and applied arts that at the time hindered artistic creation.

The rattan armchair that he designed in 1904 is one of the most famous garden chairs thanks to its modernity and faultless volumetric proportions. At the time, formal plasticity could only be achieved by sculpting wood, for example Antoni Gaudì's furniture, or by weaving materials such as rattan, as in this case.
This chair is remarkably comfortable thanks to a careful study of proportions and ergonomics. Now considered a classic that cuts across styles and trends, many contemporary designers still use this chair's shape as inspiration, harnessing a variety of materials to make it suitable for both indoor and outdoor use.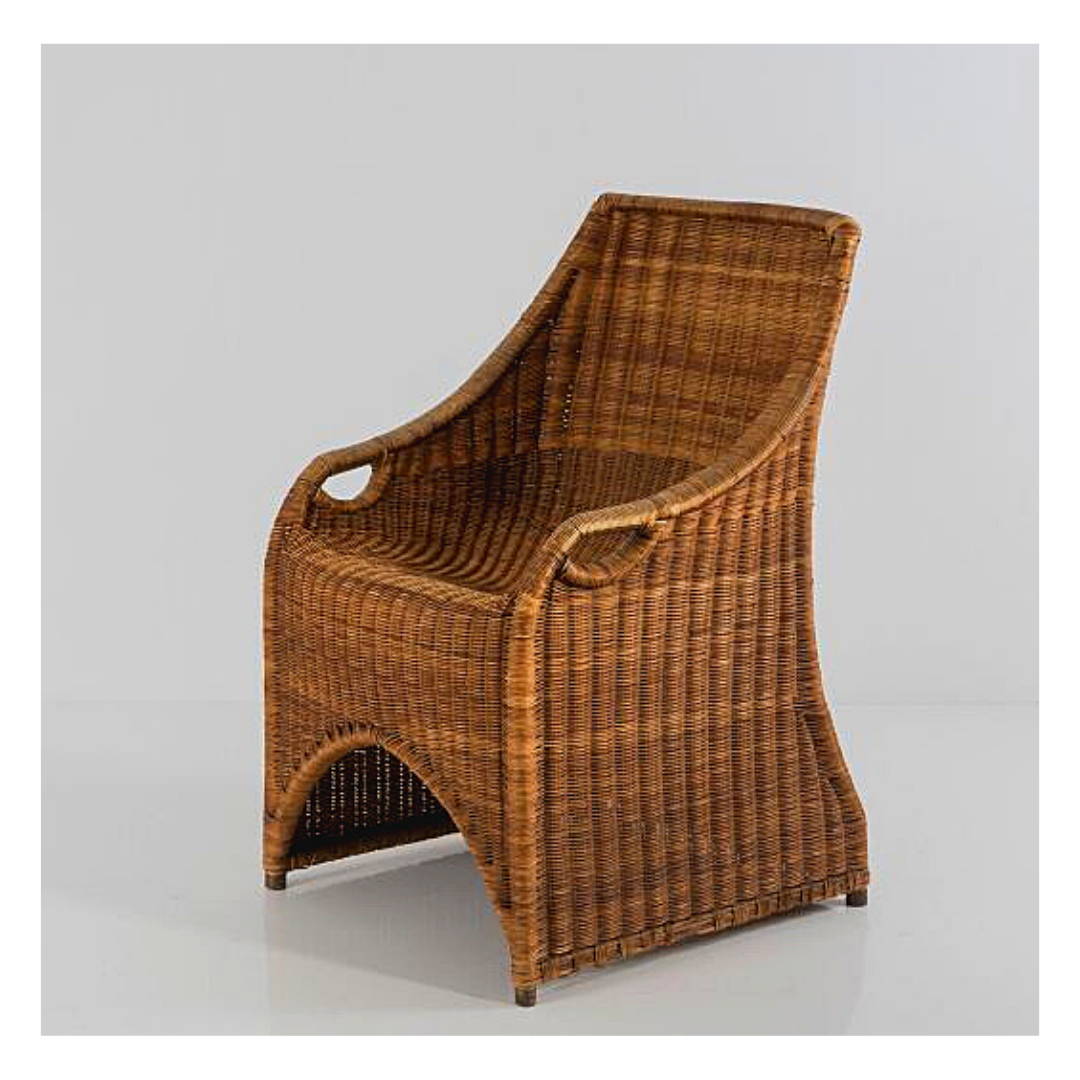 Historical Archive, Bonacina, 1940

Vittorio Bonacina with Renzo Mongiardino, Antica Chair, Bonacina Historical Archive, Italy, 1940
Mario Bonacina and Renzo Mongiardino created furniture for the most beautiful and photographed homes around the world, inspired by the company's historical archive. The union of a visionary entrepreneur who made dreams come true and a great interior architect brought about the Antica chair, which features a rattan structure and rattan-core weaving. Today, Elia Bonacina represents the fourth generation of Bonacina, which is famous all around the world for its rattan and wicker products.
"Each creation has a serial number", Elia explains, "and is the product of craftsmanship that has been handed down over time. Rattan, which grows in Southeast Asia, is carefully selected and then handcrafted by skilled craftsmen". That is how timeless products are born, whereby traditional style is combined with contemporary forms. "Craftsmanship and the search for detail are the underlying aspects of made-in-Italy manufacturing that is loved all around the world" (from a 31 May 2018 interview in newspaper Corriere della Sera).
Bonacina's Decor collection is inspired by iconic pieces collected in the company's historical archive: classic, unaltered, and quality pieces that are still available in the company's catalogue but with updated finishes and matching upholstery.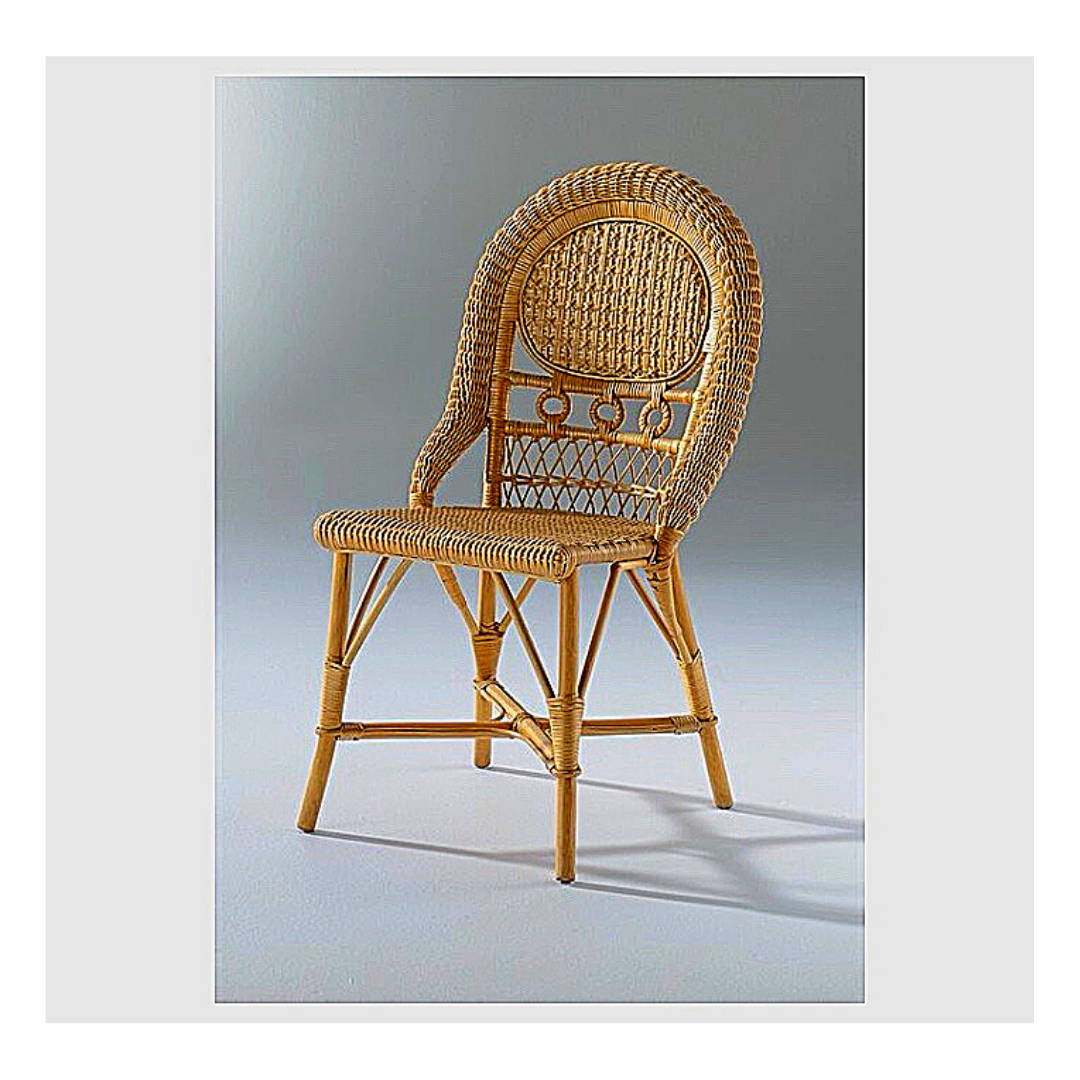 Vico Magistretti, Uragano Chair, DePadova, Italy, 1992


Vico Magistretti – known as Vico – was a master of Italian creativity. His career of undeniable genius spanned over sixty years in industrial design, architecture, and urban planning. He is remembered thanks to his attention to the theme of living with innovations, which we still reap the benefits of today: for example, he created the very first plastic chair.
Indoors, outdoors, across time and styles. His Uragano chair is a perfect example of this. With a structure in bleached or black ash wood and curved wicker for the seat, this seat is handcrafted and finished and is a classic yet modern gem. A modern revisitation of the rattan chair, Uragano can be used both for indoor living areas and outdoor spaces on verandas or patios. It is a piece that its Italian designers succeeded in reinventing thanks to their culture and methodological approach to the project.
A must when visiting the city of Milan, the Vico Magistretti Foundation is a place that not just professionals will love. It shows that design is all around us and can make life all that much better. Here, one can discover design that conveys elegance and sobriety, which are rare today.
James B. Fenby, Tripolina Chair, USA, 1881

The Tripolina folding chair was designed by Englishman James B. Fenby and was patented in the USA in 1881. Originally produced for military use given its comfort and stability on uneven ground, the Tripolina frame is in either wood or metal, while canvas or leather are used for the seat. The chair is easy to assemble and disassemble, thanks to its clever design with pockets of fabric that slide over the frame, and a special bag to carry it around.
It was also used for safaris, exploring, and simple outdoor trips given its stability in the sand. Named after the city of Tripoli in Libya, which was an Italian colony from 1922 to 1932, in the 1930s the chair was produced by Italian company Paolo Viganò and sent to Italian armed forces in Libyan territory.
Since then, the chair has inspired numerous companies that produce various versions, including the English Paragon chair, sold by Harrods until the end of the 1980s. One of the most famous projects inspired by the Tripolina chair is the BKF chair, better known as the Butterfly chair, which was designed in Buenos Aires in 1938 by Grupo Austral, an architectural collective of three Argentine architects who assisted Le Corbusier in Paris.
Image of the original patent by J.B. Fenby:

Image of antique leather used for a Tripolina chair from the 1930s: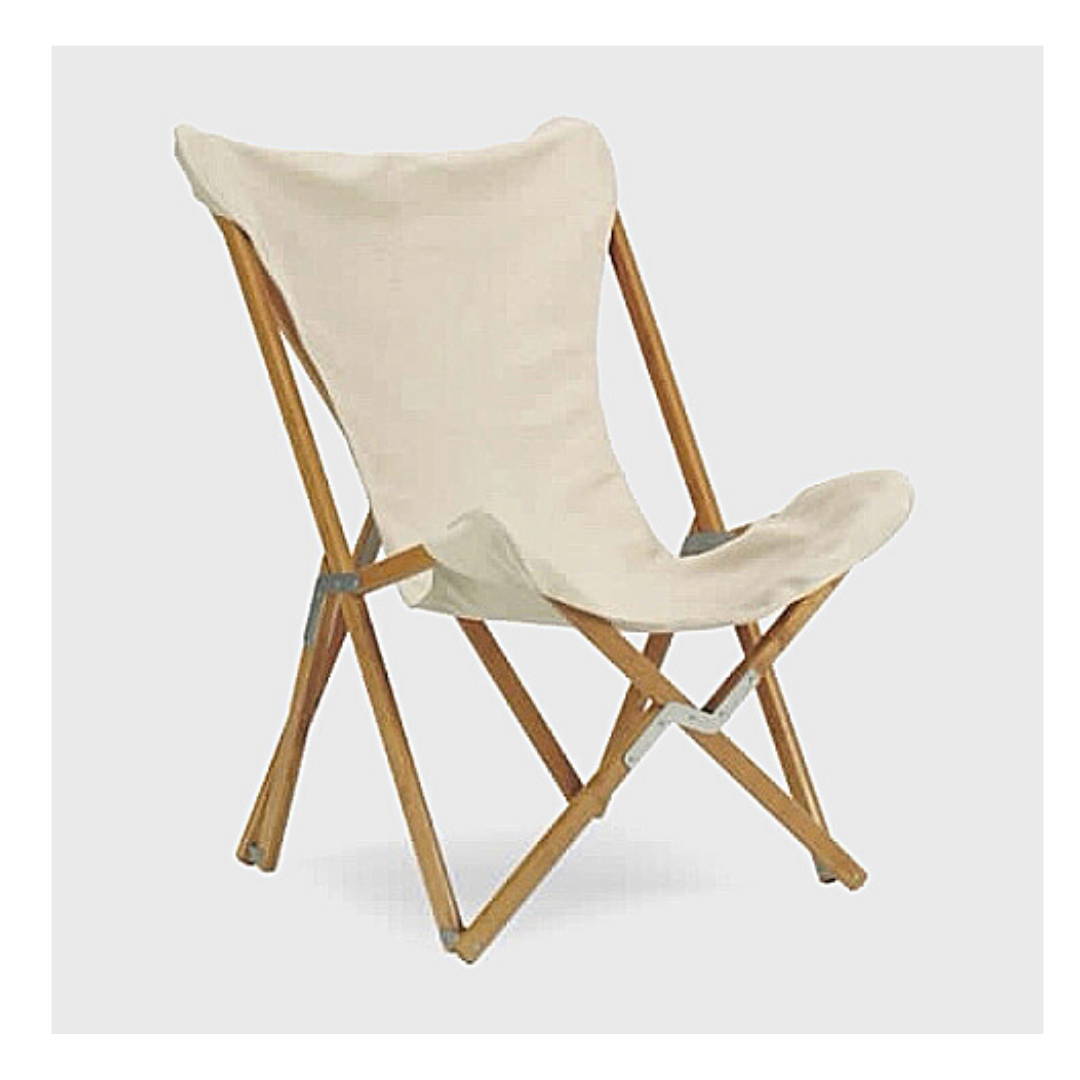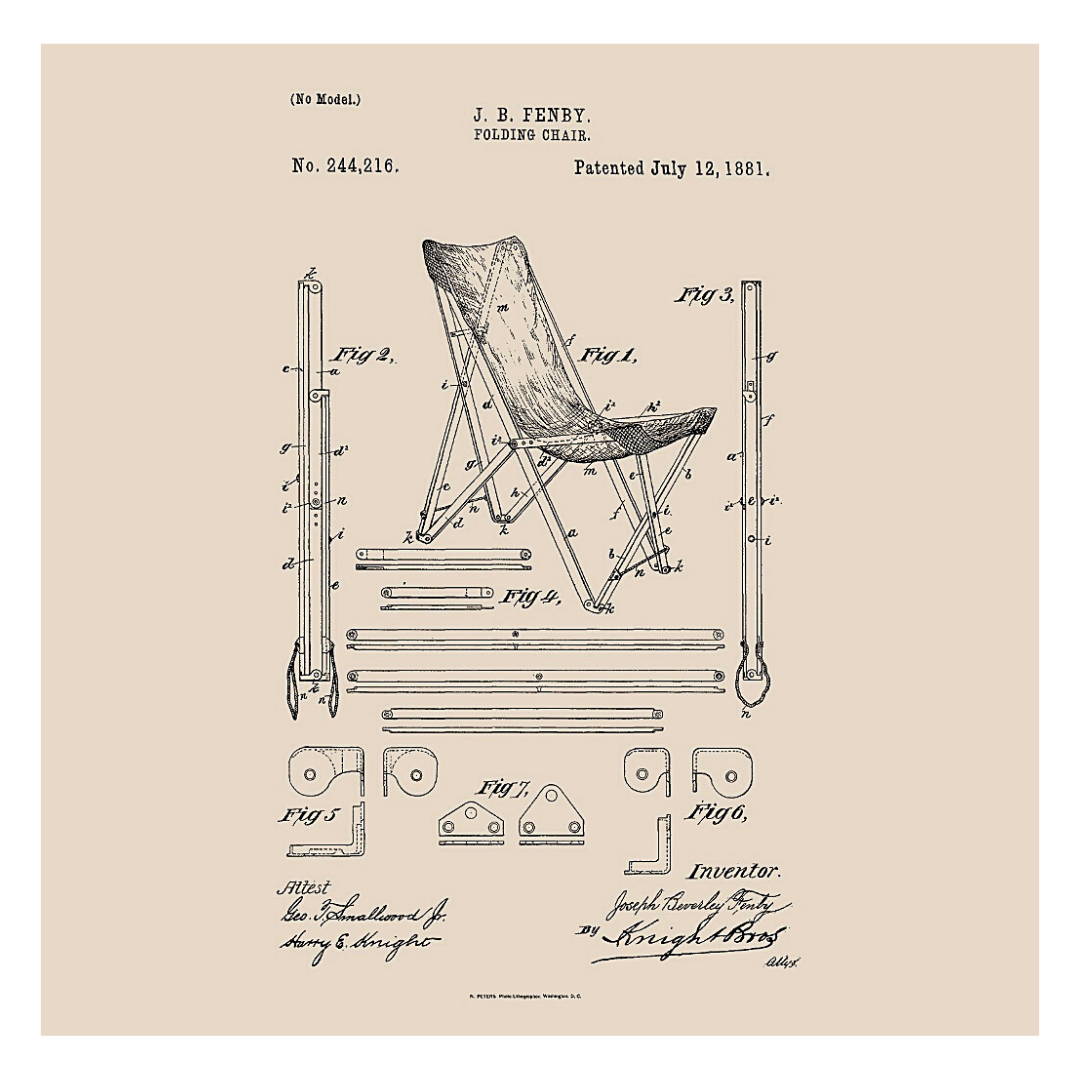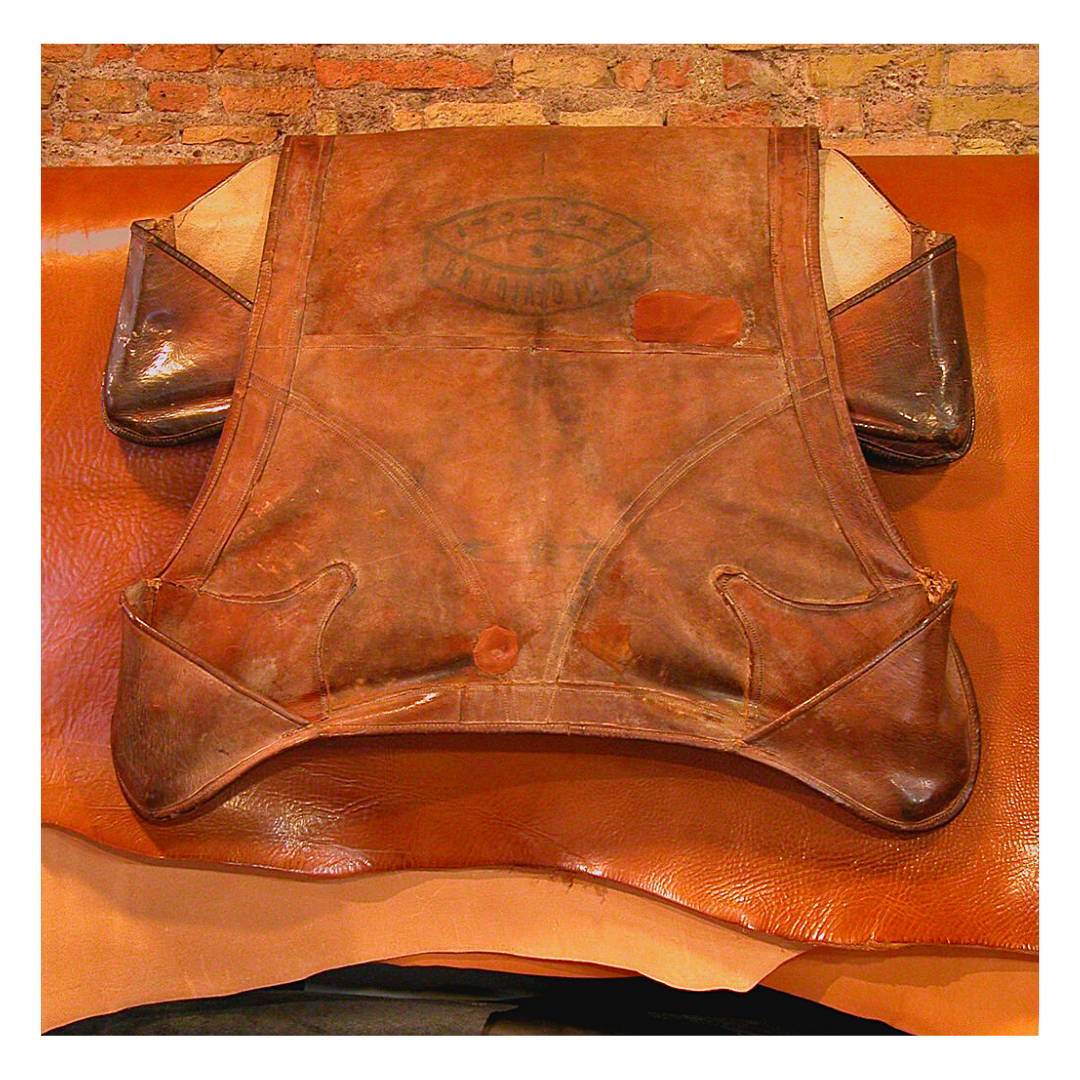 Midway 2 Chair, Steel rod chair, 1914

Frank Lloyd Wright, Midway 2 Chair, USA 1914, Cassina Italia re-edition, 1986
Not many people know that the great American pioneer of modern architecture, Frank Lloyd Wright, also made important contributions where furniture is concerned. His reflections on the function of form and matter were of decisive importance, in a continuous examination of the most important artistic and social theories of the time. He was not only fascinated by Japanese-inspired basic geometric shapes, but also had a propensity for nature and the use of natural materials. He wanted furniture to have simple shapes, be easily assembled, and potentially made with machines. This was Wright's decisive contribution to the evolution of modern furniture.
The metal Midway 2 chair (the first was an indoor wood chair) was designed for the Midway Gardens in Chicago. Made with glossy enamelled steel rods and available in white, red, blue, and grey, the seat has a removable polyurethane foam cushion.
The metal structure of this chair, which can be used both indoors and outdoors, highlights the lightness of its structure. The intention behind this, according to Wright, was to create furniture with a complete lack of sentimentality. Yet this chair is not inexpressive: the circular elements used for the seat and back, which seem to express lightness and floating, create a feeling of freedom.
In 1986, Italian company Cassina obtained a licence to produce Wright's furniture from the Frank Lloyd Wright Foundation.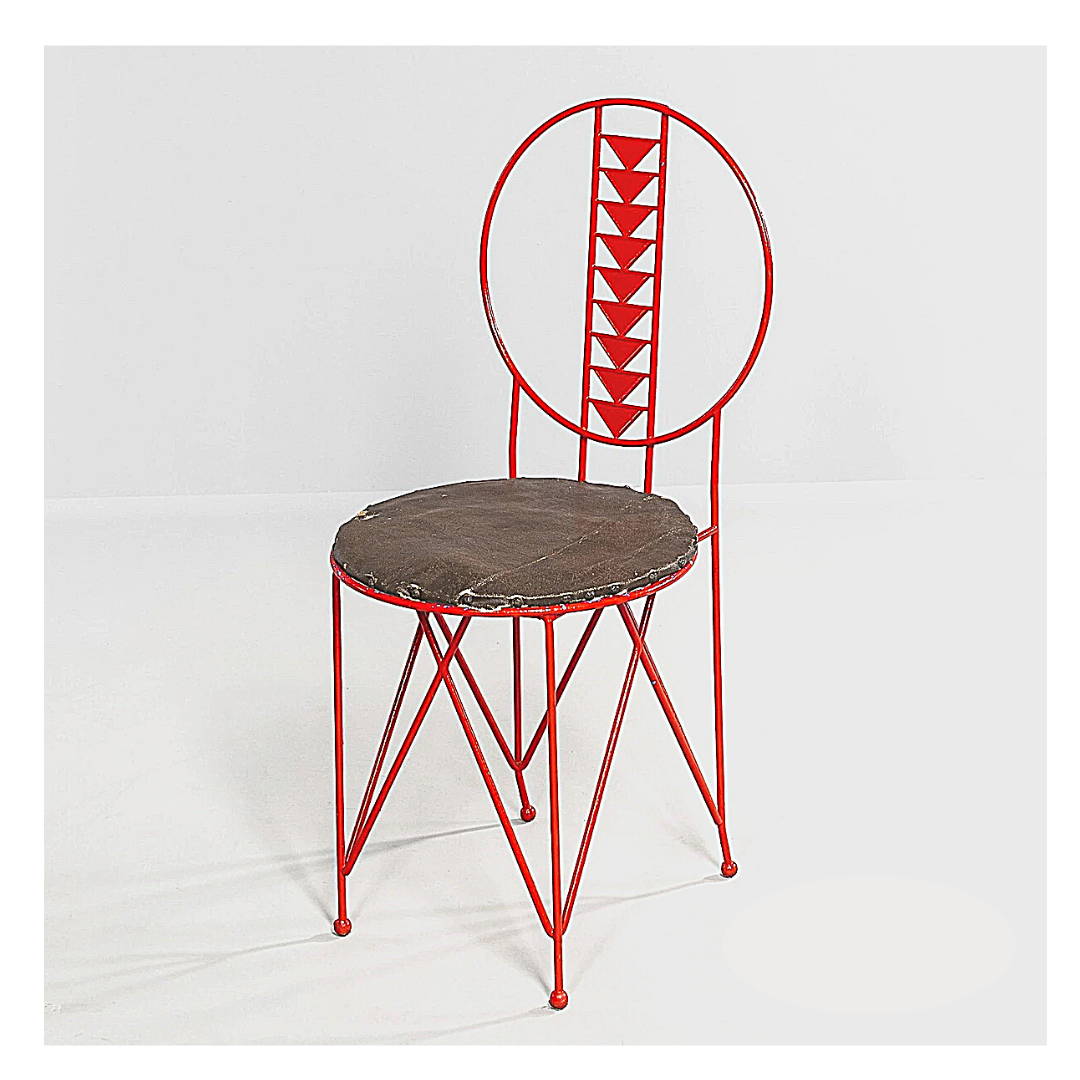 Paloma Chair, Soul of a chair, 2019

Radice Orlandini Design Studio, Paloma chair, Baleri Italia, Italy 2019


Experimentation with furniture made from metal rods has evolved over time, and it is fascinating to observe this development and discover that now, some have decided to use this material more to remove than to build. This demonstrates that knowledge of the potential of a material is a fundamental aspect for designers, and even at times, as Castiglioni stated, the "main design component".
Thanks to its outlined form and lightness, the Paloma chair always makes a big impact. It conveys the concept of minimalism with great expressive force while seeking the essence of form and digging into the essence and spirit of things. It is a surprising play on contrasts that challenges the concept of lightness, fragility, and transparency and embodies solidity and comfort.
Hans Coray, Landi Chair, Vitra, Germany, created for the Swiss National Exposition in 1939


One of the most famous chairs in the world, the Landi chair is made from matte anodised aluminium and is ultralight, stackable, and perfect for outdoor use. At the time, this was a chair that allowed for the introduction of a new type of production process, involving a three-dimensionally moulded seat shell on a separate four-legged base.
The chair's structure features a pair of folded U-shaped profiles connected by welded crosspieces, meaning that the legs also serve as armrests. The seat also has punched holes that give the chair character, lightness, and flexibility. This was a chair that was incredibly modern for its time.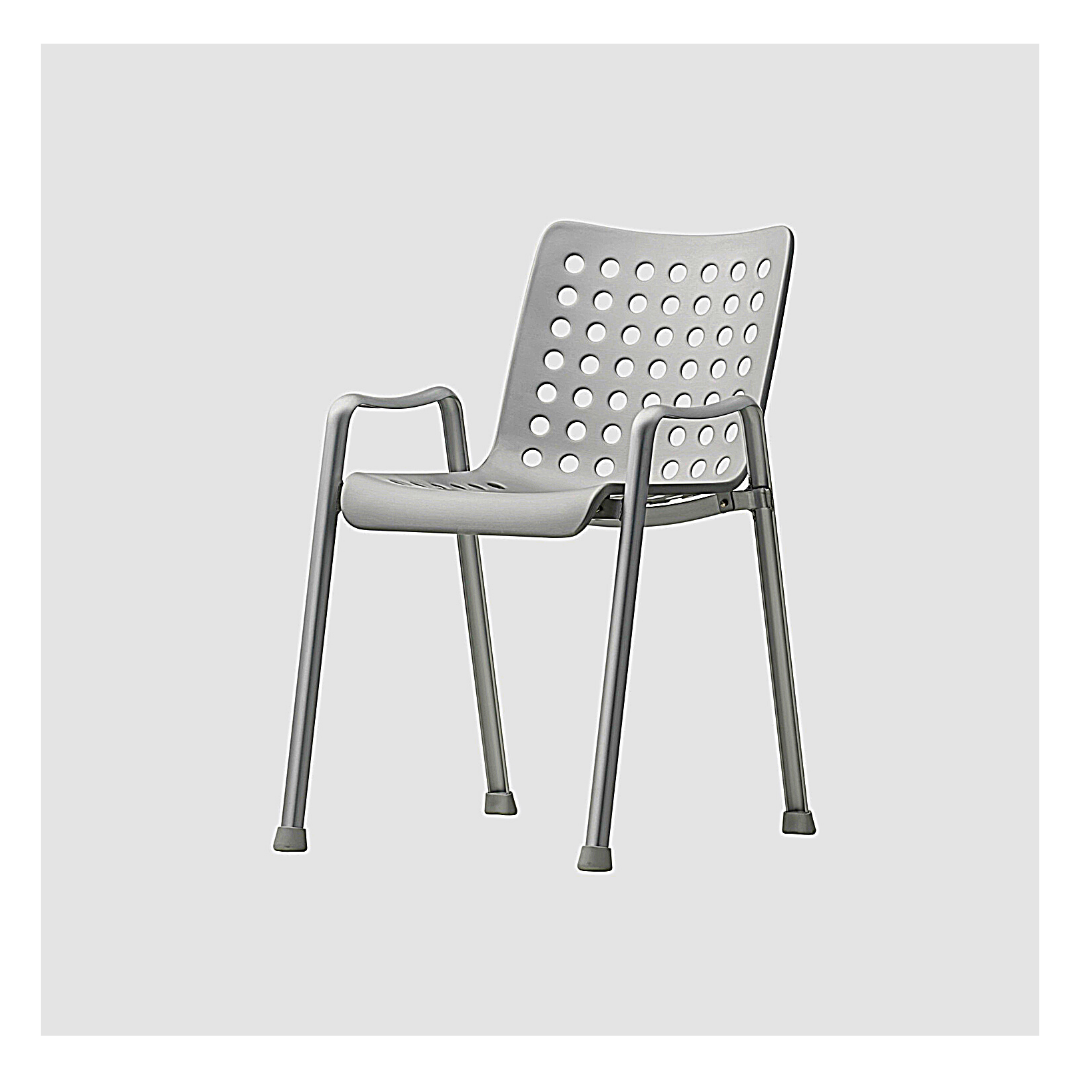 Enzo Mari, Elisa chair, Driade, Italy 1974
Italian design experienced its liveliest and most innovative period in the 1970s and early 1980s. From 1968 to 1982, thanks to the business savviness of Enrico, Antonia, and Adelaide Astori, founders of Driade, the three networked with Italian and international designers, interpreting and guiding the tastes of the Milanese bourgeoisie and then those internationally who sought out design.
The three designers had complex, multi-faceted, and dialectical relationships with the designers they worked with, including with extraordinary designer Enzo Mari. It was precisely Enzi Mari who designed the Elisa armchair in 1974 for Driade in honour of Elisa Astori, Enrico Astori's daughter, but the chair was produced only several years later.
The project was revised and optimised in a continuous and infinite search for perfection. The piece is striking in its contrasting volumes, with the lightness of its minimal structure being in contrast with its oversized cushions. This is a practical piece of furnishing that is easy to move around and has been created with highly technical materials that make it suitable for the outdoors.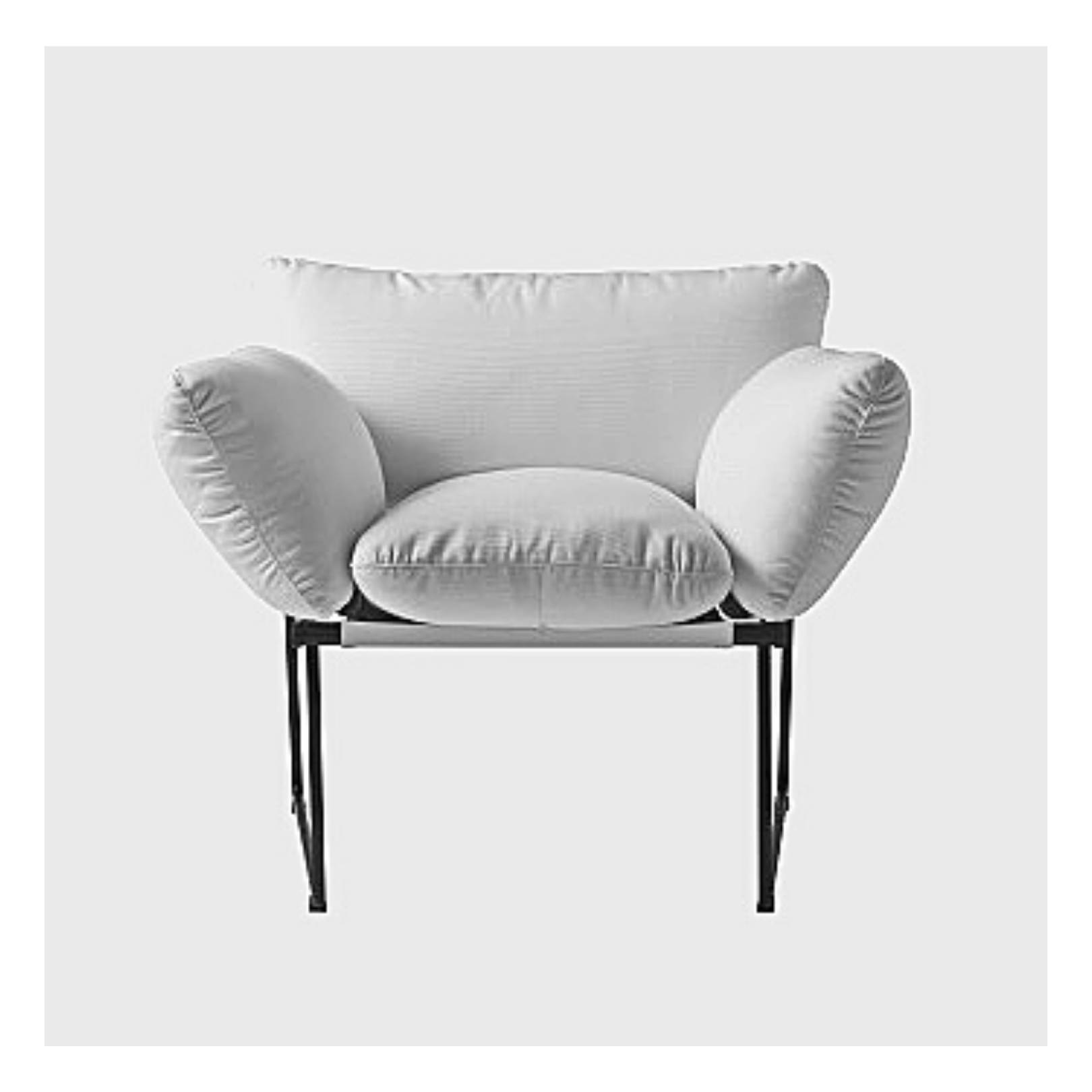 Jasper Morrison, Thinking Man's Chair, Cappellini, Italy, 1987


In 1987, architect Giulio Cappellini visited entrepreneur and gallery owner Zeev Aram's exhibition in London. One of the young designers chosen to present new chair prototypes was young English designer Jasper Morrison, who had just graduated from the Royal College of Art. Morrison's chair was inspired by English garden furniture and in particular by an elaborate wood armchair with no seat cushion.
Morrison then simplified the chair, improving on it and making it more functional by using a different material. The structure is in painted metal tubing with seat and back made from flat metal bars. The elegant tube structure is perfect for garden furniture and is a nod to the artisanal production of seating. Small trays were also added to the armrests for easy placement of a glass or ashtray.
This is an outdoor seat for relaxation and reflection, as the chair's name suggests. Giulio Cappellini was impressed by Morrison's project. So much so that on his way to the airport the day after his visit to the exhibition, he stopped by Morrison's design studio to invite him to Italy. Thus began a long and fruitful collaboration with the historic Cappellini company.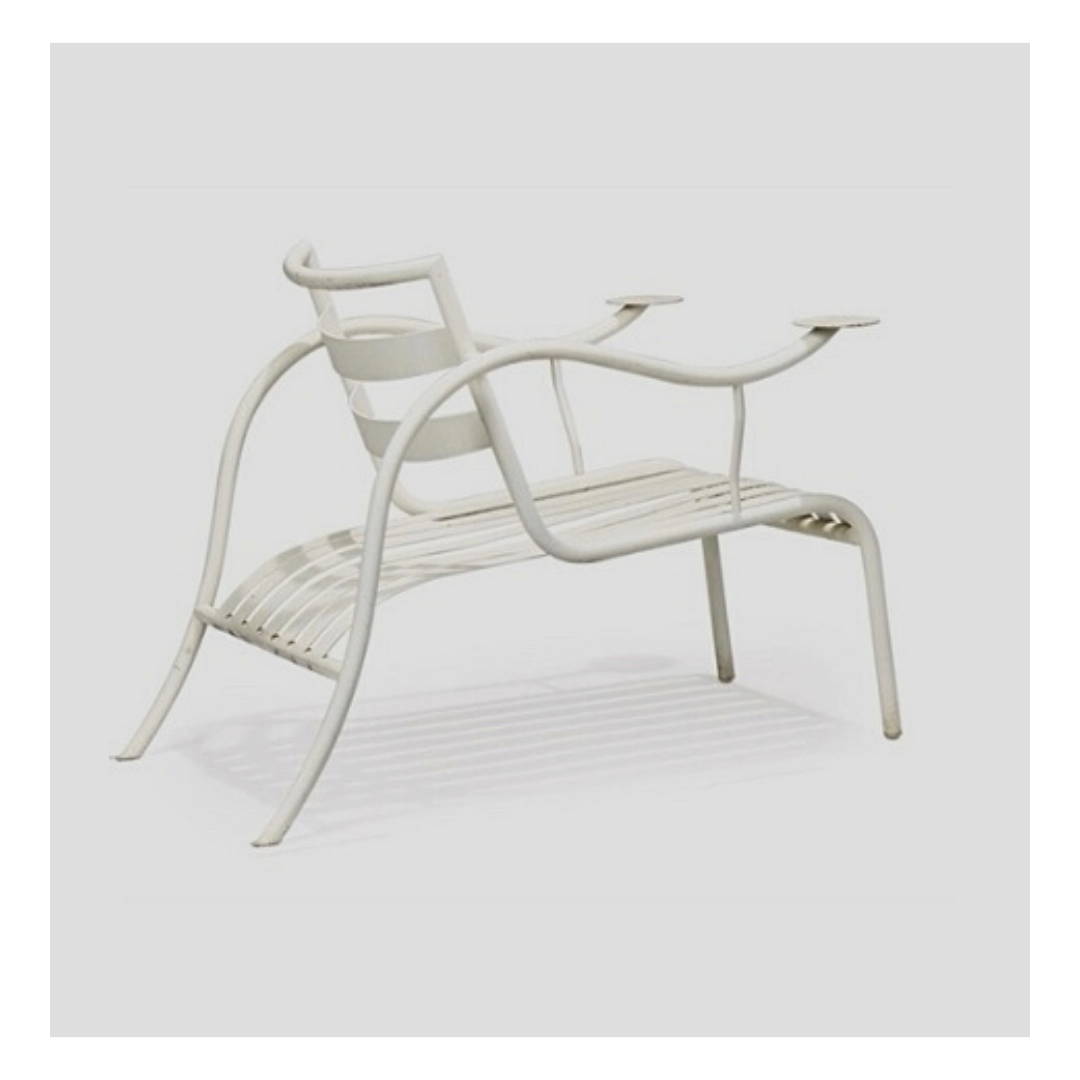 Philippe Starck, Dick Deck, Driade, Italy, 1989

We can all agree that objects don't always have to be designed for something specific. What exactly does it mean for an object to be functional? Can't an object conceptually be something surreal, connected to emotion? Objects can simply give pleasure, joy, and emotion.
At the end of the 1980s, Enrico and Adelaide Astori from Driade and Adelaide Acerbi began working closely with Philippe Starck's nascent French design studio. It was thanks to their partnership that they created a parallel production line under the name Aleph.
The goal was to create visionary, experimental, highly iconic, and technically flawless projects. It was in those years that Starck especially loved experimenting with various materials, and he created this wooden chair with an ironic and cheeky name, just like many of his projects that play on similes and metaphors.
This chair's seat, deliberately out of proportion and narrow, challenged anyone who wanted to sit down. Some say that it was just perhaps a 'headrest'. Yet it didn't matter: the chair was perfect thanks to the material used, its colour, a nineteenth-century outdoor armchair, a bit Thonet and a bit Superleggera by Ponti. The chair makes you stop, look at it, and think. Some objects can speak, and all you have to do is listen to them. This seat was the precursor to others by Driade, including chair PIP-e in polypropylene.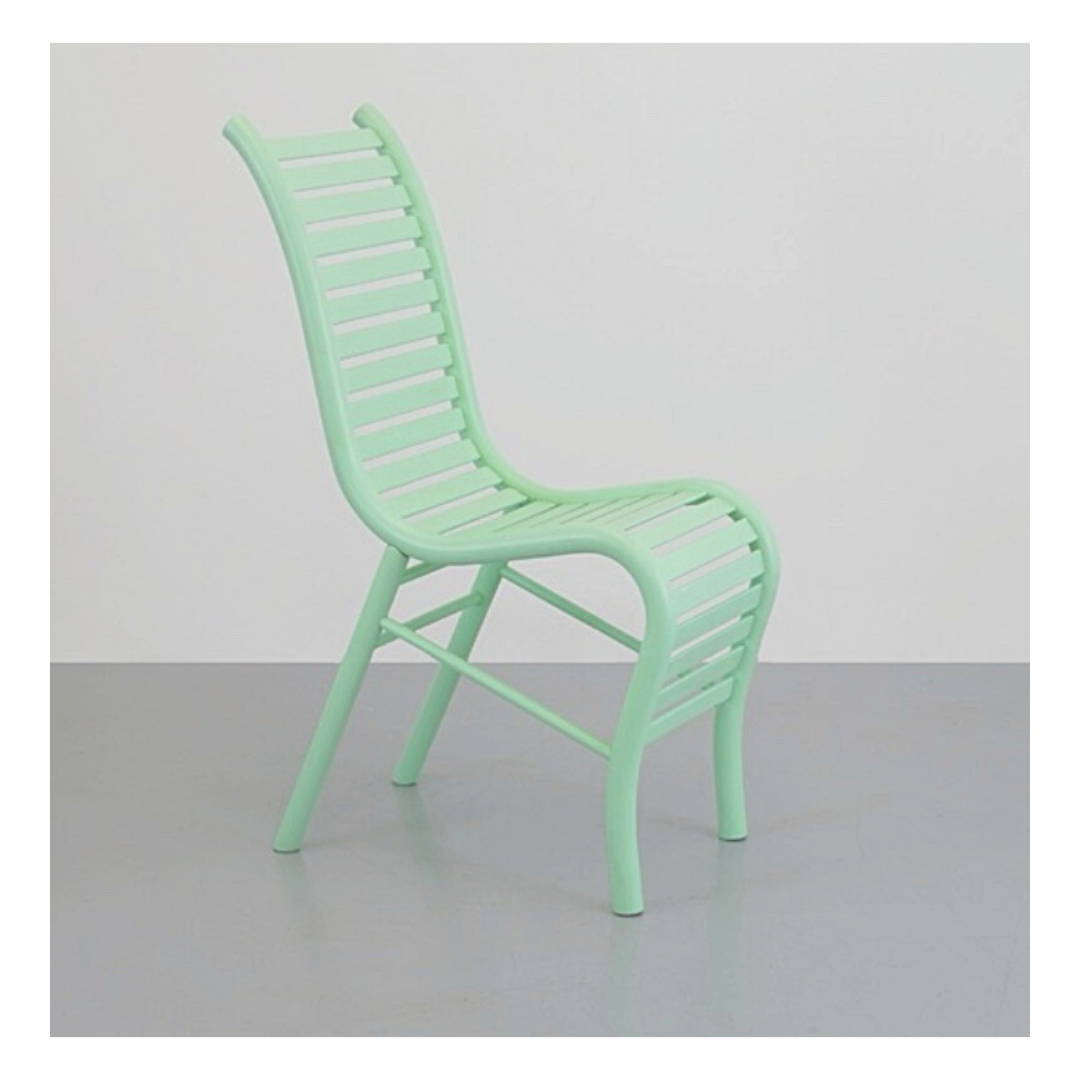 Maarten Baas, Clay Collection, Netherlands, 2006
It was April 2006, and in Milan the Fuorisalone design event was in full swing. In a small room in the basement of an industrial building in the Tortona district of the city, two young people were presenting their extraordinary pieces. The two designers were Baas Den Herder and Maarten Baas, who chose a few select words to explain the projects. The two were partners and had founded a small production company to create their designs.
Bass + Baas has never tired of explaining the resin used to create their sculptural objects, which resemble surreal creatures made from clay. Their brilliant collection includes chairs, benches, fans, and even brooms.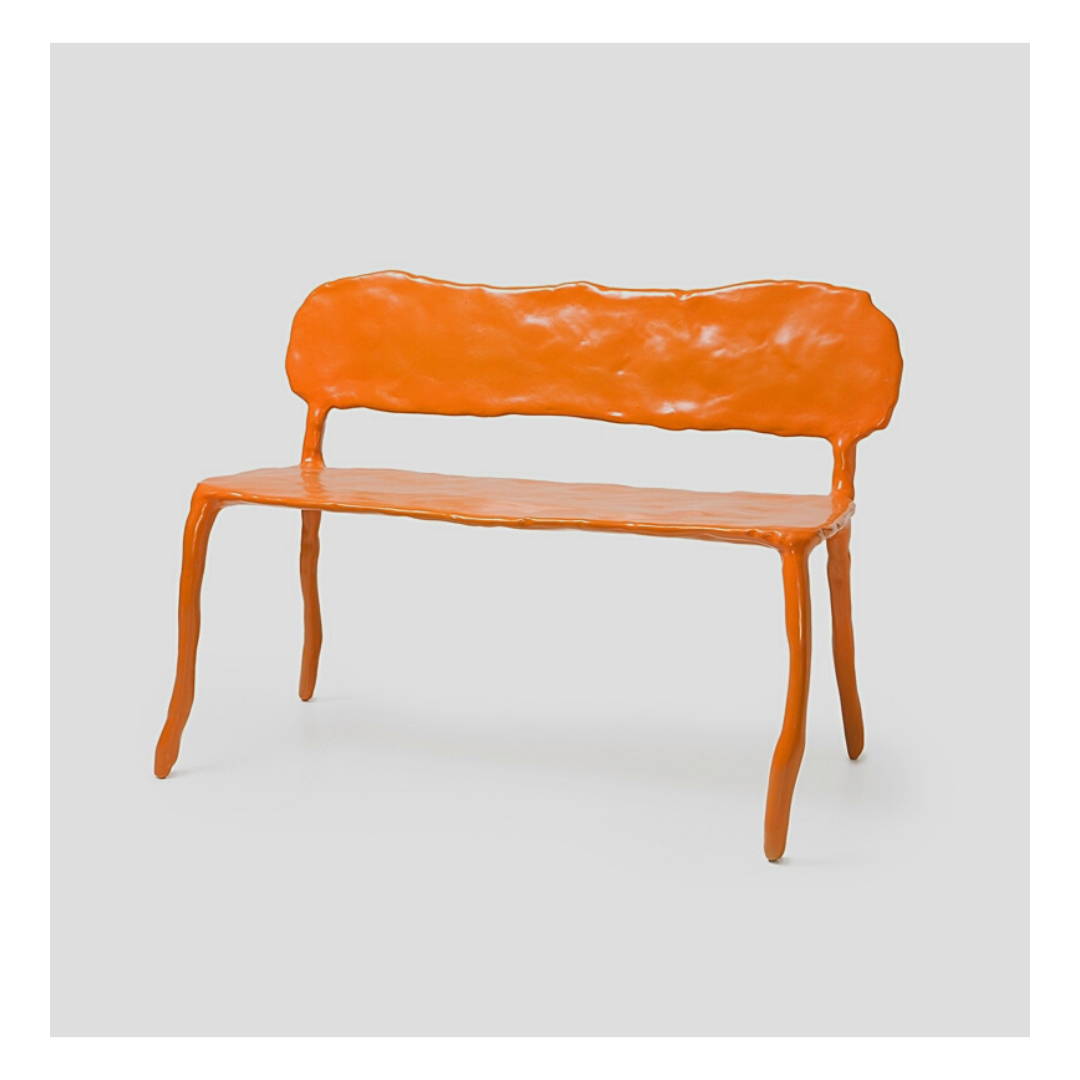 Swiss Fibre-Reinforced Concrete, 1960

Willy Guhl, Loop Chair, Switzerland, 1960

During a business trip to Zurich in the early 1960s, famous Italian collectors Eligio Ferrero and his son, Adriano, learned that architect Willy Guhl was creating the first prototypes of a seat in fibre-reinforced concrete. This innovative industrial material had until then only been used for construction but never to create furniture.
Guhl had enthusiastically welcomed Swiss company Eternit's invitation to experiment with new applications of the material, thus creating a prototype of an outdoor chair using a seamless sheet of fibre-reinforced concrete that formed a sinuous and elegant loop.
Rare pieces can still be found on the market, but the Ferrero men purchased two copies, which are now part of the Ferrero Comotto Foundation collection in Turin, Italy. The version pictured dates back to 2000, after Guhl re-worked the project in 1998 by applying the new asbestos-free Eternit material.
At the time, this seat was common and was often placed in indoor spaces. It was certainly a seat, but also an almost sculptural piece.
Eternit is a Swiss company that was founded in 1903, and its name is inspired after the Latin aeternitas, or 'eternity', to underscore the highly resistant nature of the material. The material was adapted with asbestos-free technology in the late 1980s, and Eternit fibre-reinforced concrete was thus one of the most environmentally friendly and sustainable materials and it was also highly weather-resistant and light.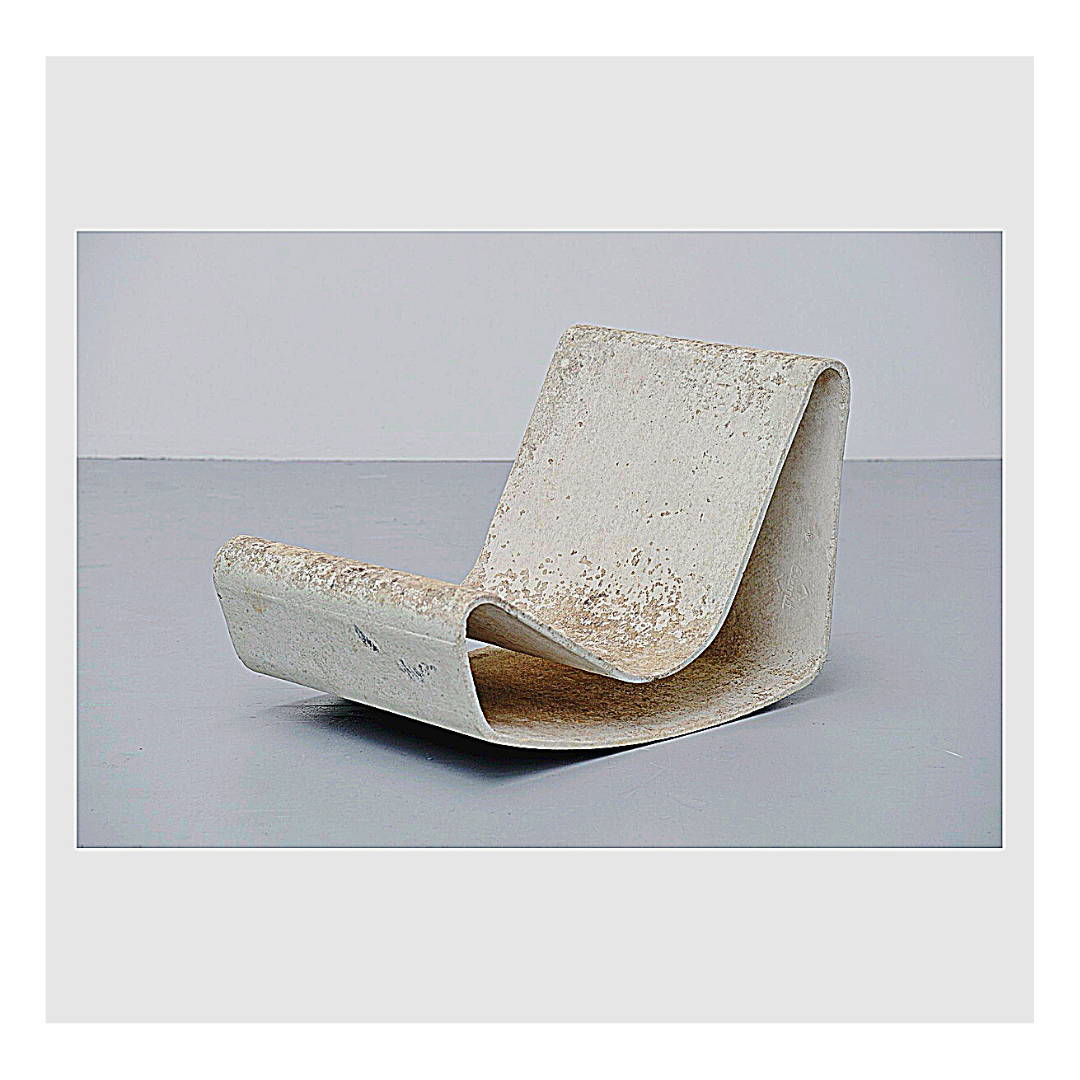 Salomé Hazan, Flip Seat, Giacopini, Italy, 2020
A seating element that can be both a double-seater chair and, when flipped upside down, a chaise longue, the Flip Seat is made from a single sheet of perforated aluminium that are the essence of the seat's remarkable ergonomics. The strength and elasticity of the material used offer flexibility that allows for high comfort when sitting, while the thin aluminium gives the seat a look of elegance that defies gravity and exalts simplicity.
Imagine holding a sheet of paper in your hand, crumpling it up and throwing it, and seeing where it comes to rest, with this leading to possible design solutions. This is likely how this piece was created, as it was only thanks to constant experimentation by those who know how to handle this material that a project like this could be designed. The holes punched in the aluminium make the seat practical for all kinds of weather, and most importantly of all, make the chair light both visually and physically.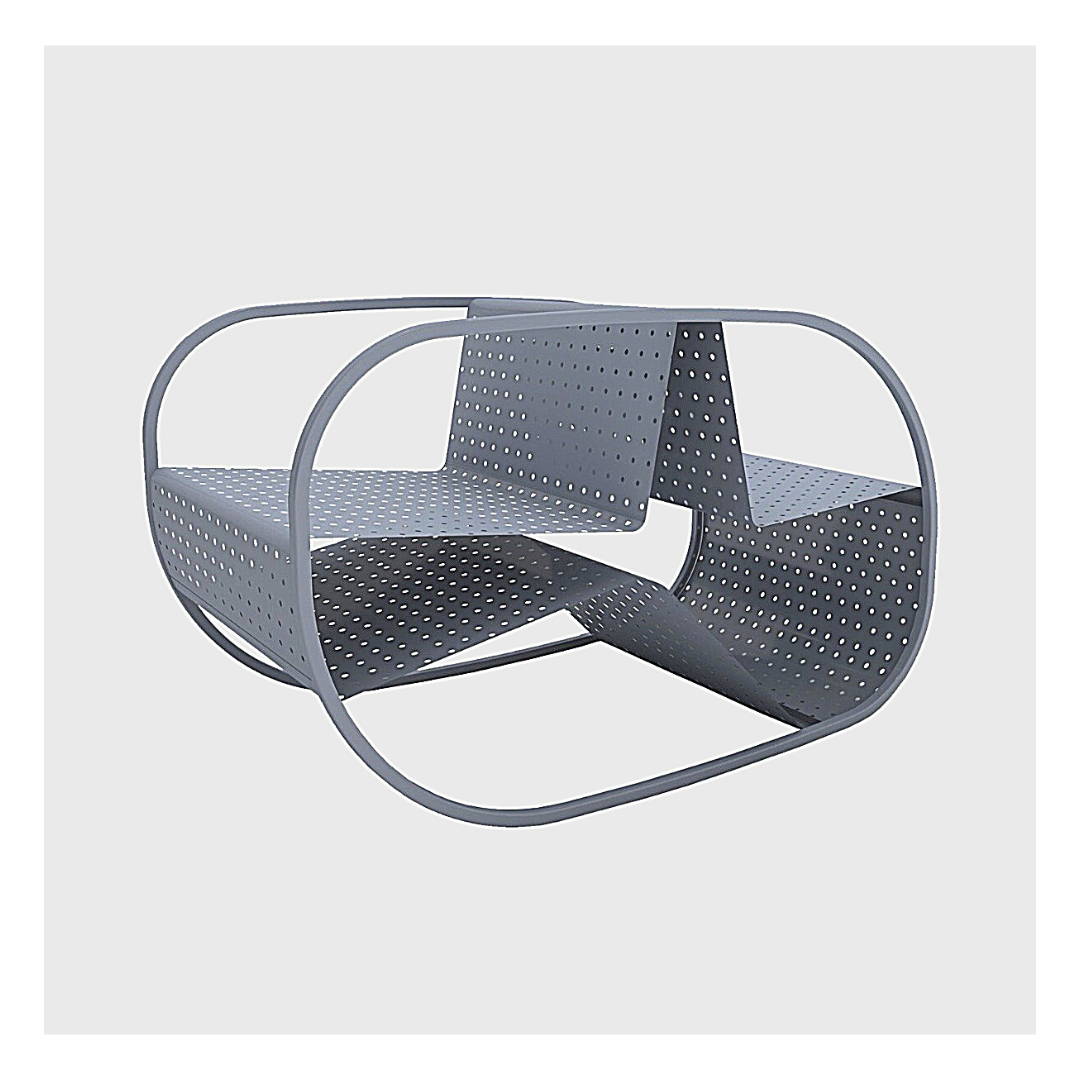 Ode to Le Corbusier, 2008

Stefan Zwicky, Concrete LC2, Grand Confort, sans confort, dommage à Corbu, Switzerland, 2008
Is it a sculpture? A chair? A replica? It's most definitely an ode to Le Corbusier. Stefan Zwicky's armchair perfectly falls in line with the spirit of Le Corbusier, who used iron and reinforced concrete for his architecture, reflecting modern values of exploration and experimentation.
That is how the iconic LC2 is portrayed: a meaningful piece of architecture that pays homage to its past. Visionary architect Giulio Cappellini was also at the same exhibition, and he decided to buy the chair. It was a decisively innovative project, both thanks to the knotted structure that is reminiscent of a hammock as well as to the material used.
Marcel Wanders, Knotted Chair, Droog Design–Cappellini, Netherlands/Italy, 1996
In 1996, at Droog Design's annual exhibition in Amsterdam, a project by young visionary designer Marcel Wanders attracted the public's attention. The same exhibition could be found at the Salone del Mobile in Milan that same year.
Wanders presented a chair with a structure made of carbon covered with aramid fibre cord and then coated with epoxy resin. This was a process that revisited the macramé technique, but using latest-generation materials, creating a seat that combined technology and craftsmanship.
Visionary architect Giulio Cappellini was also at the same exhibition, and he decided to buy the chair. It was a decisively innovative project, both thanks to the knotted structure that is reminiscent of a hammock as well as to the material used.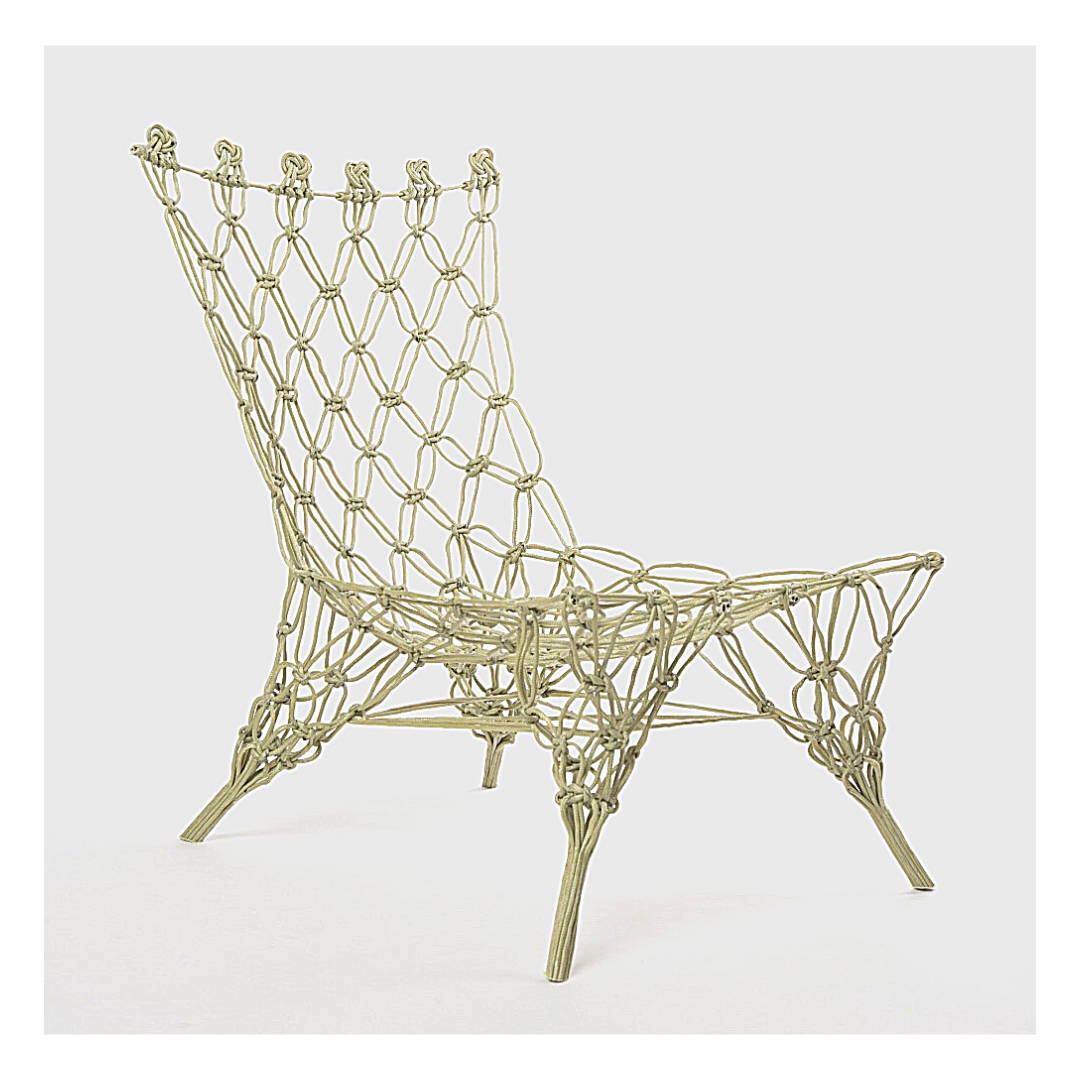 Die-Cast Aluminium, Italy, 2003
Kostantin Grcic, Chair One, Magis, Italy, 2003
This piece represents the desire to create something totally new: a chair with a three-dimensional essence. German designer Konstantin Grcic was chosen to create this chair and was initially asked to design a plastic chair. The project soon took a different twist, as often happens when one works with designers with strong personalities and who have a constant, insatiable approach to experimenting with new materials and innovative techniques.
Magis and Grcic wanted to harness the potential of the aluminium die-casting technique, which had never before been used to make a chair. Aluminium is a ductile metal that is considerably soft, and its lightness and resistance to oxidation make it ideal for various uses. It is also a material that requires special welding techniques that do not always make it suitable for use on small, impeccable pieces. Yet the die casting technique is often the solution: in this case, aluminium is injected into a metal mould at high pressure.
The predecessor of this piece is undoubtedly the Victorian cast iron garden chair. Grcic's design thus harnesses a timeless process for a modern chair.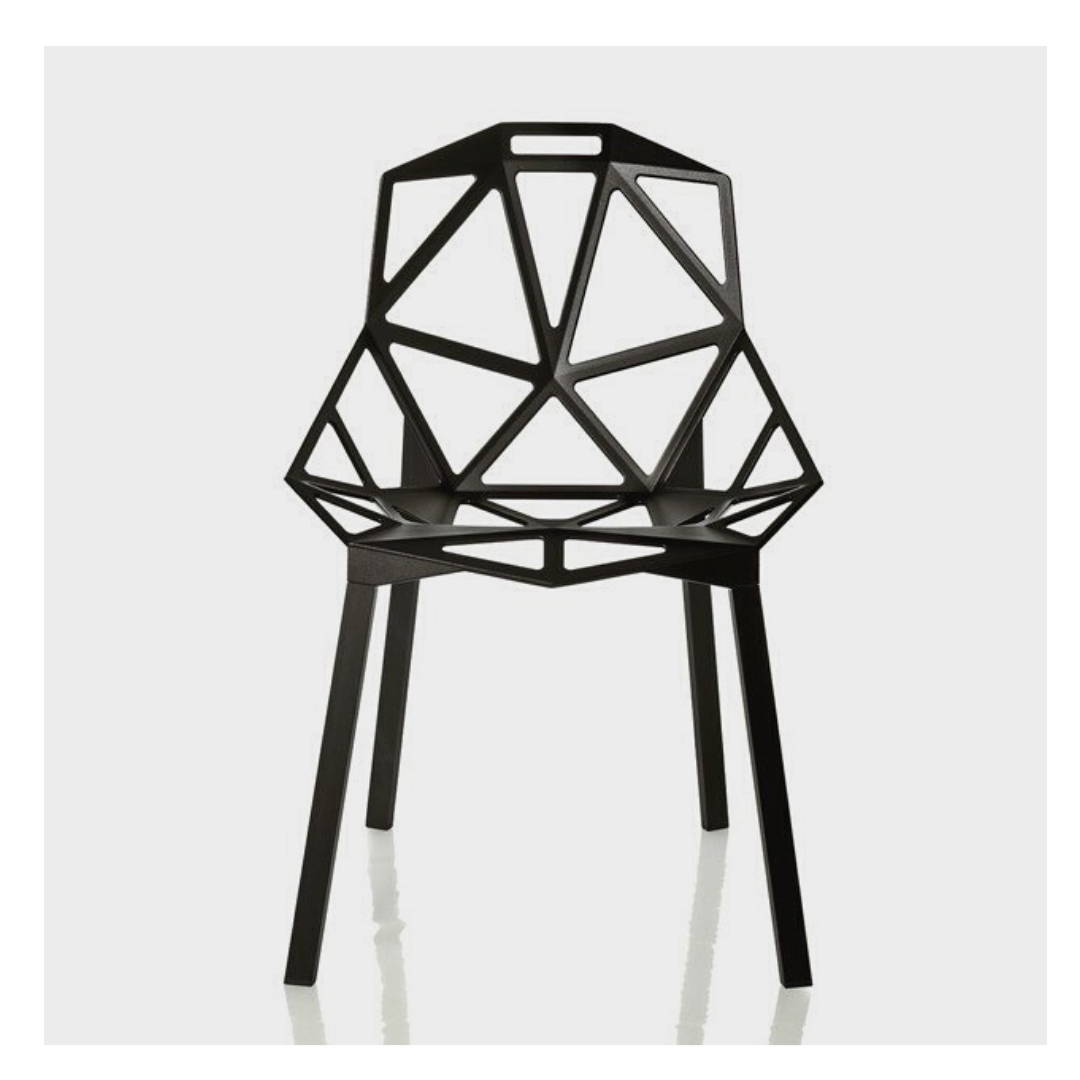 Lightness and Practicality, 2019

Studio Irvine, Donna, Baleri Italia, Italy, 2019


This chair is all about a light but solid metal structure and a shell made from a single sheet of metal that hooks onto the frame on the back: a nod to past chairs in wrought iron, with seats and backs often made with perforated, flexible sheets of metal. They were chairs that were similar in shape to Thonet chairs which, due to their modern silhouette, were valued by Le Corbusier who often used them in his projects as garden or patio chairs. They were light, easy to clean, weather resistant, and low maintenance.
"The approach in designing a chair for a historic company like Baleri Italia focused on the research for lightness and the creation of a system. The result is Donna, an agile chair with many configurations for indoor and outdoor use. And as a tradition of Baleri chairs, even our chair has the name…Donna". (Marialaura Rossiello, Studio Irvine).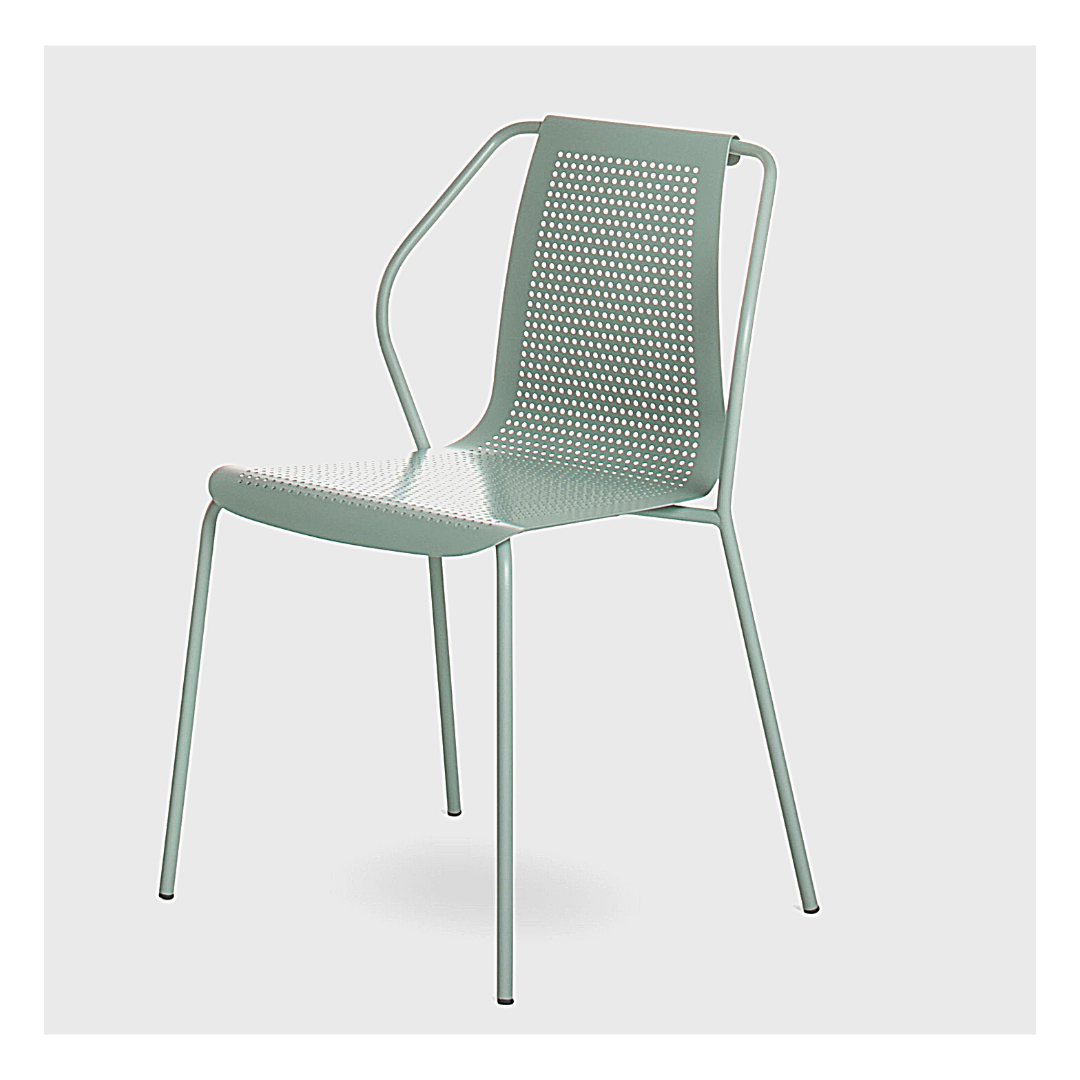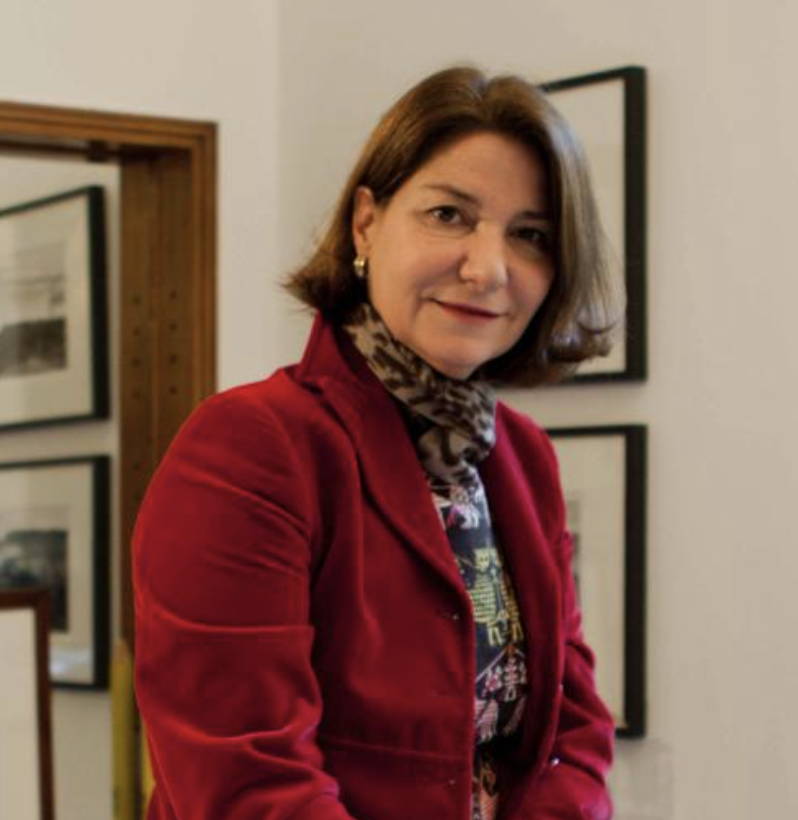 Antonella Dedini is an Italian architect, an interior designer and a University professor.
As a design curator, she found the Milano Design Film Festival, an internationally recognized event that she co-curated until 2019. In addition, she is the editorial author of a unique and atypical Instagram profile named Deden Design List, founded in September 2020, to prove that good Design improves your life.
From August 1st 2021, she collaborates with Design Italy to draw up a monthly list by category of objects, themes, and spaces.
The List is a thematic editorial selection of about 20 pics.
Let's keep an eye on Antonella's selection every month.