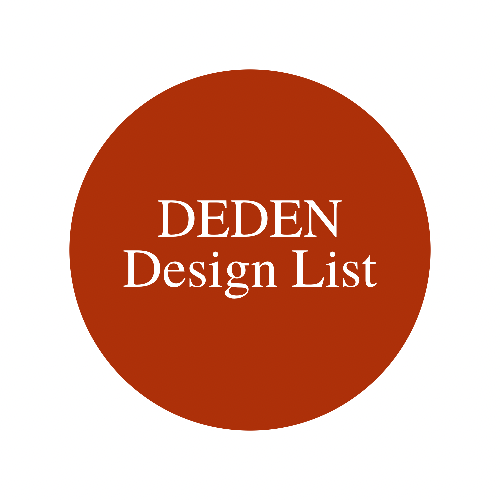 A monthly list curated by Antonella Dedini
STORIES OF LADIES AND THEIR HANDBAGS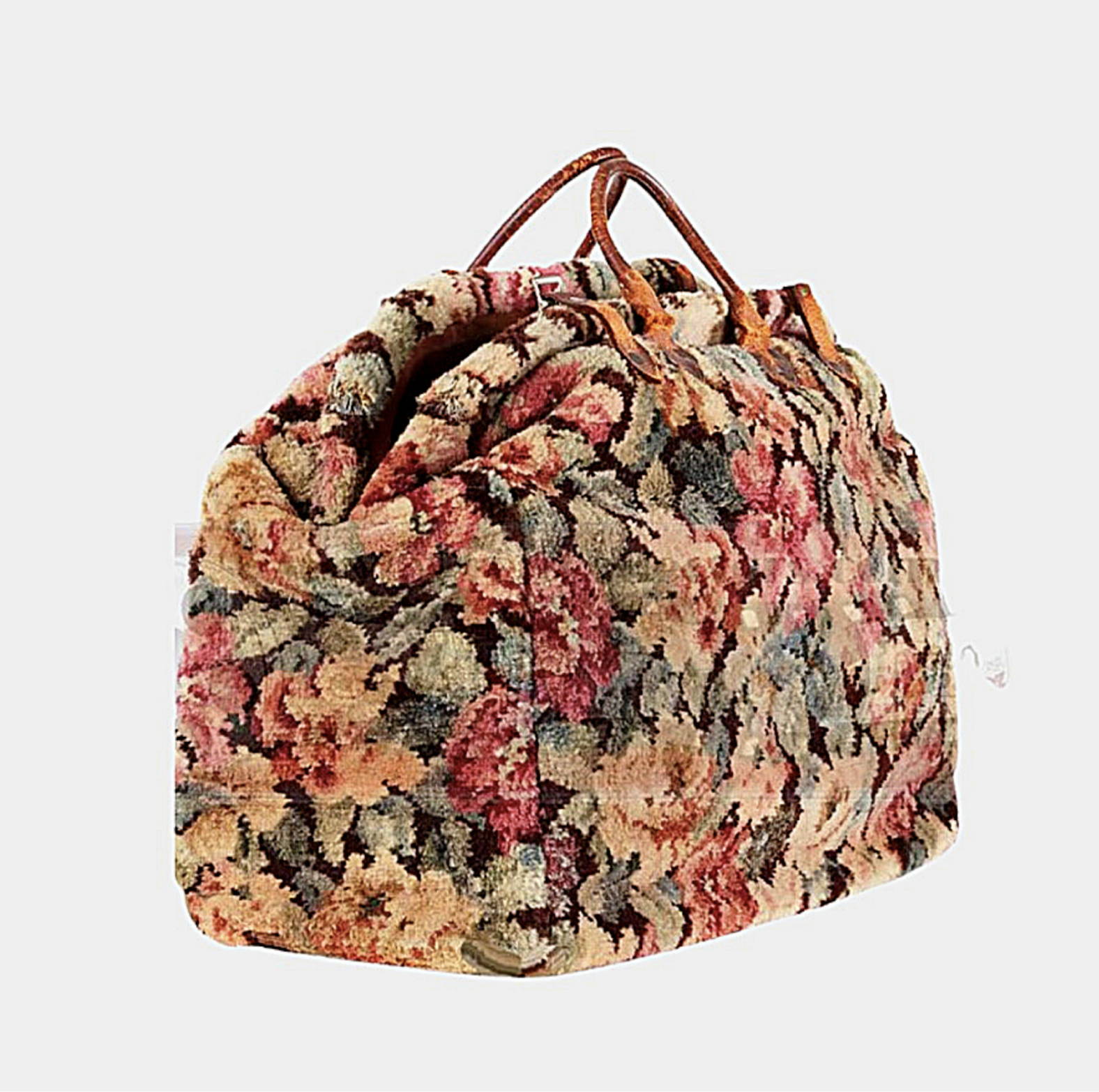 Still shot from the movie Mary Poppins; directed by Robert Stevensons; USA; 1964; 138 minutes. Below: a carpet bag like Mary Poppins' famous one
Based on research published by the Daily Mail, the average handbag weighs 2.5kg. My guess is that mine often weighs even more.
It's a sort of extension of my arm, an indispensable part of me, and a portable tool kit that contains a bit of everything and anything. Whether elegant, worn out, overflowing, matched to an outfit, fashionable, or just functional, I change purses often, but they always serve the same purpose.

Perhaps the most famous bag of all time is Mary Poppins' carpet bag. There are those like me who would go so far as to give up a Hermès Kelly bag in exchange for the giant carpet bag that the famous nanny brought to the big screen in 1964 thanks to Walt Disney (the movie was based on writer Pamela Lyndon Travers' book series Mary Poppins).
Her carpet bag is huge, and there's no limit to what it can hold.
Who wouldn't want that magic carpet bag? After all, you can never have enough purses, and it's impossible to not always be chasing after a new one.
I myself have been dreaming of owning Mary's carpet bag since 1964.
I was always drawn to my mother's handbags as a little girl, and I still love to uncover legends and learn interesting tidbits of information surrounding handbags and look at old photographs of elegant women carrying them around.
So, without further ado, let's begin with this month's list.
This project seeks to unravel a huge mystery: what exactly do women carry around in their handbags?
Why do purses always weigh so much?
We women aren't exactly known for packing light: when I travel, I see men with minimal luggage or a simple backpack, whereas I, on the other hand, carry around enough items to fill a house. And like the true Tetris champ I am, I manage to fit everything in perfectly.
Sarah Benton asked 20 women of different ages and professions to describe what they have in their purses. The result was a unique exhibit that brought to light fascinating anthropological research: proof that a woman's personality can be described based on what she carries in her purse. But is it the objects that choose the purse, or the purse that fits the objects? That's the eternal dilemma.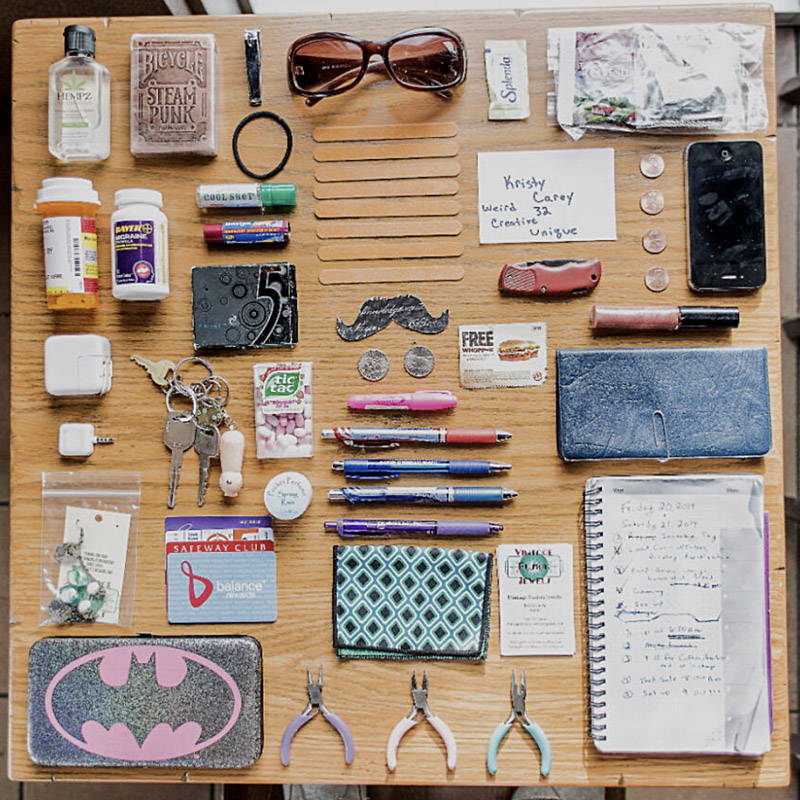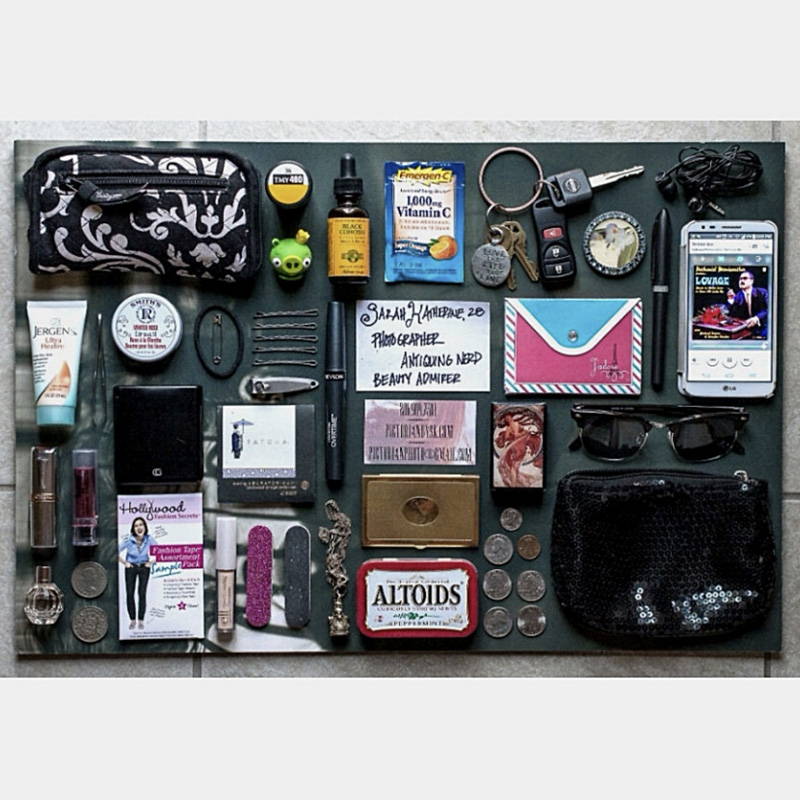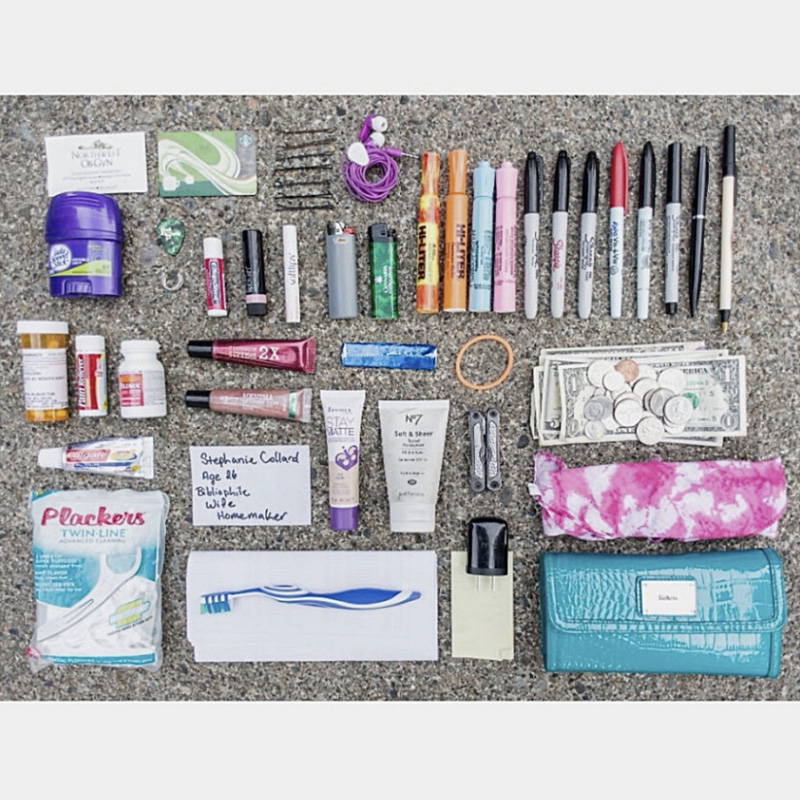 Sarah Benton; photography project In Her Handbag; USA; 2014
Photographs from the exhibit:
Kristy Carey, 37, creative director
Sarah Benton, 56, photographer
Stephanie Collard, 31, housewife
CASTING AN ACTRESS BASED ON THE ITEMS IN HER PURSE
This is a lovely little short film with a surprise ending. I won't give away the ending, but I will say that a handbag and its contents recount the story of the film's main protagonist.
In the short film, Emilie Muller is an aspiring actress who is asked by a director to reveal the contents of her purse. She enthusiastically describes each item, recounting tales surrounding photos, books, and childhood memories. Along with the more standard objects in her bag such as a coin purse, a book, and a pen, there are also an apple, a plane ticket, a ring, and postcards. All are objects which Emelie uses as inspiration to tell about herself or to discuss love, seduction, and friendship.
Reality and fantasy collide in a whirlwind of anecdotes and memories. An emotional illusion for the spectator, because who is Emilie really? Perhaps a real actress.
Watch this lovely little short film here: https://www.youtube.com/watch?v=Om8e9494G-Q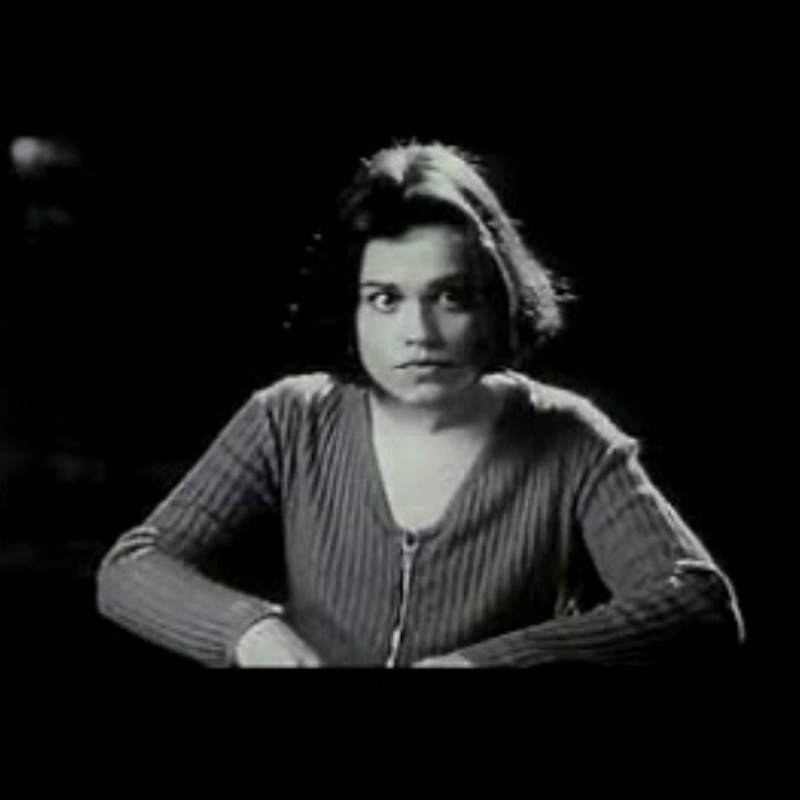 Emilie Muller; short film by Yvon Marciano; France; 1993; 21 minutes
PROTOCOL AND THE ROYALE BAG
Queen Elizabeth II has been loyal to British brand Launer for half a century. And though it might seem as if she always carries around the same handbag, she actually uses at least three different ones: the Royale (very apropos); the Traviata; and a third that was created especially for her and has no name.
According to the Telegraph, the Queen owns at least 200 handbags. As historian Hugo Vickers revealed, it's not so much a question of style as it is of security. She uses her purse to send signals to her staff: for example, if she moves it from one hand to the other, it means she wants to end a conversation.
British Prime Minister Margaret Thatcher also used the same type of handbag as the Queen but turned it into a weapon of power in an all-male world. It might have looked like a harmless purse on the arm of an ordinary, respectable woman, but then she would place it on the table and pull out her "ammo". Cynthia Crawford, her assistant said: "She would pull out sheets of paper with speeches, finding a way to cut short meetings that were too long or inconclusive".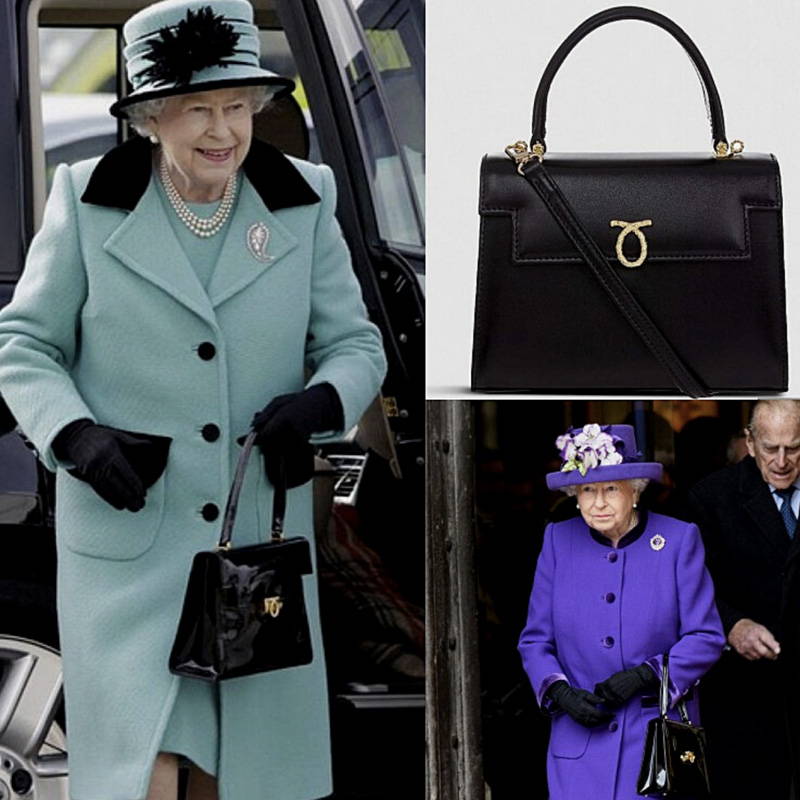 MYSTERIOUS HANDBAGS OF THE GODS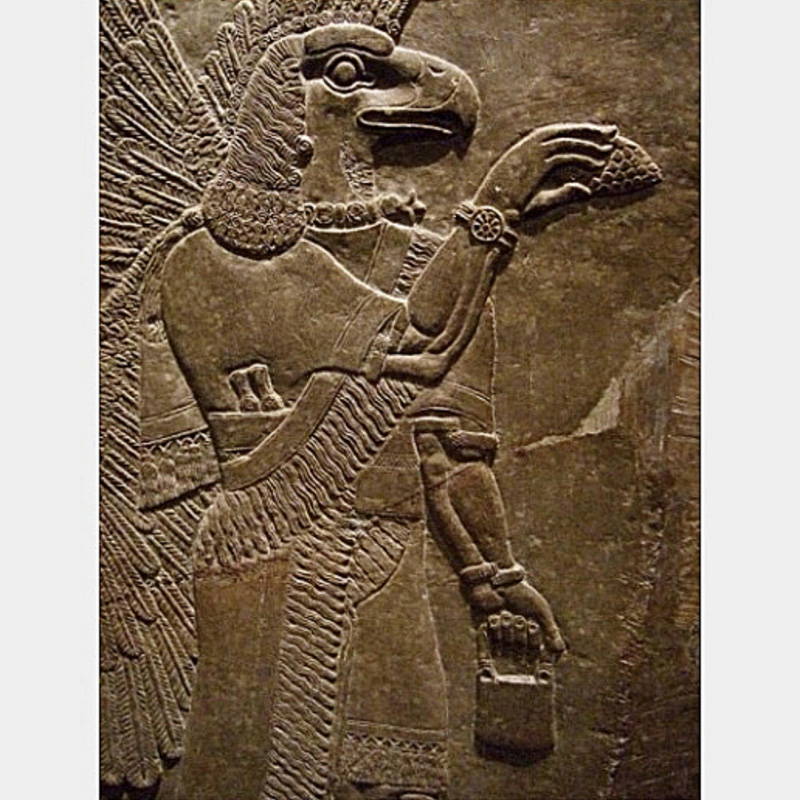 Bas relief of deity Nisroch with a handbag-like object; capital of Nimrud, 883-859 BCE; Palazzo Reale
The 'handbag of the gods' is a mysterious symbol that is found in many images throughout history and that has deep meaning.
The object is always held by entities linked to the concept of power, knowledge, and the mystery of existence. Knowledge is power and is passed down from generation to generation to all those who are worthy of it. The 'bag' is a means of this passage, symbolising that handover from one individual to another, but it was also a receptacle that held the secret of the existence of matter.
The bag could also be an icon for the ancient 'hunting bag' that suggested the meaning of wealth and abundance in all senses. Handbags today are strongly symbolic objects linked to psychology and to the deepest and most intense of female emotions, but also an inescapable sign of social and cultural belonging.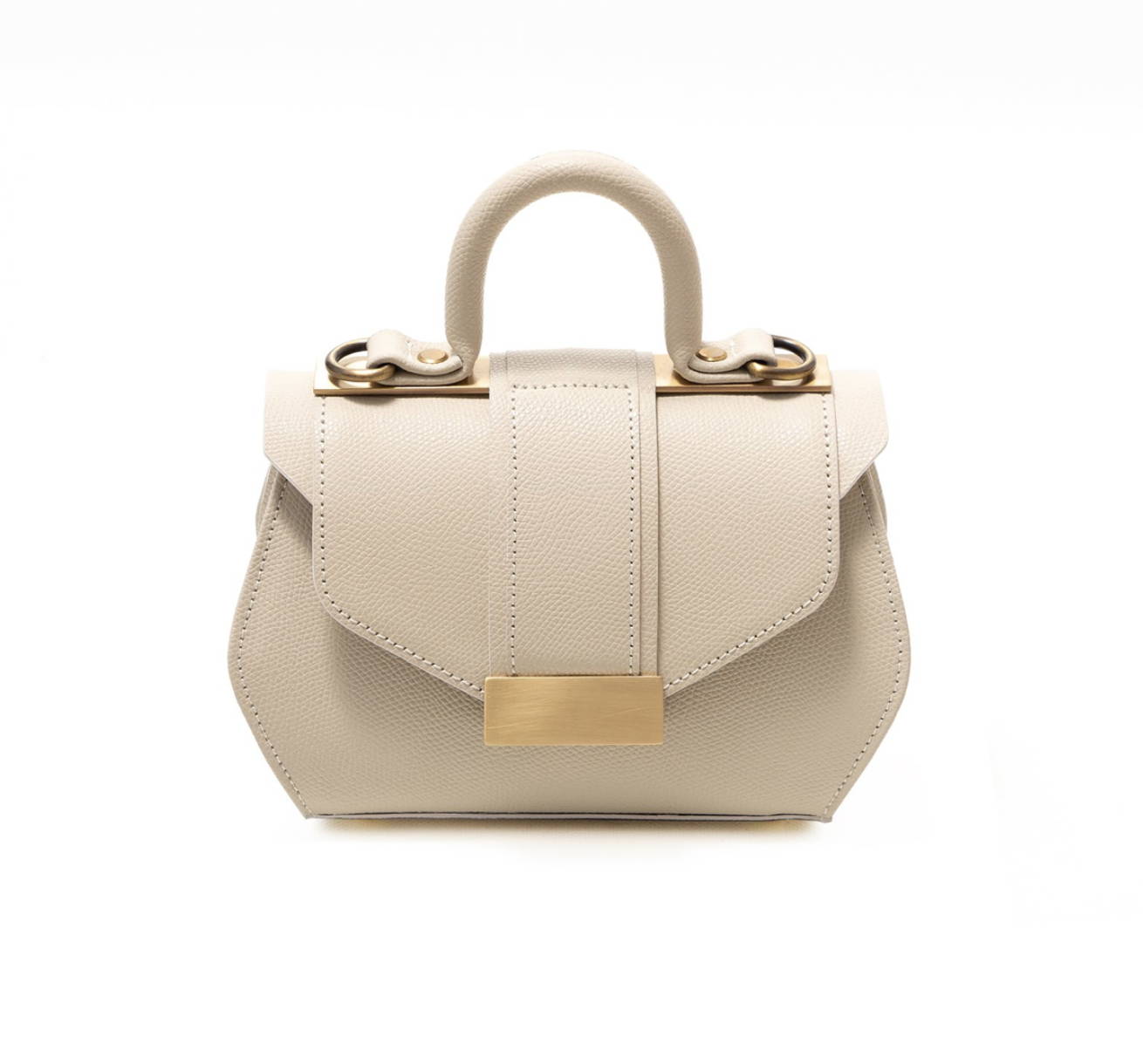 THE WOMEN OF THE WIENER WERKSTATTE
At the dawn of Modernism, 200 women made their artistic contribution to the Wiener Werkstätte. The design community was founded in Austria in 1903 by Joseph Hoffmann, Koloman Moser, and Fritz Wärndorfer, who were advocates of "total artwork".
The movement aimed to reform artistic craftsmanship, bridging the gap between craftsmen and artists and between execution and design based on strict quality criteria.
They founded a school that contributed to laying the foundations for later movements including the German Bauhaus. In its ceramics, goldsmithing, weaving, tailoring and glassmaking workshops, the Wiener Werkstätte produced products designed for everyday life.
In 1910, the Wiener Werkstätte founded its textiles department, followed in 1911 by a fashion department. They produced handbag designs with never-before-seen patterns. The projects were very much centred on the study and design of new textures. Underlying everything was a strong rejection of old tastes, naturalism, academicism, and the 'respectability' that was typical of the time.
Women were the protagonists of a cultural revolution that found it difficult to assert itself at that time. A few more decades would go by before the results of this movement would become clear, and women recognised as the protagonists of this revolution.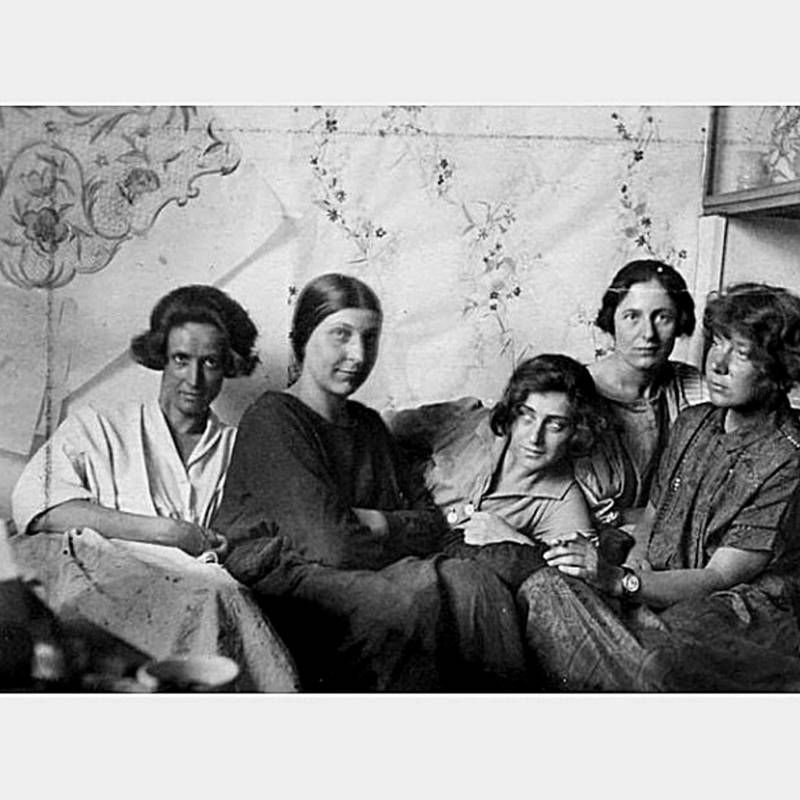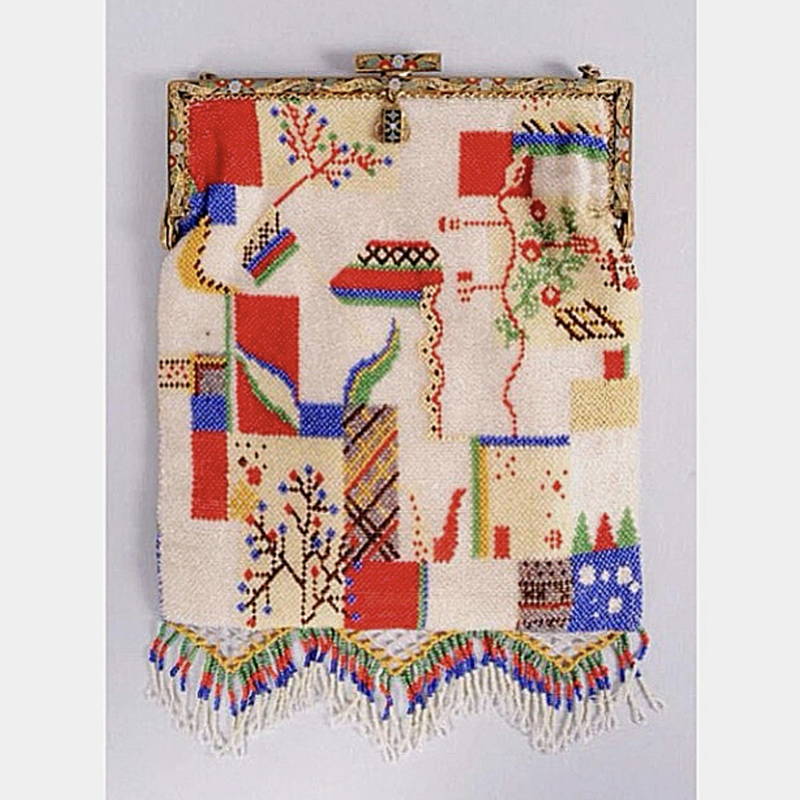 Gudrun Baudisch, Charlotte Billwiller, Mathilde Flögl, Susi Singer, Jutta Sika; Vienna, Austria; circa 1907
COCO CHANEL AND THE FIRST CROSS-BODY BAG
Photograph of Coco Chanel with the first 2.55 handbag; France; 1955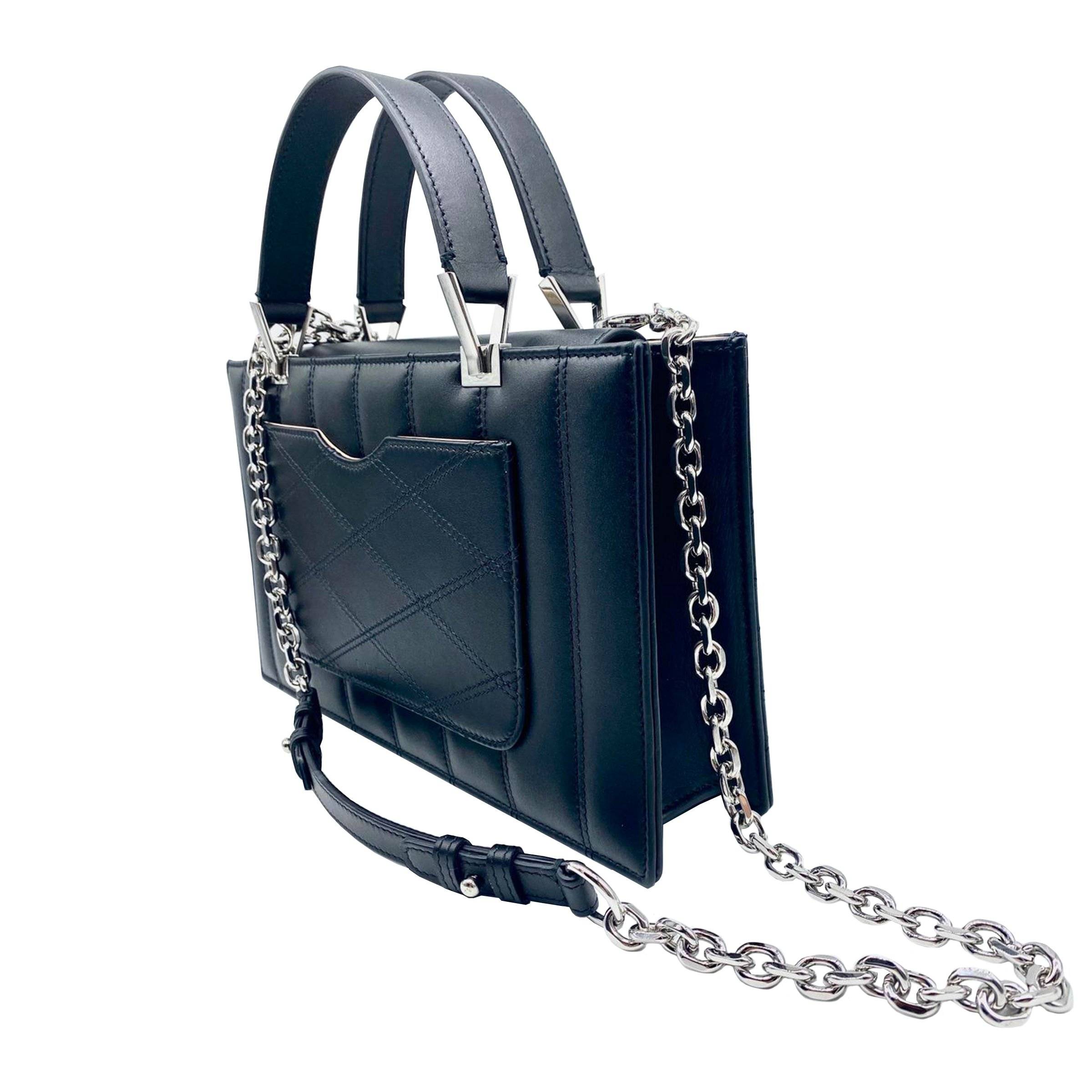 The 2.55 bag – whose name stands for February 1955 – is one of the most famous and copied handbags in the world.
Thanks to Coco Chanel's creativity, she was one of the individuals who contributed to revolutionising the concept of femininity and removing the aftertaste of the French Belle Époque.
Bold, non-conformist, and resourceful, she created a new style of fashion for women who at that time were emancipating themselves from domestic spaces and distinguishing themselves in the working world.
Coco understood the need for the modern, dynamic woman to have her arms and hands free to multitask. So she attached a strap to a rectangular handbag so that it could be carried over the shoulder. The original model was in a black and blue jersey fabric, which was later replaced by quilted leather with a swivel clasp that everyone began to imitate.
The Victorian era ushered in the handbag industry in Europe, and especially in France, fashion houses including Hermès and Louis Vuitton started popping up.
In the 1930s, Robert Dumas, who took over from Émile Hermès as head of the fashion house, created the famous Kelly bag, starting with a trapezoid shape, two triangular gussets at the sides, a cut-out flap, and a handle. This bag is made with the utmost of care and precision by a single craftsman who dedicates 18 to 24 hours to assemble it impeccably.
At the end of the 1950s, Grace Kelly, Hollywood star and Princess of Monaco, was photographed with the bag, which covered her stomach, concealing the fact that she was pregnant with her first-born, Carolina. Hence the name "Kelly". The first 'it' bag in history, it is a prestigious and exclusive bag that is extremely hard to come by, and there are endless waiting lists to get a hold of one.
Hermès later launched a similar model, inspired by saddle-like bags that the fashion house produced in the 19th century. Yet this one was less structured and softer and was designed for English actress and singer Jane Birkin, who had requested a low-key handbag for the weekend. The Birkin bag was a smashing success.
Today, the Kelly and Birkin are often re-created in ways that confirm their uniqueness and exclusivity.
An interesting tidbit: Jane Birkin's original bag was auctioned off in April 2011 to raise funds for the victims of the 2011 Tōhoku earthquake and tsunami.
DOES THE 'IT' BAG STILL EXIST?
Luxury fashion houses have always dedicated their most important collections and accessories to famous women. And it is often these women who inspire a particular design or who find an original way to wear it, leading to changes in the collections.
There is a long history of 'it' handbags named after style icons. This is a phenomenon that can be seen on the runways and throughout history, and that looks to culture and generational changes for inspiration. It is no longer a question of taste or functionality, but rather something that touches the unconscious, reflecting desire and appearances.
But we have to ask ourselves today, what makes an accessory a success? Is the era of the 'it' bag a thing of the past? What do we want to be a reflection of us? Who are our role models?
Our values have certainly changed today, with an example being how we see the environment and environmental issues, including where fashion is involved. There's no doubt that change is coming.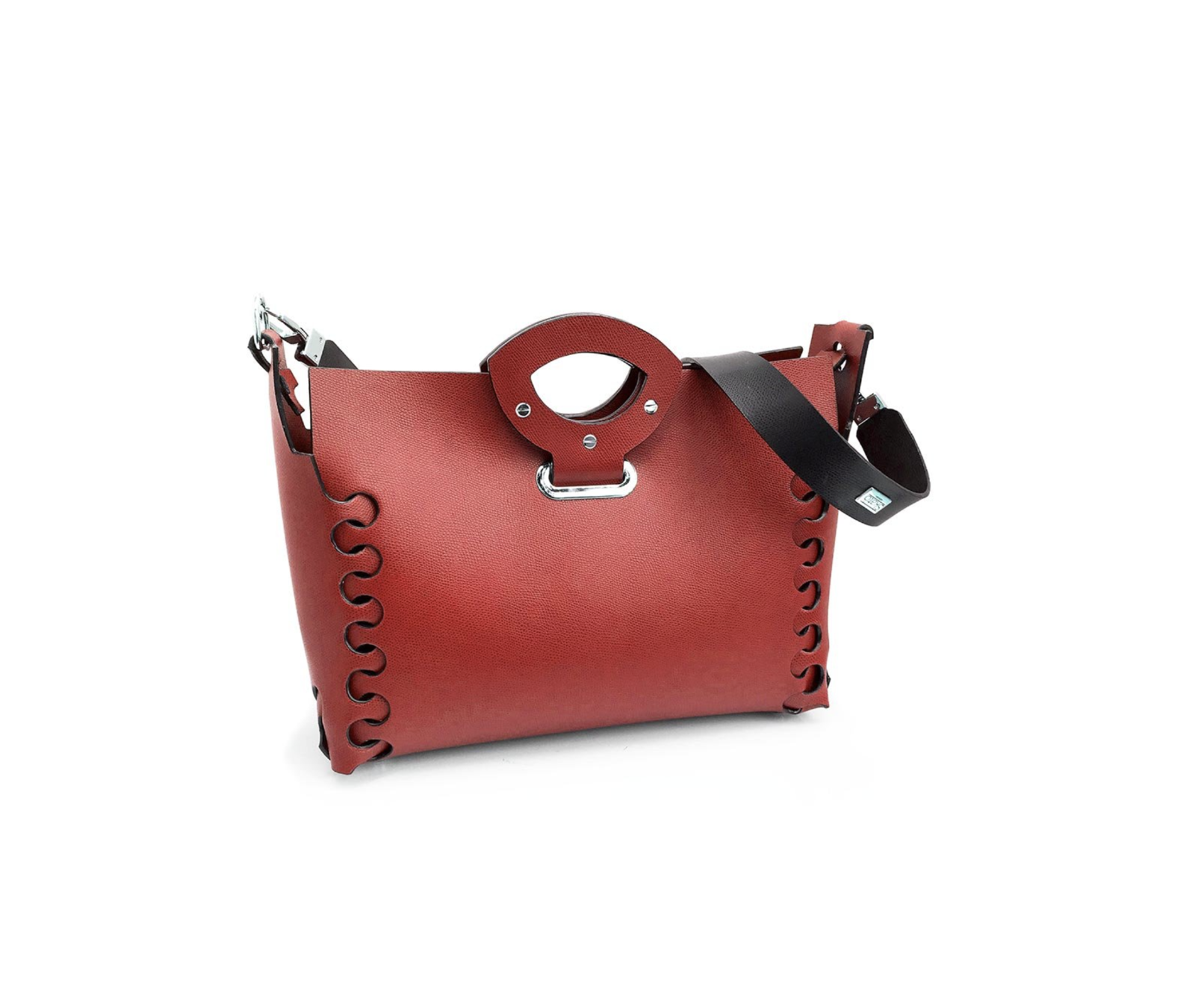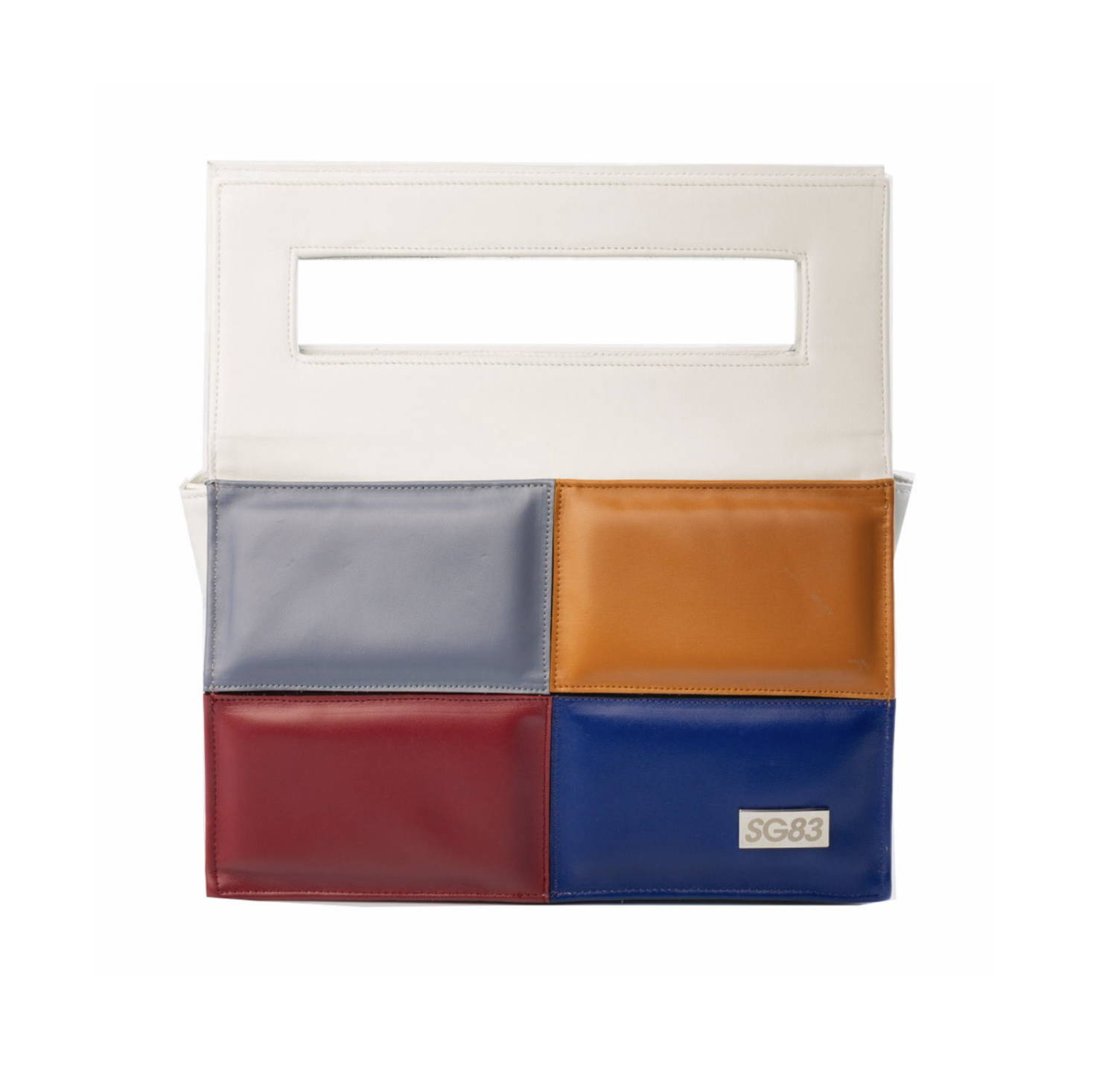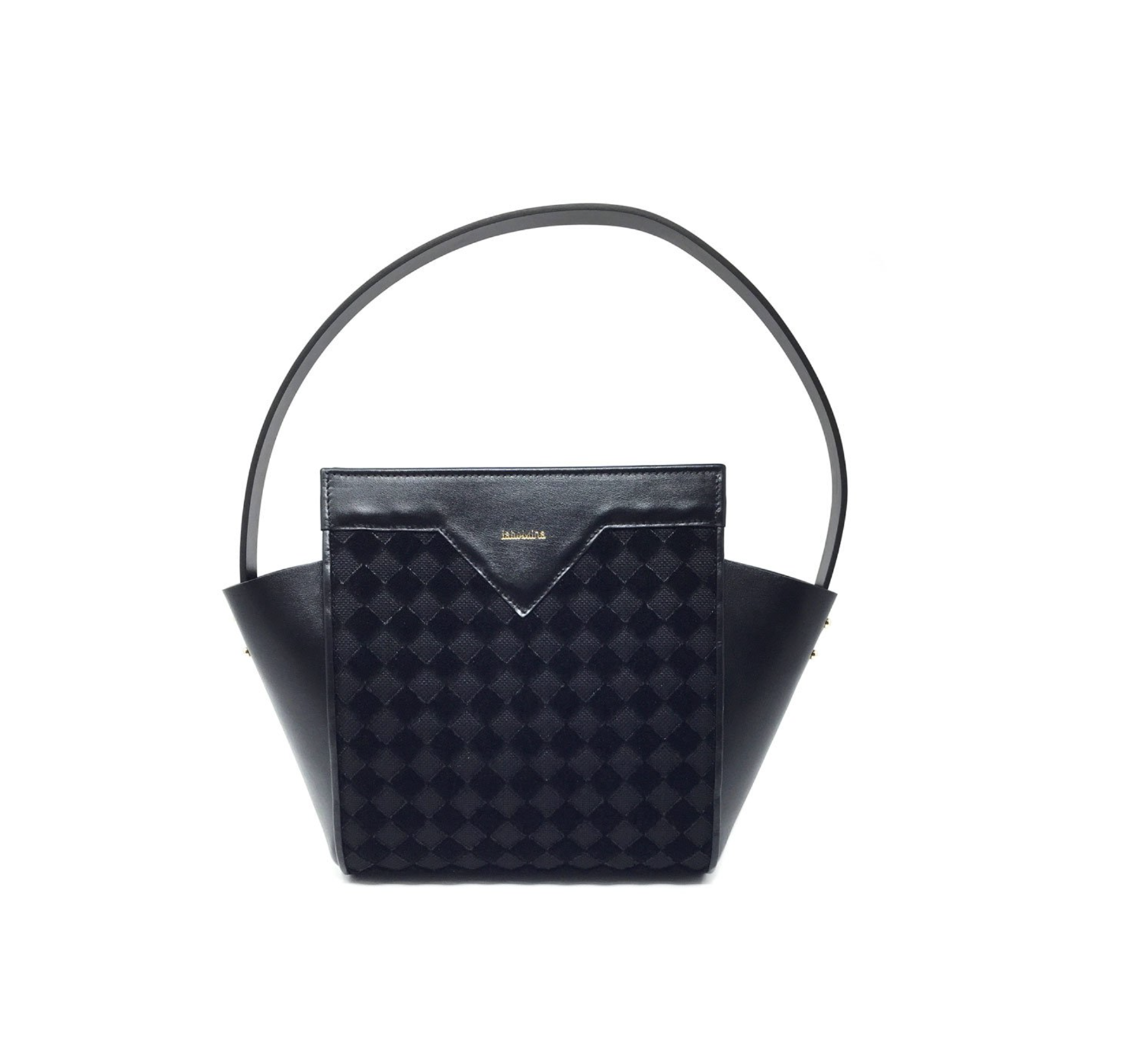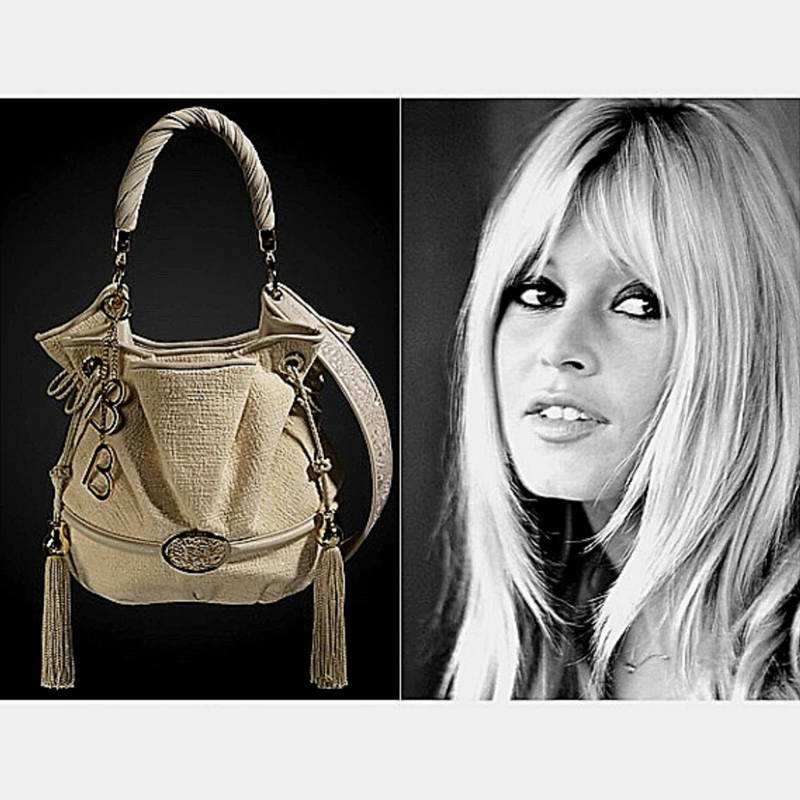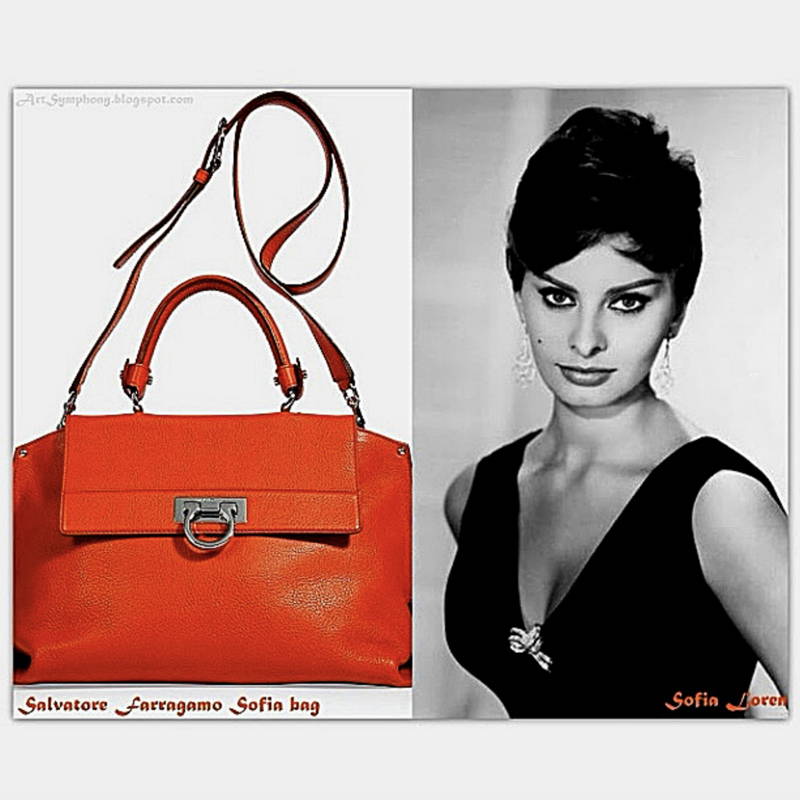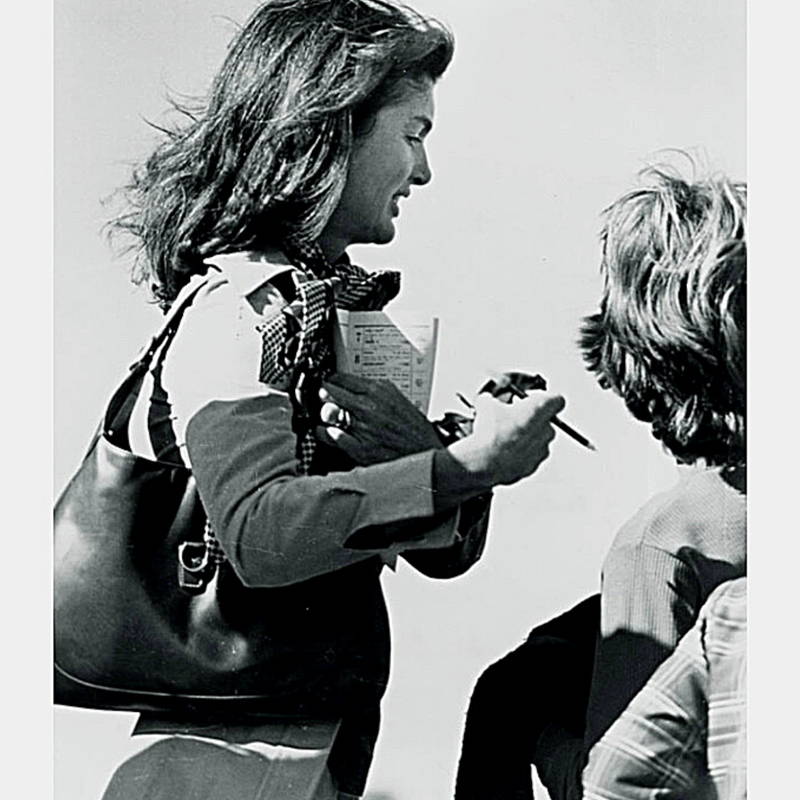 Lancel's BB (Brigitte Bardot) bag; France; 2010
Sofia (Loren) bag by Salvatore Ferragamo; Italy; 2009
Jackie O bag by Gucci; Italy; 1961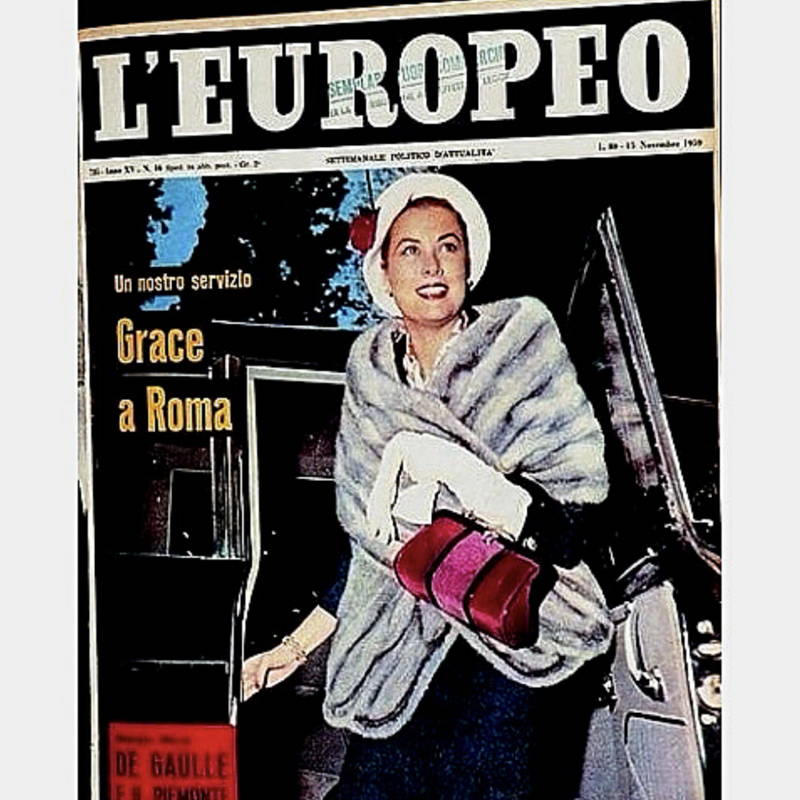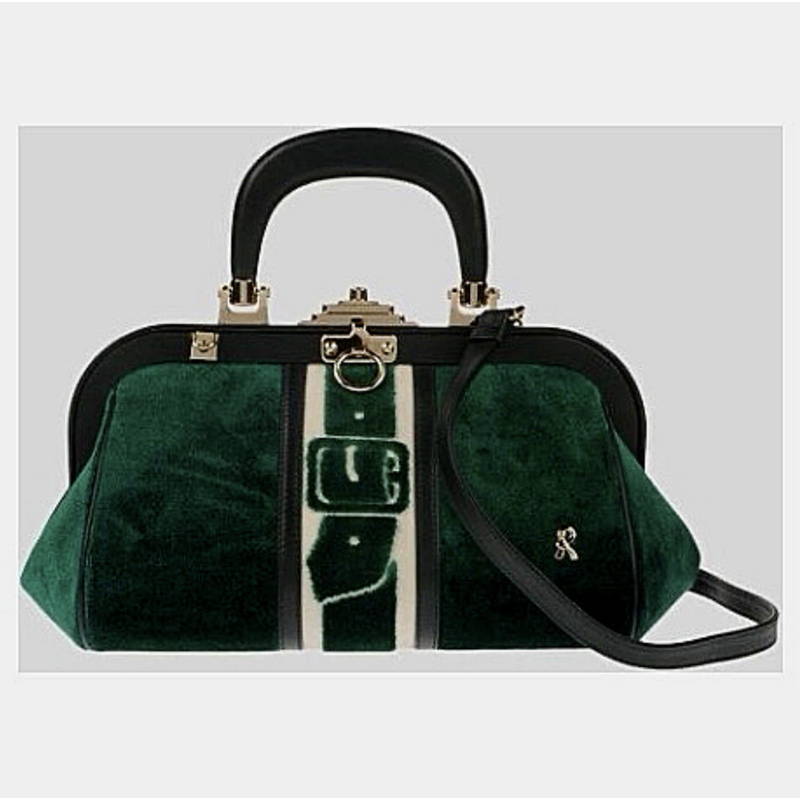 Cover of magazine L'Europeo with Princess Grace of Monaco in 1959, with a Bagonghi bag that almost seems to pop out of the image. Below: the Bagonghi bag; Venice, Italy; 1948
The Bagonghi bag was named after an obsolete Italian word used to describe circus workers, given its unusual shape. It was designed and produced by revolutionary Venetian stylist Roberta di Camerino in 1948, who was the first person in fashion to break away from the bag-shoe duo, which at the time had to match. She was also the first to invent fashion shows and brought actors, dancers, and animals to the runway.
She was a creative genius, and right after WWII she created a dual-purpose handbag that could go from day to night in a pinch. With its velvet 'cover' (as she called it) it was a daytime bag. But when the cover was removed, the bag turned into a dark leather evening bag. Initially, the bag's metal detailing was created by the same craftsmen who fashioned the metal detailing on Venetian gondolas.
It all began with the creation of a black backpack in 1984. The novelty was that it was produced in an unusual material for a luxury bag: it was in 'vela fabric', an aristocratic version of the synthetic polyamide weave invented by Wallace Hume Carothers in the DuPont laboratories in the late 1930s. The fabric was pliable, soft, and shimmery, and when fashioned with meticulous craftsmanship techniques and with the addition of saffiano leather trimmings, the material was extremely successful thanks to its lightness and practicality. A collection of bags was immediately created and to this day still has a cult following.
"Suddenly, nylon seemed more interesting to me than any haute couture fabric. I decided to introduce it to the collection and on the runway. This inevitably challenged, almost destabilised, the traditional and conventional perception of luxury. To this day, nylon is still an obsession of mine" (Miuccia Prada).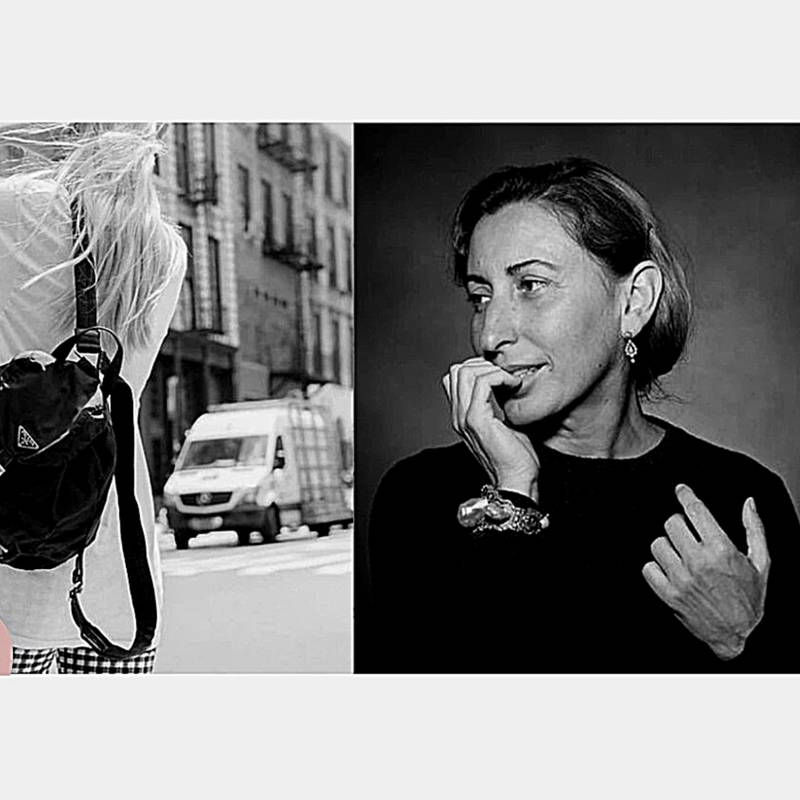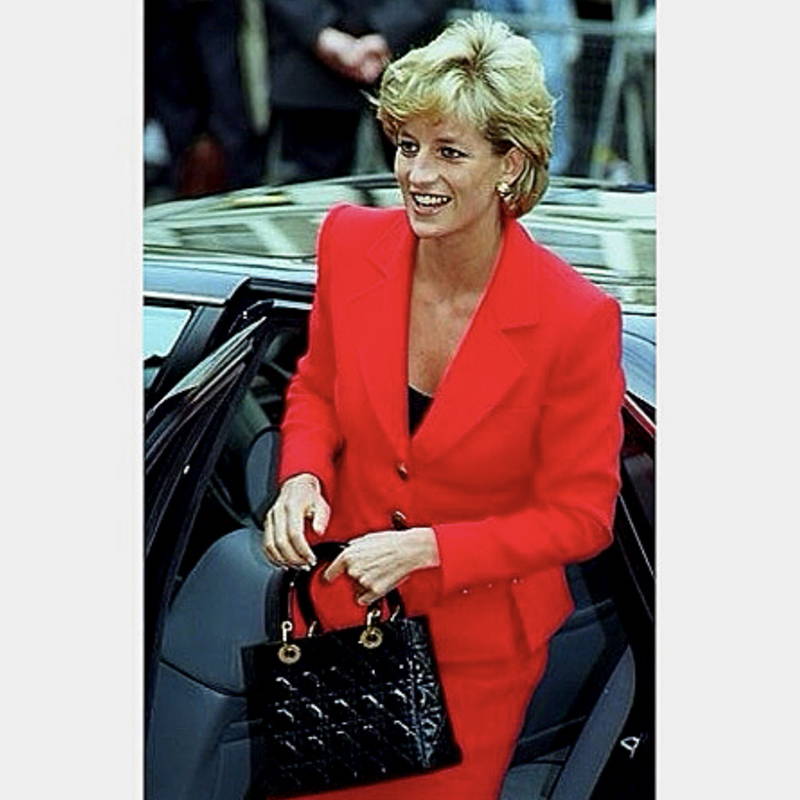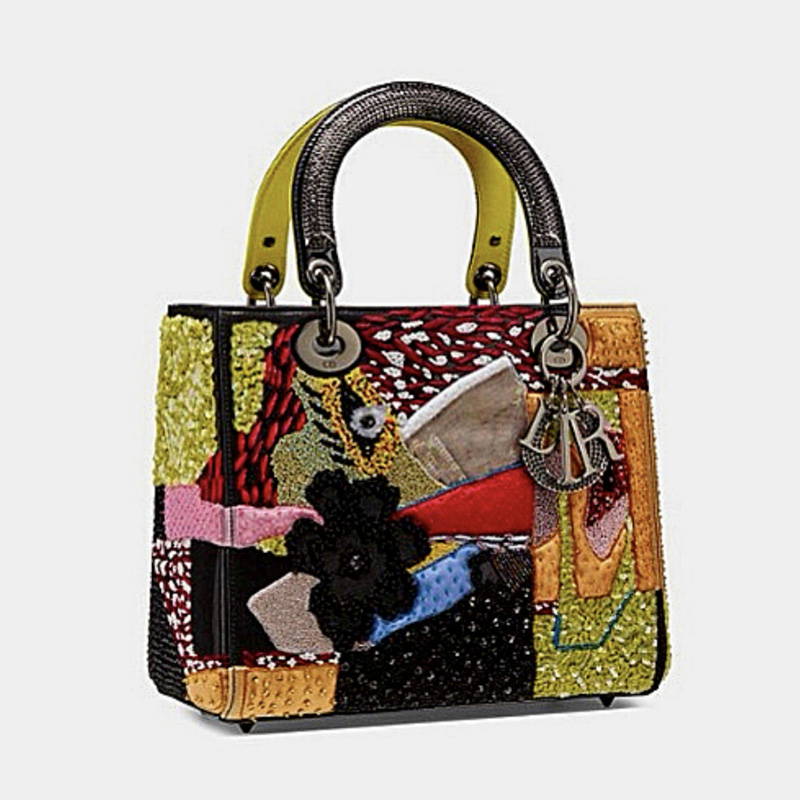 Lady D pictured on two occasions with a Lady Dior bag; Paris; 1995. Below: a bag from the Dior Lady Art collection
In 1995, Bernadette Chirac gifted Princess Diana with this famous handbag, which was immediately renamed from "Chouchou" to "Lady Dior" (Lady D) in her honour.
The first time Diana used it was at the Cézanne exhibition at the Grand Palais in Paris. From then on, she wanted it in different sizes and colours and never parted ways with it again.
In the 1990s, backpacks and fanny packs were all the rage, and cross-body bags were extremely practical must-haves. Dior immediately distinguished itself with a decidedly elegant handbag that both older and younger generations would love wearing. The Lady Dior was different, with its compact and square body, rounded handles, and charms that spell out "Dior".
Today, the bag is a classic icon and can be found in the bright colours and patterns of the Dior Lady Art project, which reinvents and transforms this timeless accessory at the hands of international artists.
FASHION: A DIALOGUE WITH CONTEMPORARY ART
In 1896, Louis Vuitton launched its famous Monogram canvas bags, which – inspired by the oriental design of the late Victorian era – blended the founder's initials (LV) with flower and four-leaf clover shapes. It's a pattern that anyone would recognise.
Initially, Louis Vuitton created its "gris Trianon", or gray Trianon canvas that was a new waxed material, to cover its steamer trunks as it was waterproof yet light and resistant.
The brand was the first to produce soft, practical, and unstructured bags and was the forerunner of leather goods. It continues to blend influences from around the world, as it has done in the past, with reinterpretations of the brand's Monogram: starting with Takashi Murakami in 2002, then Richard Prince in 2008, as well as Damien Hirst, Jeff Koons, and dynamic artist and activist Yayoi Kusama, to name just a few. All of this is part of Louis Vuitton's goal of always keeping up with the times.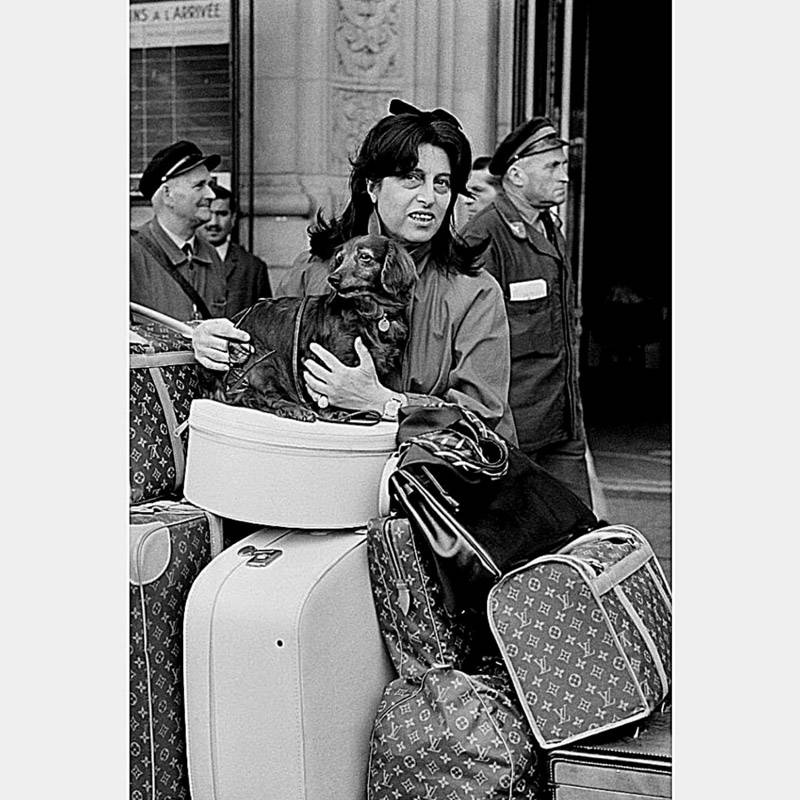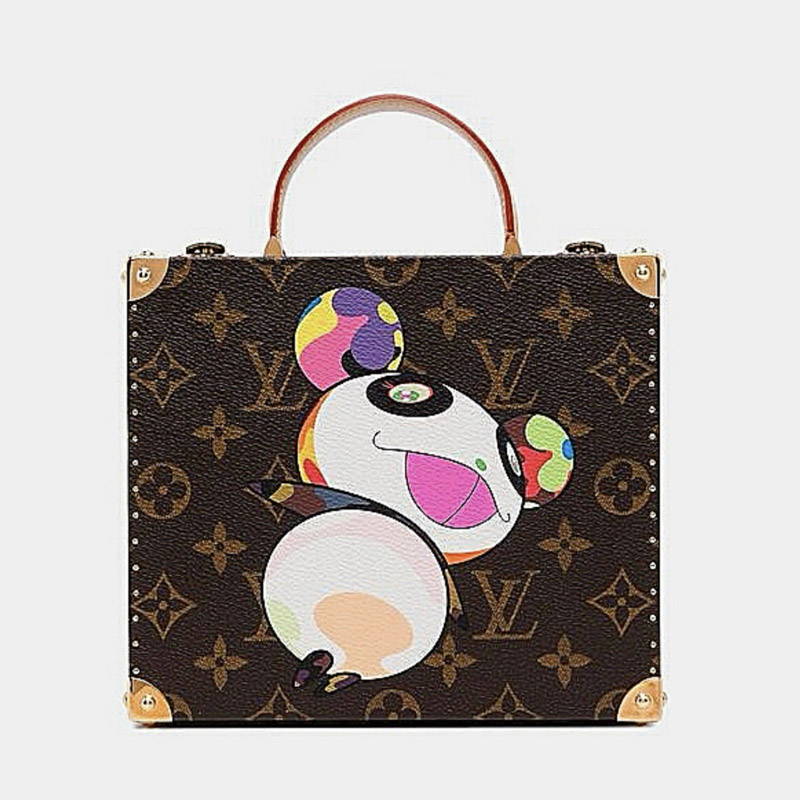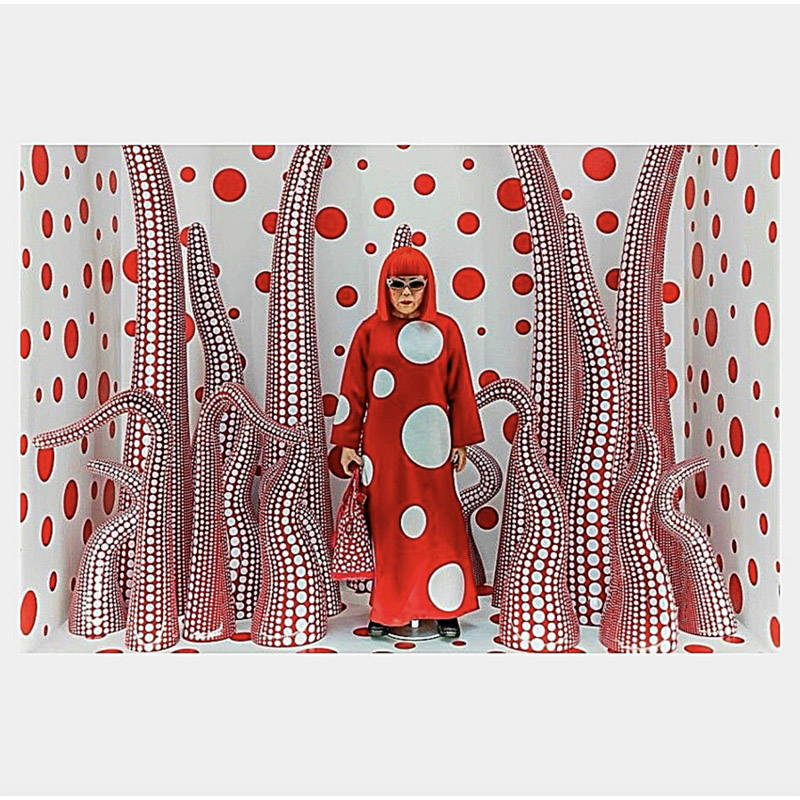 Photo from 1960 of Anna Magnani with Louis Vuitton bags and luggage
SLIGHTLY GRUNGY, BUT COUTURE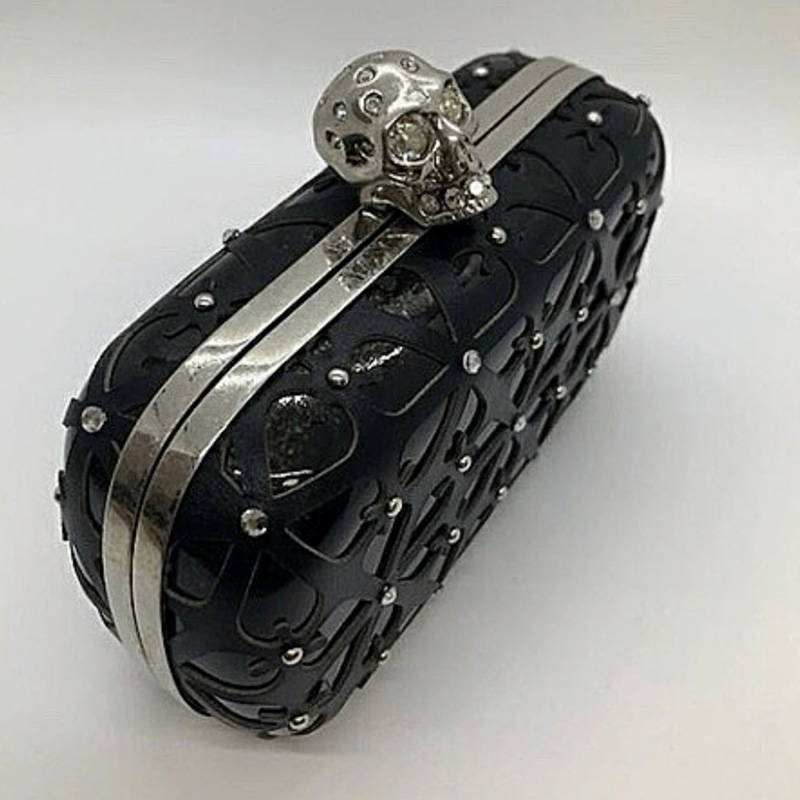 Alexander McQueen clutch; UK; 2003
Raise your hand if you were enamored of the Alexander McQueen phenomenon. The mastermind British designer was transgressive and shocking to the point of being called the "hooligan of fashion", but he was also a delicate soul. He was one of the poets of the 21st century who was capable of changing the way people saw not only fashion but also women.
He was enthralled with skulls and brought them to the world of fashion. His collections became an obsession, as did his performances, which decried the culture of violence against women.
He managed to blend couture with urban counterculture, and sophisticated styles with streetwear.
Some handbags are truly artistic masterpieces and one-of-a-kind, limited edition creations. These bags are often playful and over the top with their unexpected shapes and colours.
Carla Braccialini is a designer who in the 1980s – a time of excess and extravagance – launched her Temi collection, which was made in Italy and inspired by Italian Art Deco accessories. We were all crazy at the time for those bags which were finally different, fun, and at times even helped break the ice at parties.
Today, a handbag should express your lifestyle and personality, and there are extraordinary artists in Italy and around the world who know exactly how to help you make a unique, expressive statement.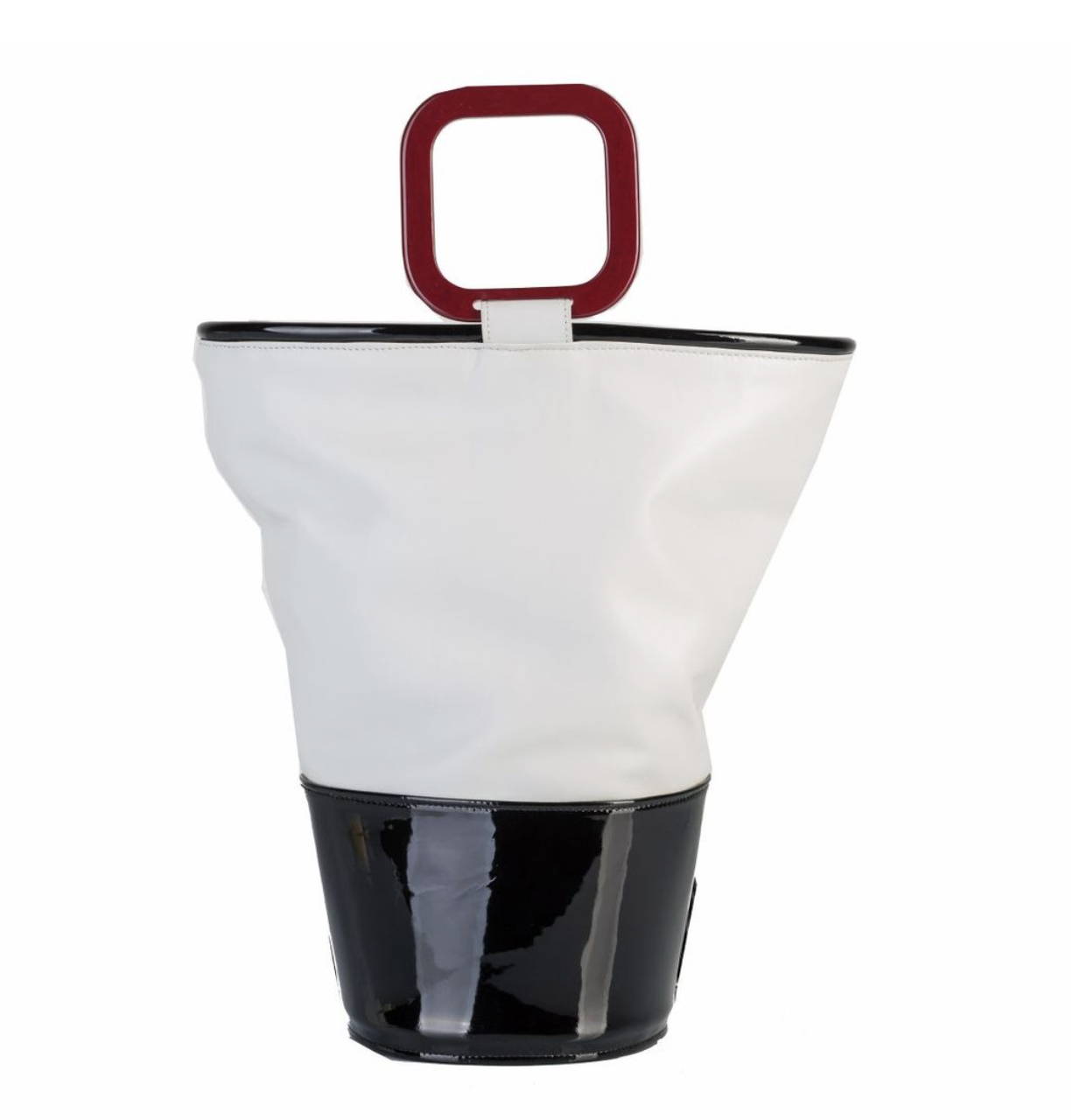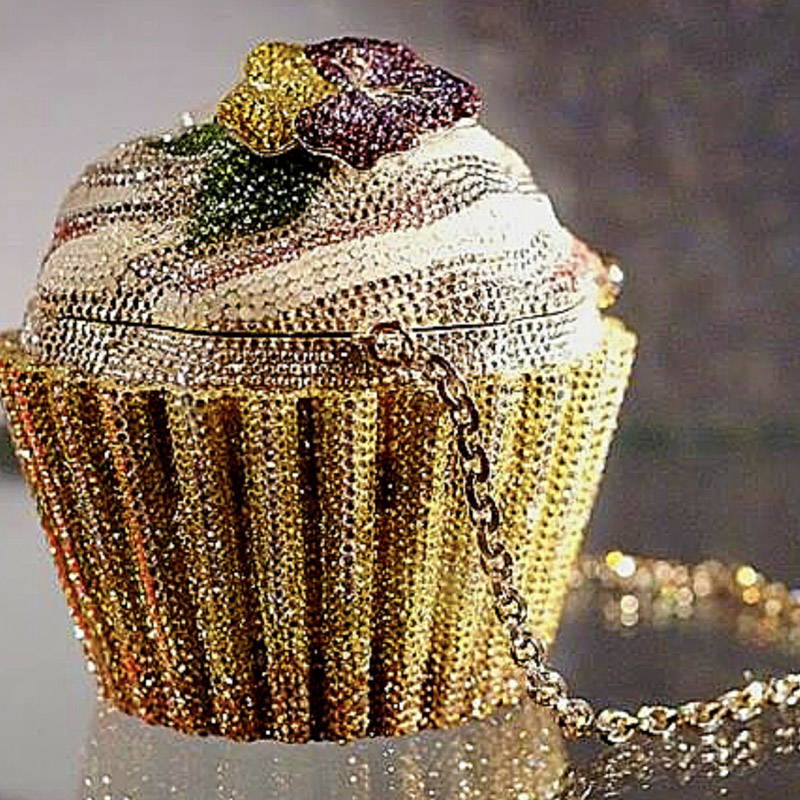 Kathleen Dustin: cactus purse. Carla Braccialini: Pasta-dolce purse. Italy; 1980s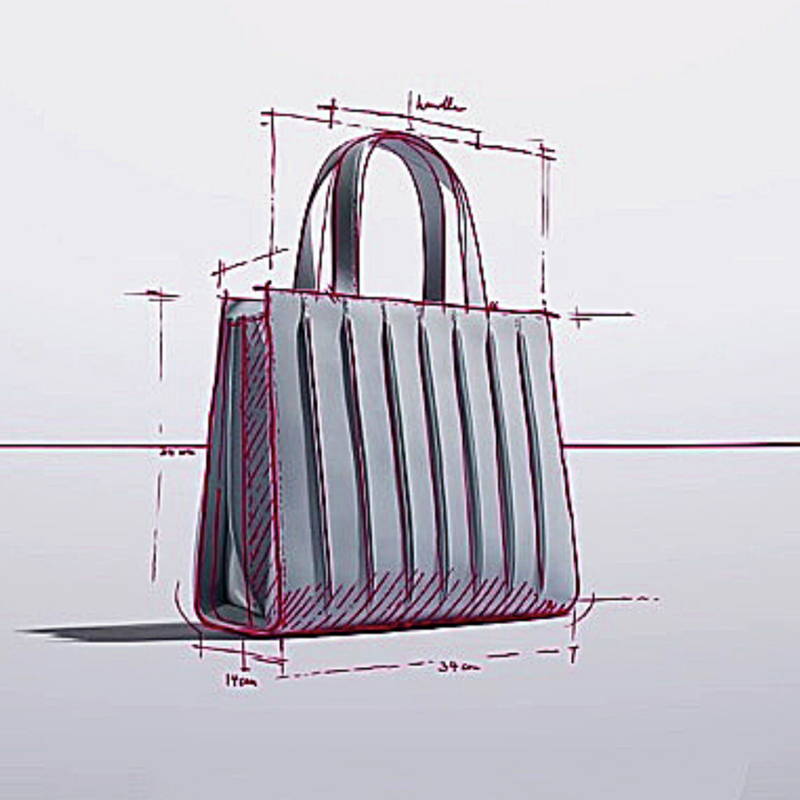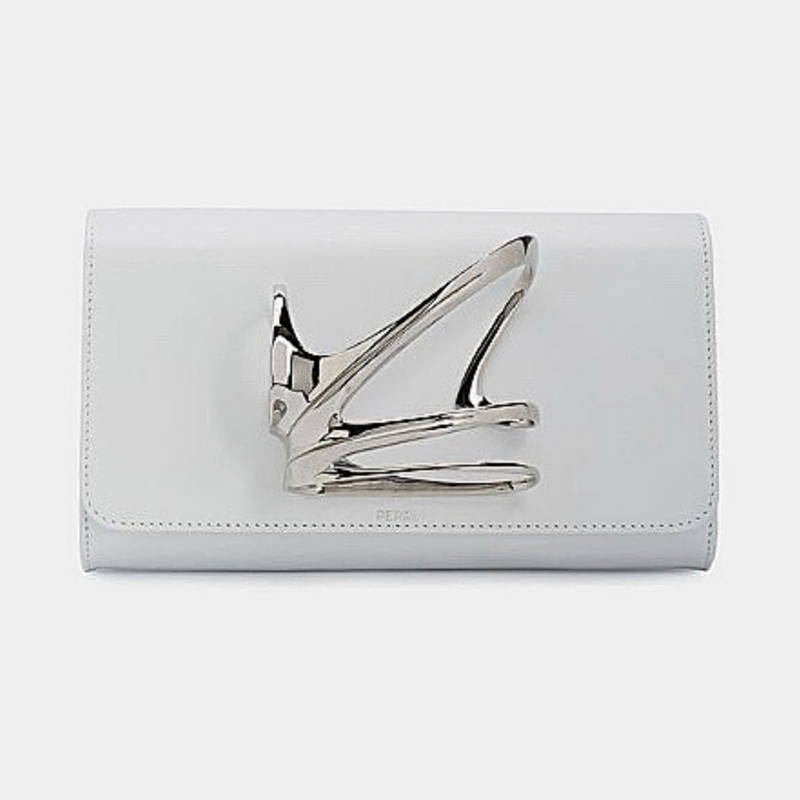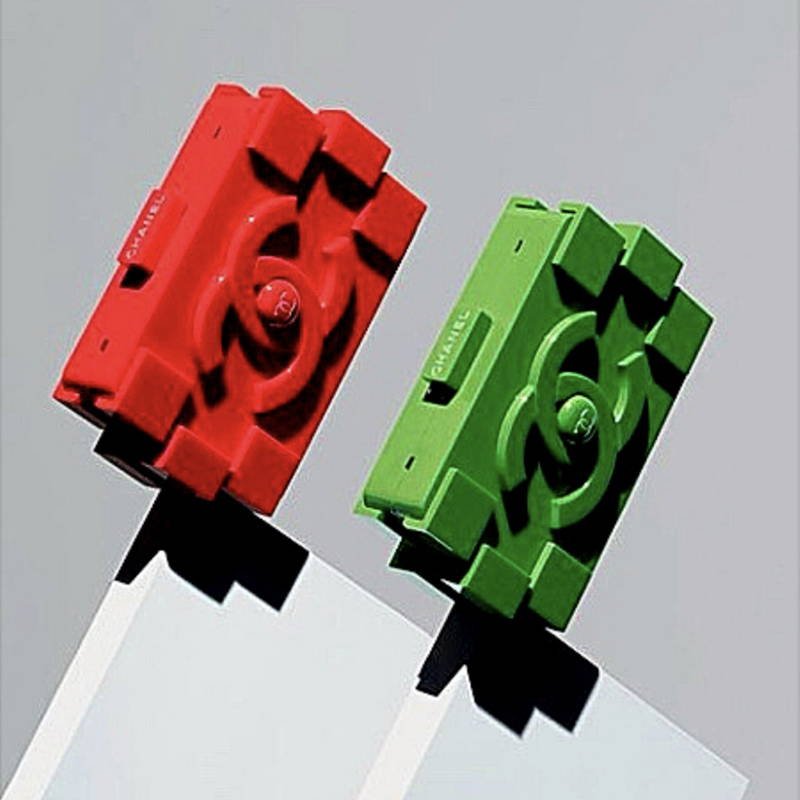 Renzo Piano; Whitney Bag; Max Mara; Italy; 2015
Zaha Hadid; Clutch; Perrin Paris; France; 2017
Issey Miyake; Bao Bao Bag; Japan; 2000
Clutch Boy Brick (Lego); Chanel; France; 2013
These bags are a blend of engineering, architecture, and sculpture. Inspired by simple geometric figures, they are created with origami techniques, with cuts or plays on light, with ribbing, graceful supporting structures, or shapes that conjure up the fundamentals of architecture, structural details, and experimental techniques and materials.
These are handbags that creative individuals love. They inspired fascination thanks to their contemporary spirit and the complexity of the techniques and materials used to create them.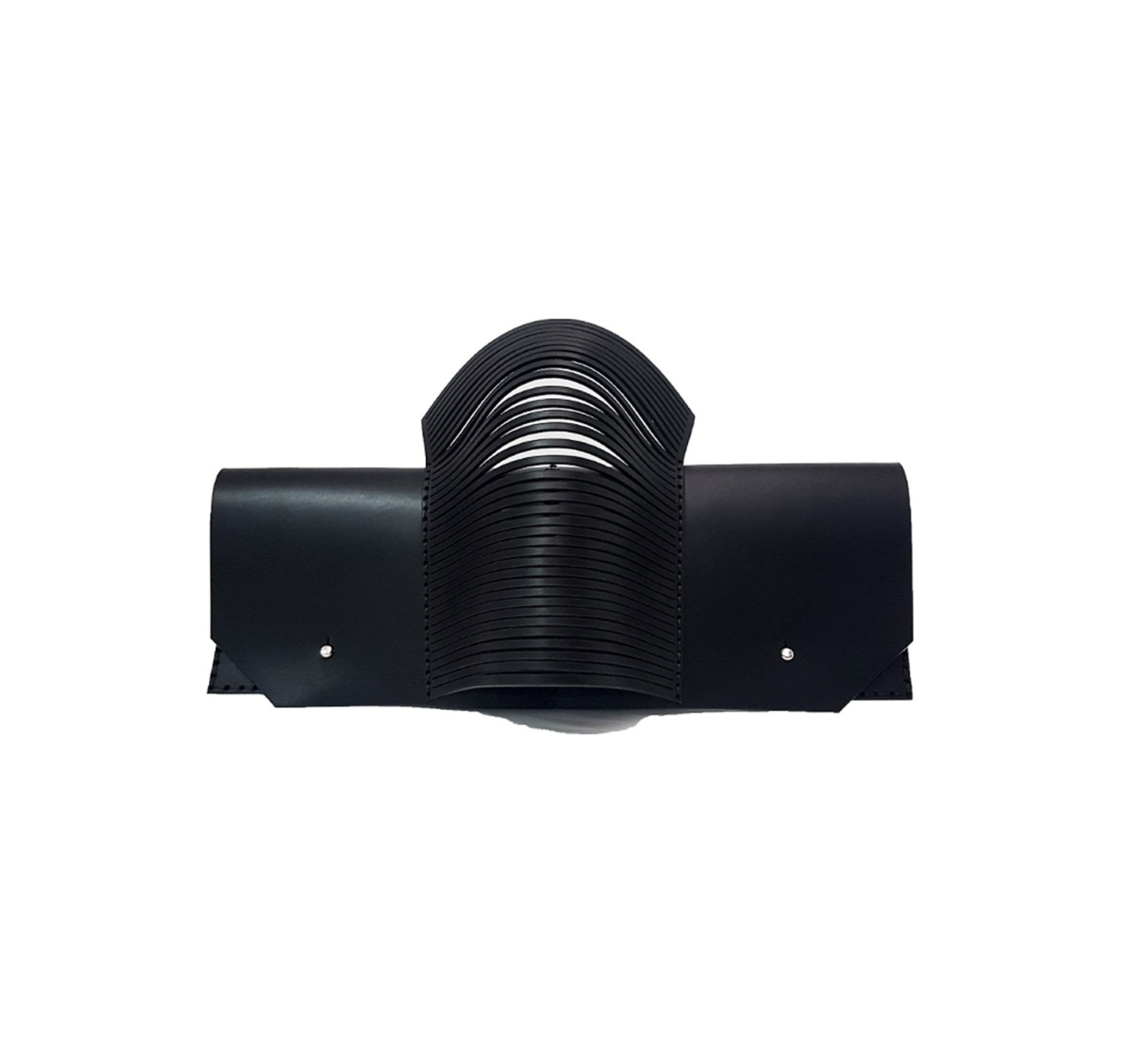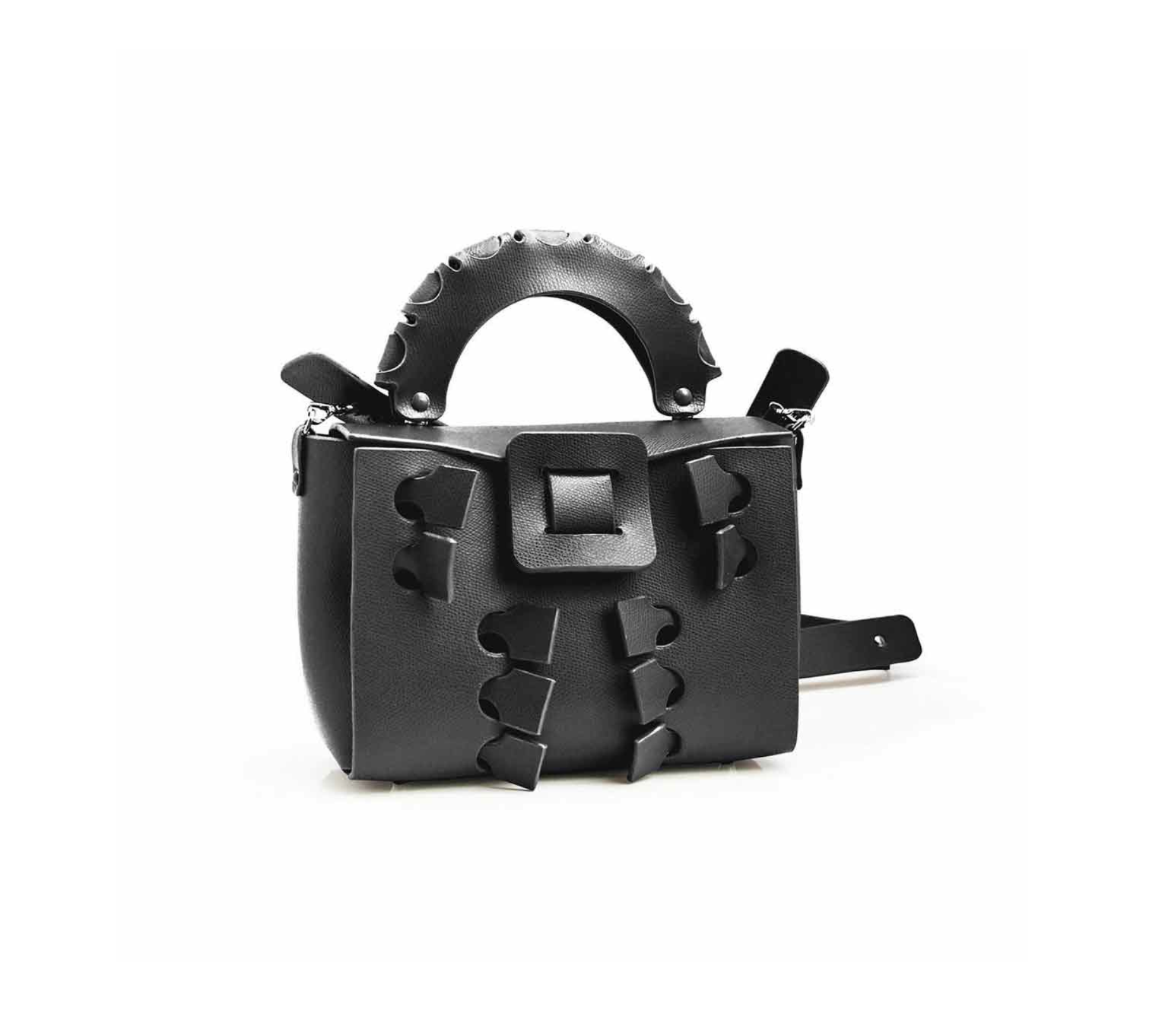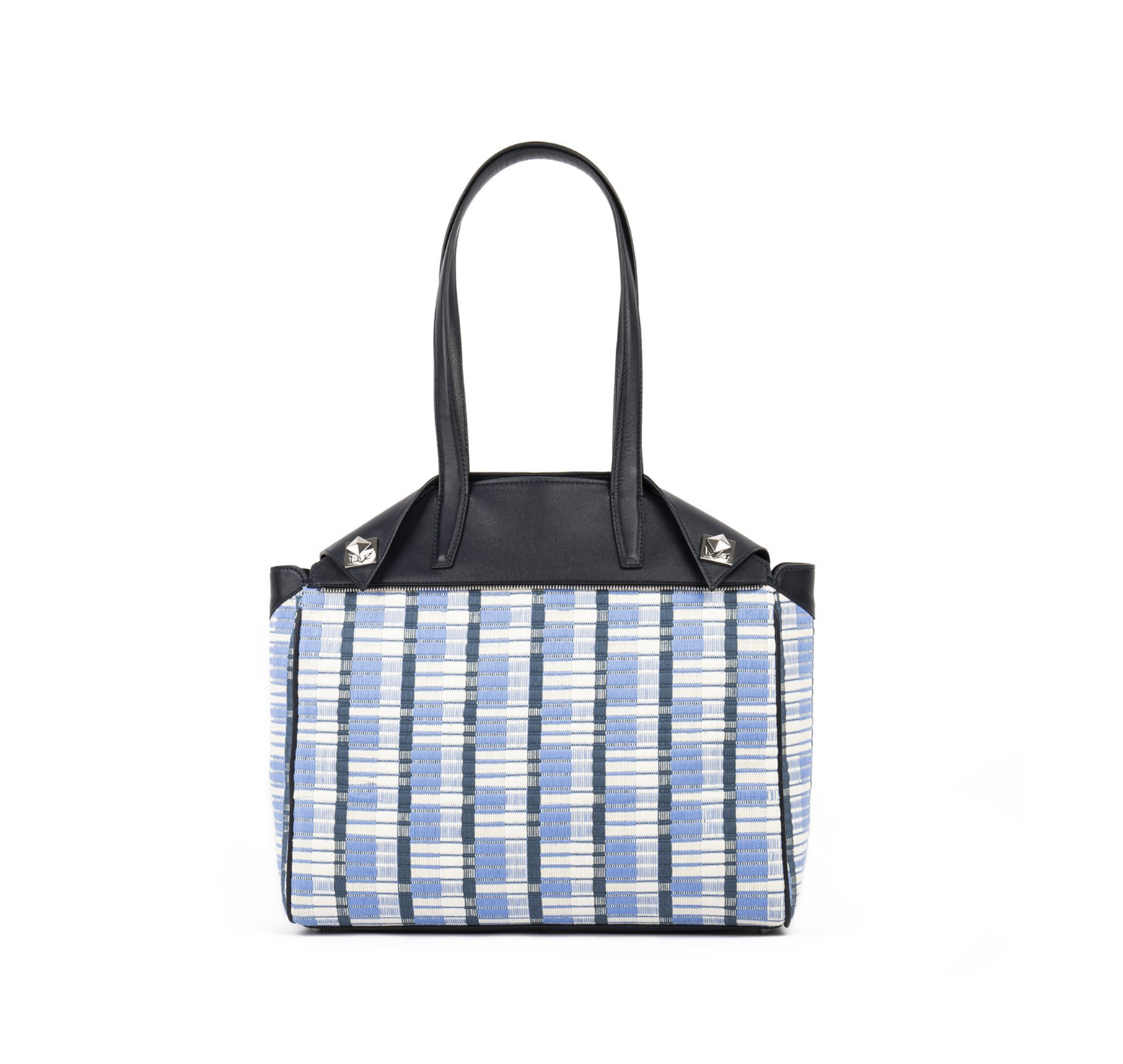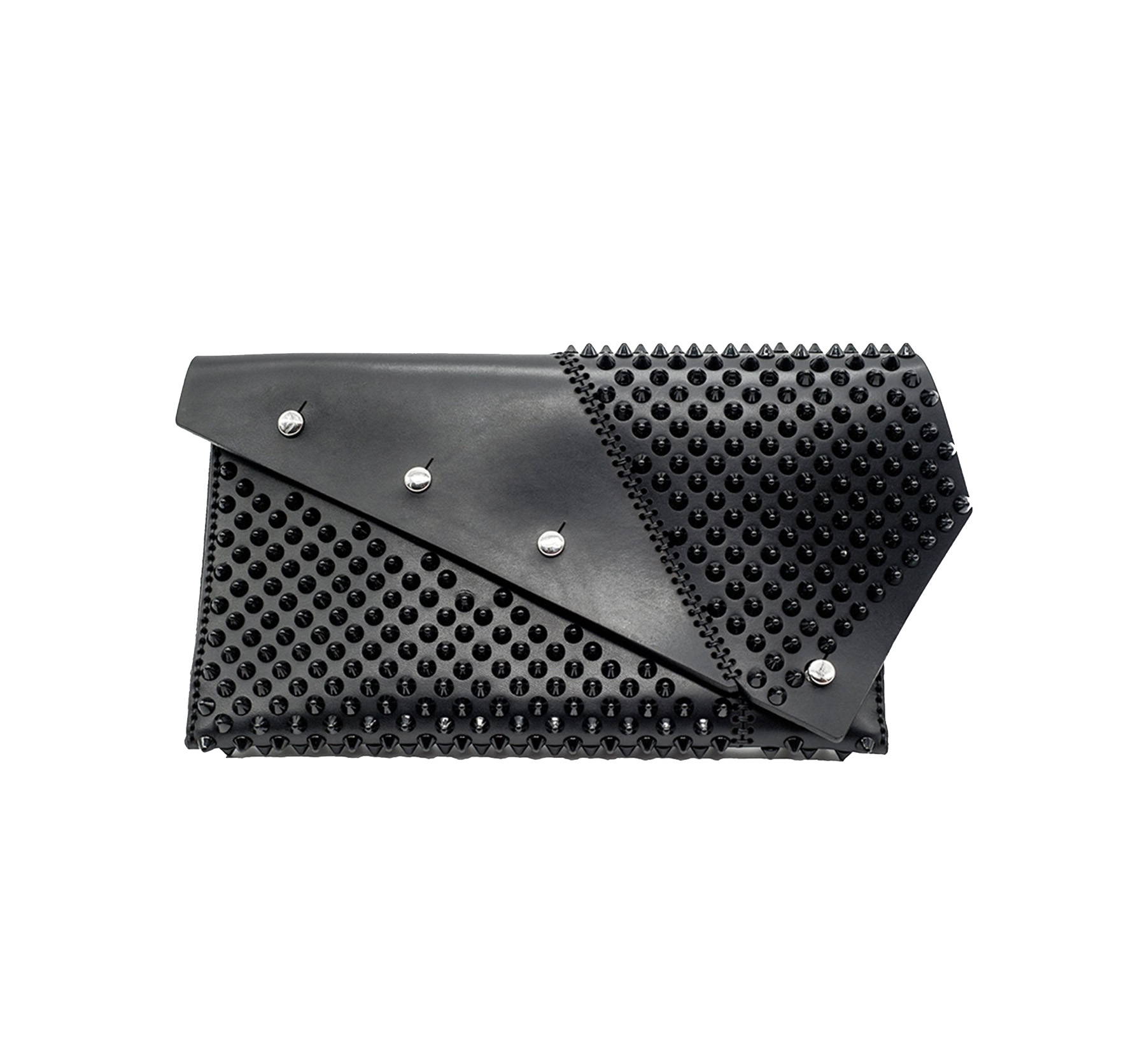 RECYCLING: FROM WASTE TO DESIGN
Recycling and the circular economy in fashion are hot topics. As designers, we have a huge responsibility, and the future of the environment depends on society being able to resolve issues of waste and pollution. We recycle because we care about the future of those who will come after us.
First, there is no more space for waste, and our landfills are quickly filling up. For example, by 2022 Italy will have to think of new waste storage spaces.
And since producing goods from raw materials costs much more than making them from recycled products, we need to preserve natural resources for future generations. Recycling reduces the need for raw materials and consumes less energy, thus preserving precious resources.
And then there's the fact that sustainable fashion isn't just about organic cotton or second-hand clothes. It's about taking advantage of and using materials we already have available and that deserve a new life. Waste that cannot be disposed of can be transformed into something new.
The world of fashion is far ahead of the world of furniture design in recycling and upcycling.
For example, Ilaria Venturini Fendi's Carmina Campus brand is a prime example of this, with its use of unusual materials that are created from non-recyclable objects, including a bag that incorporates light switch plates from manufacturer BTicino.
The products created thanks to these ecological choices are not only ethical and sustainable, but also special and unique.
HOW TO SPOT A REAL IKEA BAG FROM A BALENCIAGA
Ikea made sure to let the world know that there's only one Frakta bag, and responded tongue-in-cheek to Balenciaga's launch of a bag that very much resembles the world's most famous blue shopping bag.
There was also the brilliant campaign, by creative director Johan Holgrem of Swedish agency ACNE, that described how to spot a real Frakta bag:
"How to identify an original IKEA Frakta bag: 1) Shake it: If it rustles, it's the real deal. 2) Multifunctional: It can carry hockey gear, bricks and even water. 3) Throw it in the dirt: A true Frakta bag is simply rinsed off with a garden hose when dirty. 4) Fold it. Are you able to fold it to the size of a small wallet? If the answer is yes, congratulations. 5) Look inside: The original has an authentic Ikea tag. 6) Price tag: Only $0.99."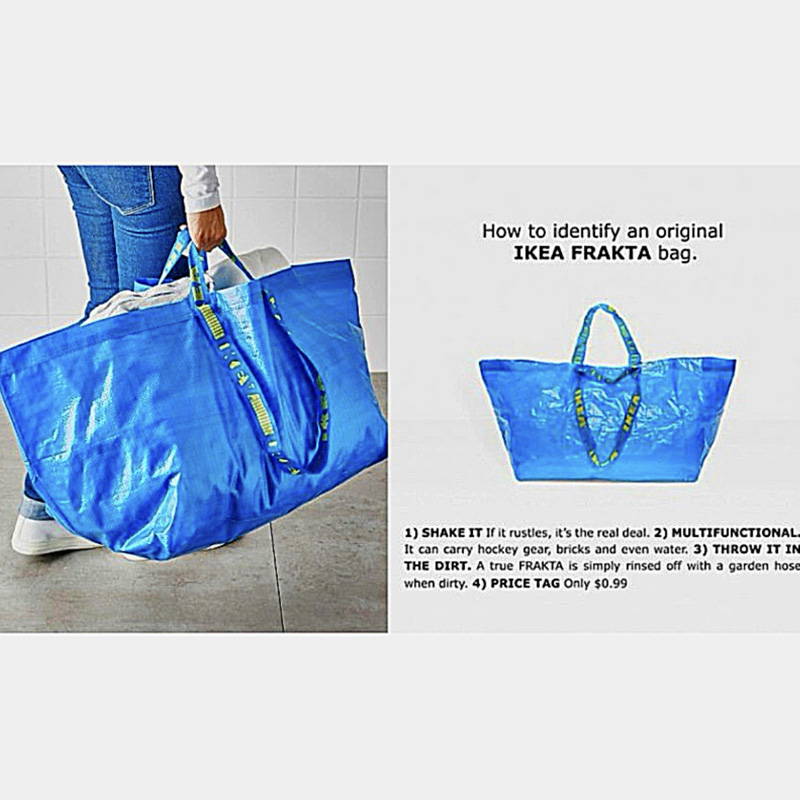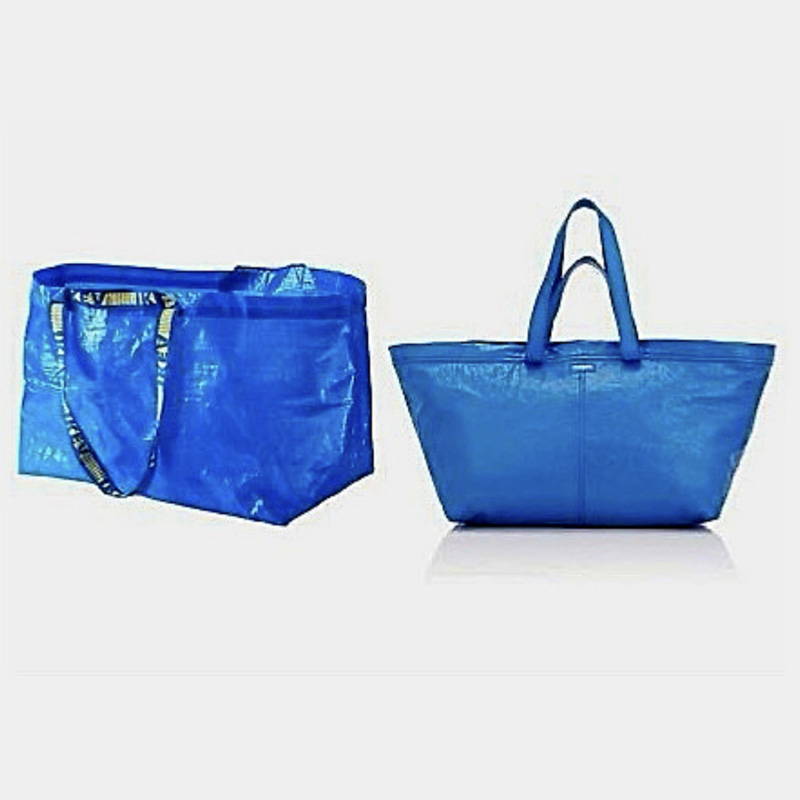 ETHICAL AND SUSTAINABLE HANDBAGS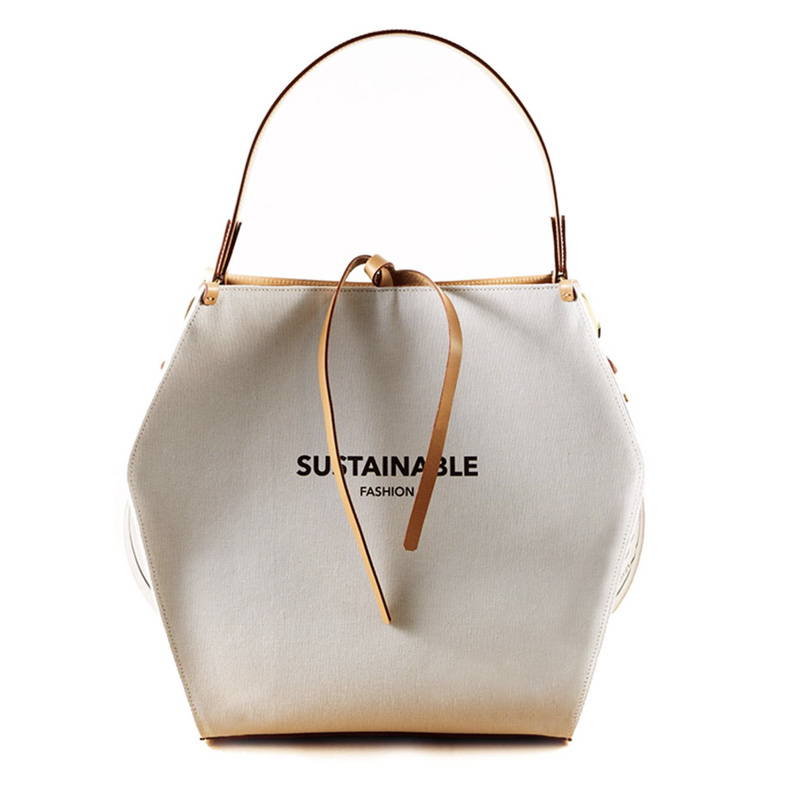 Marco Trevisan tote bag in organic cotton canvas and vegetable-tanned leather with no synthetic tannins or chrome
Sustainable fashion is a trend is increasingly involving the textile and leather industry – one of the sectors that has the biggest environmental impact. It's a process of promoting change in manufacturing garments, in production processes, and in the disposal of items at the end of their life cycle.
The result is an extremely interesting and ethical area of research that focuses on studying innovative components that respect the environment.
Today, we are all far more ecologically aware and responsible than in the past, and a large part of our choices and purchases reflect our greater level of sensitivity to these issues. We are better prepared and know how to recognise raw materials that pollute less. We understand how to save water and electricity in production costs, and we seek to recycle waste wherever possible.
There are no alternatives if we want to avoid further damage to our planet.
GESTURES OF SOLIDARITY FOR CULTURAL ENGAGEMENT
In Farsi and Pashto – the two official languages in Afghanistan – 'gul' means flower, and in Farsi 'dusi' means embroidery. The term 'guldusi' is used by women for all types of hand embroidery. Many women living in rural Afghanistan are highly skilled embroiderers. The aim is to provide them the opportunity to generate income through their embroidery skills while ensuring that traditional hand embroidery continues to be a part of their rich heritage.
The idea is to help these works of art to be appreciated and purchased for homes outside of Afghanistan. When people in other parts of the world discover these pieces and incorporate them into their own textile work, two cultures come together and generate new art. Buying these masterpieces means being an ambassador for and respecting cultural identity.
Traditional Afghan bag with Pashtun embroidery from the province of Katawaz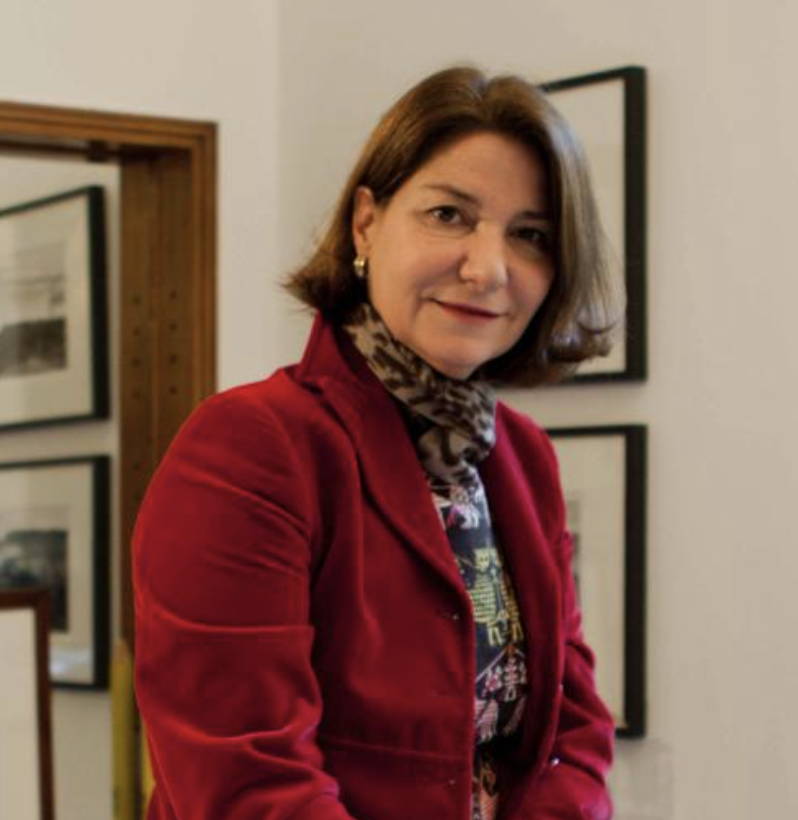 Antonella Dedini is an Italian architect, an interior designer and a University professor.
As a design curator, she found the Milano Design Film Festival, an internationally recognized event that she co-curated until 2019. In addition, she is the editorial author of a unique and atypical Instagram profile named Deden Design List, founded in September 2020, to prove that good Design improves your life.
From August 1st 2021, she collaborates with Design Italy to draw up a monthly list by category of objects, themes, and spaces.
The List is a thematic editorial selection of about 20 pics.
Let's keep an eye on Antonella's selection every month.