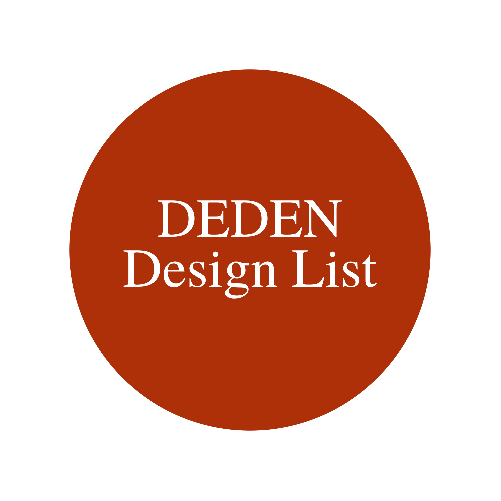 A monthly list curated by Antonella Dedini
Barthélemy d'Eyck, Still Life with Books in a Niche, 1442-1445, oil on canvas, 30 x 56 cm, Rijksmuseum, Amsterdam
Whether located in the home or office, bookcases and bookshelves are in a distinct and complex world of their own. Because while a unique sofa, chair or table can furnish a space on their own, a bookcase can't perform its intrinsic function without displaying objects on its shelves. Bookcases and bookshelves are the display cases of life and of the person who lives in that space: beloved books, special gifts, collections or small decorative objects. Only when bookshelves are full can they truly express themselves. After all, they are like small homes that we make unique.
It was not easy to create this list. Like all lists, this one cannot and should not be exhaustive, because as writer Mario Soldati said, "whoever wants everything wants nothing". So my apologies go to the other hundreds of important bookcases, bookshelves and shelving systems in history that will not be mentioned here. But that's the beauty of lists: they can be endless.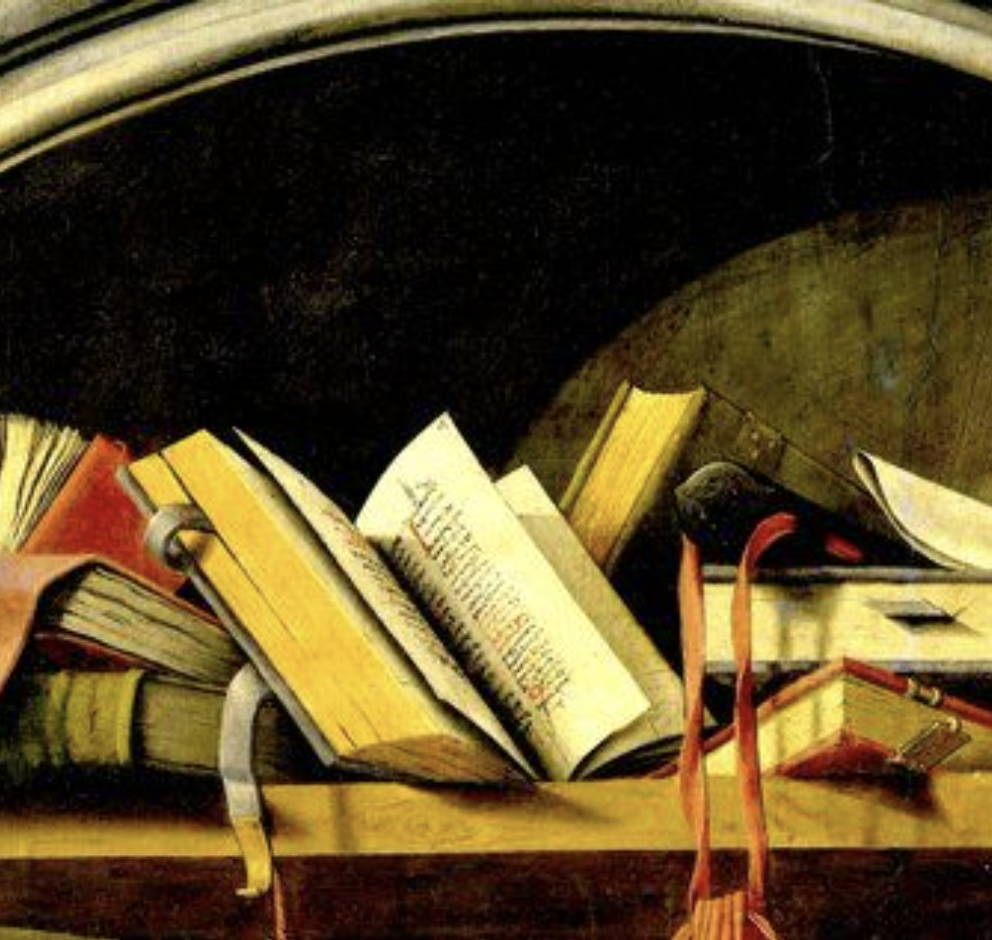 Giuseppe Maria Crespi, Bookshelves, 1725, oil on canvas, International museum and library of music of Bologna

One of the absolute masterpieces of Italian eighteenth century painting, this rare still life was painted on the doors of a library owned by Father Giambattista Martini, a great musicologist of his time.
This trompe l'oeil depicts shelves full of music history books and music scores that almost seem to have been put back in a jumbled hurry, giving us a realistic sense of a life lived, of study, and of a passion for music. On the lower shelves we see an inkwell, a bottle of ink and a bundle of quills.
Trompe l'oeil paintings can make any environment magical, providing the illusion of being in a different space or time through landscapes, architecture, lights and shadows, creating an illusion of reality. The term derives from the French tromper, as it "deceives" the eye in an optical illusion capable of transforming spaces or furniture, as in this case.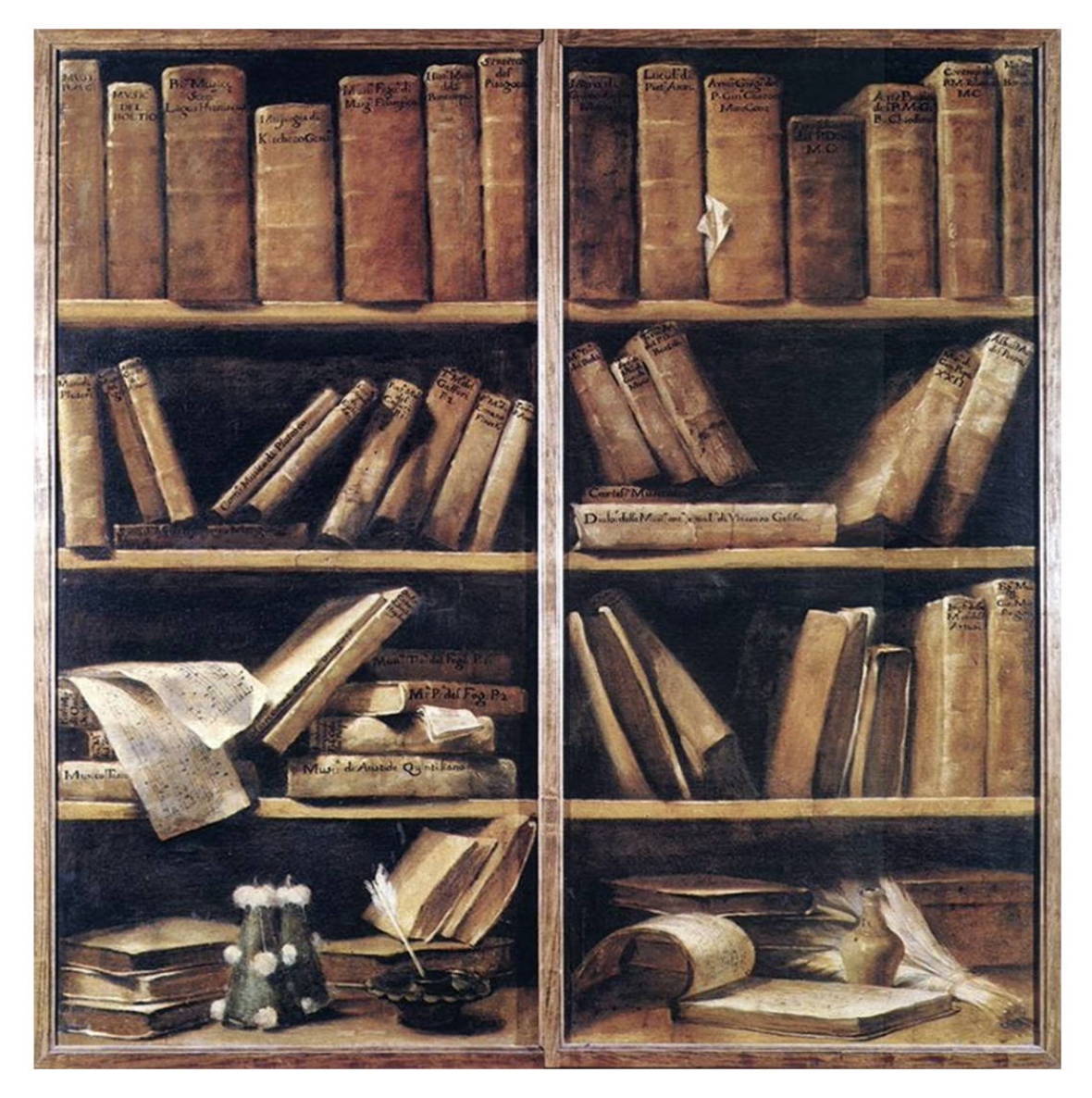 Dan Flavin, Icons, Room of Lights, 1963 circa. Permanent collection at Villa Panza in Biumo, Varese (Italy).

Imagine a bookcase made of light. It exists, thanks to Dan Flavin, a minimalist artist who stopped painting in the 1960s to concentrate on fluorescent sculptures and the perception of environments and colour through the installation of luminous neon sculptures with no metal structure.

Diffused light. Vertical, diagonal and horizontal lines. Light, and nothing else, which makes room for itself in a surprising chromatic composition.

If you want to see for yourself, visit Villa Panza di Biumo, an historic house museum in Varese now owned by the Italian Environmental Fund (FAI).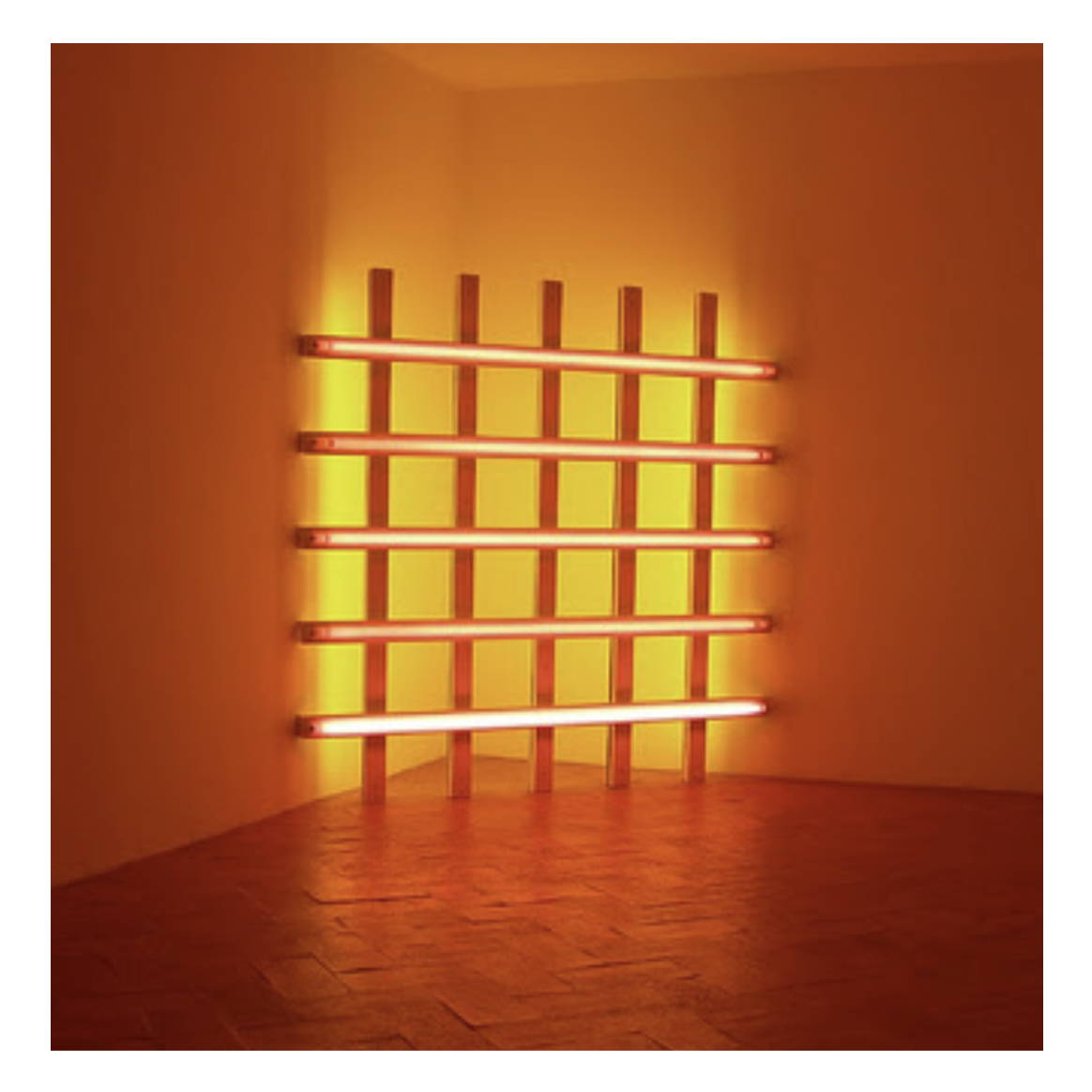 FUTURISM. THE COLOUR OF SPEED
Study and hallway of the home of Giacomo Balla in Rome, Italy, 1929.


Futurism was an artistic, literary and social movement that originated in Italy at the beginning of the 20th century and placed emphasis on themes related to progress and its revolutionary inventions. With warm, bold colours like yellow, orange and red in contrast with metal, futurists expressed themselves in all fields of art: painting, sculpture, ceramics, graphic design, industrial design, architecture, theatre, cinema, fashion, literature, music, urban planning, and even food.
"They lived and worked in the same space, and their world went beyond the canvas, beyond frames, invading walls, furnishings, ceramics and clothes," says Domitilla Dardi, co-curator with Bartolomeo Pietromarchi of Casa Balla. Dalla casa all'universo e ritorno, a dual project in which Giacomo Balla's home is being opened to the public and an exhibition has been dedicated to him at the MAXXI museum in Rome.
"Balla," adds Dardi in an interview with Elle Decor this year, "was much more a designer than other later progressives and it's no coincidence that he, Futurism and Depero were the basis for subsequent designers of the 1960s and 1970s, like Alessandro Mendini, Andrea Branzi, Ettore Sottsass and others."
A must-see, for sure.
Ettore Sottsass, Carlton bookcase, Memphis Group, Italy, 1981; and Karl Lagerfeld, private apartment in Monte Carlo, 1981.
(Photo by Jacques Schumacher)


A masterpiece and symbol of the Memphis collective of designers and creators of collectible works of art who revolutionised design in the 1980s. Founded in Milan in 1981 by Ettore Sottsass, the Memphis Group was a cultural phenomenon and brought together international architects and designers.

The Carlton bookcase has a sort of humanlike form, almost resembling a man with his arms raised and legs open, and can be used as a bookcase or dividing wall. Its colourful shelves are arranged like a house of cards, a seemingly unstable piece that makes for a stunning piece of furnishing.

Memphis altered the face of modern furniture of the time by designing objects with symbolic, emotional and ritual depth. They were totem symbols of a more playful, colourful and creative design that was in contrast with the more severe forms of Modernism, rediscovering decorations from the past and other cultures. In the early 1980s, designer Karl Lagerfeld transformed his apartment in Monte Carlo into an exhibition of iconic Memphis furniture.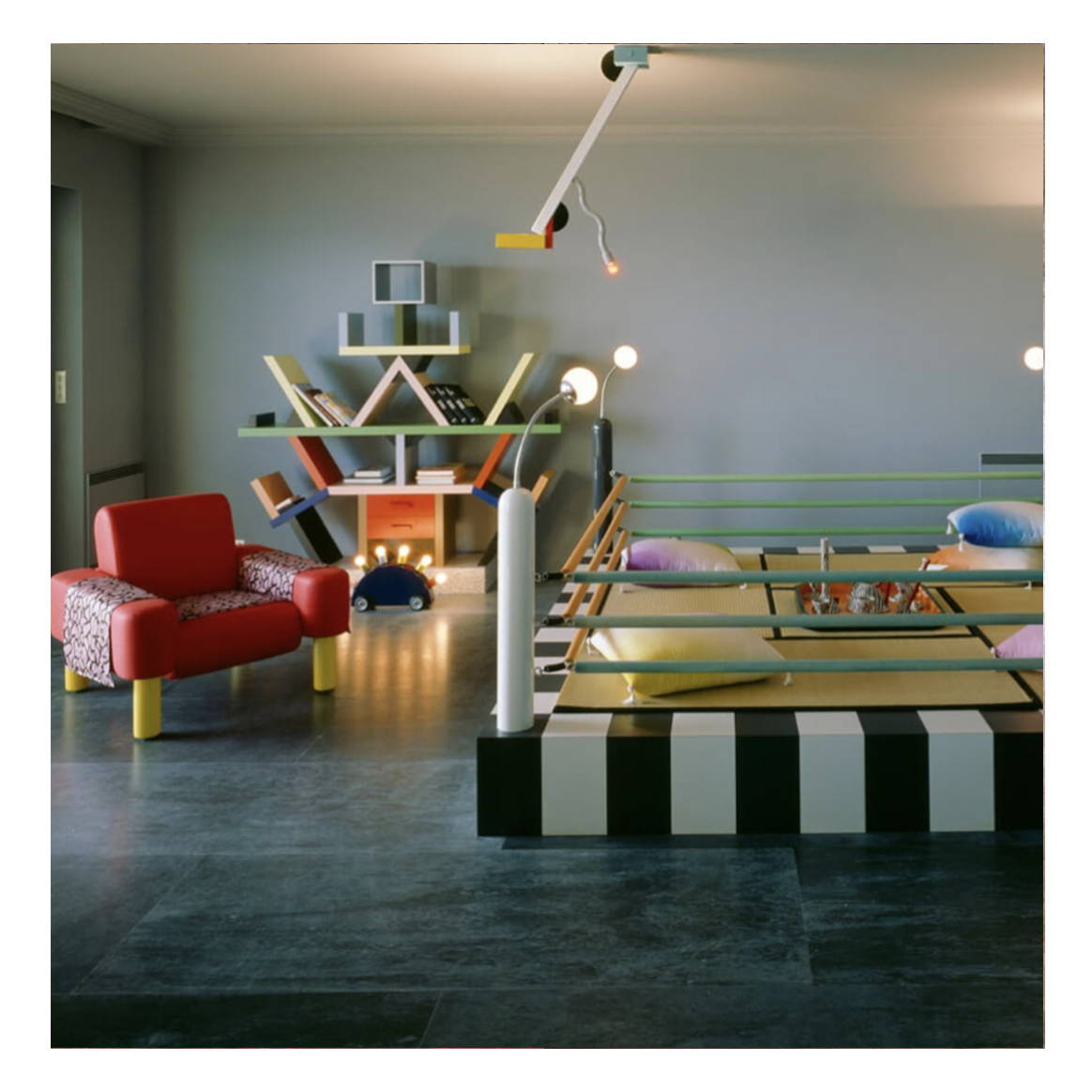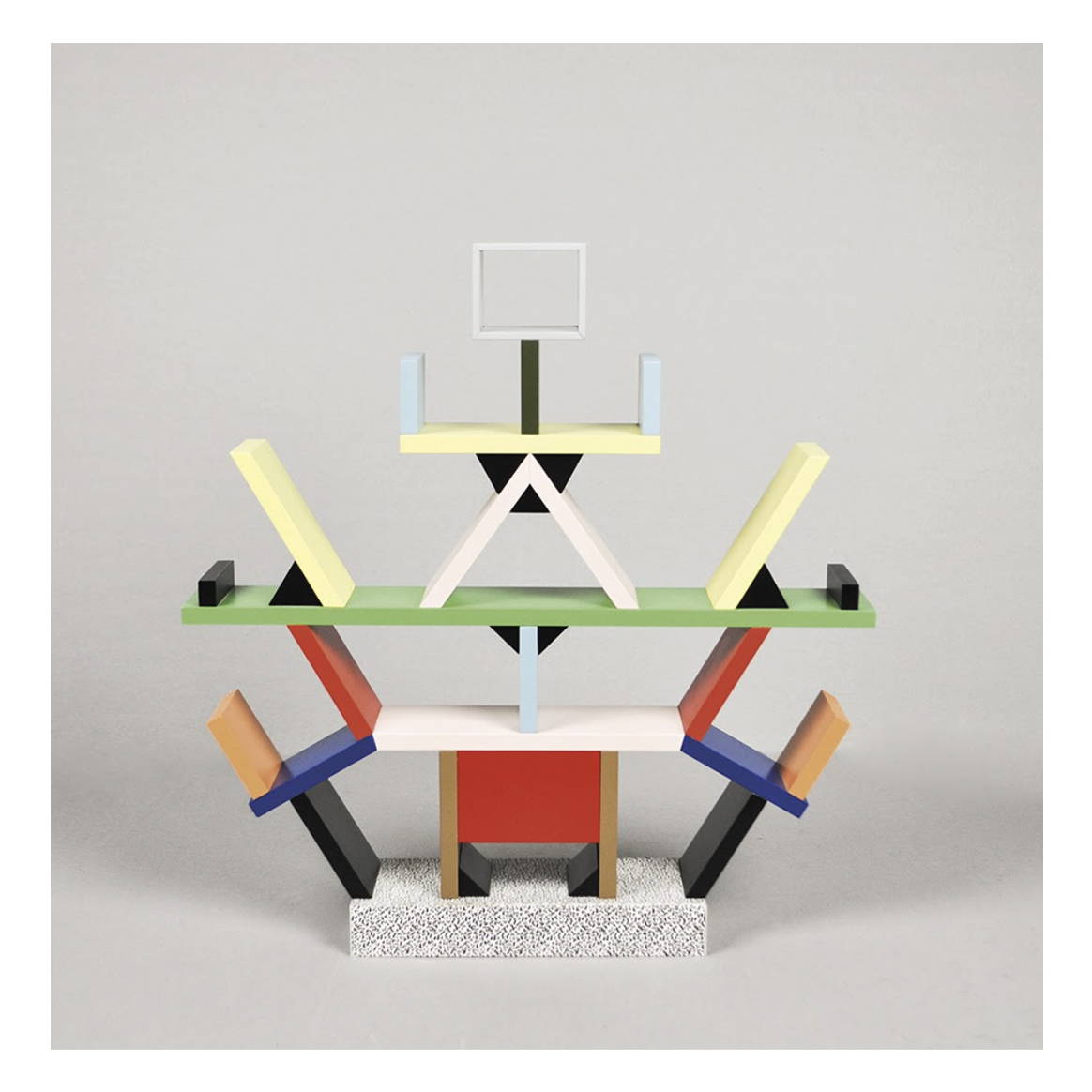 Joe Colombo, modular Square Plastic System, Italy, 1969. Images from book Joe Colombo, Designer 1930-1971, by Ignazia Favata, Idea Books Edizioni, 1988.
This bookcase is a system of ABS plastic containers on wheels or height-adjustable feet and can be combined in a variety of ways thanks to interchangeable parts that reveal open or closed compartments with thin shutters. This piece can be used as a drawer unit, bedside table, workstation, magazine rack, bookcase or work table. And by adding a top you can create a desk or dining table.
Joe Colombo was the designer who more than anyone intuited what would come in the future. More than 50 years ago, he designed furniture that fits in perfectly today with our lifestyle and way of living and that responds to our current needs tied to mobility, transformation and limited space, all of which were unfathomed at the time.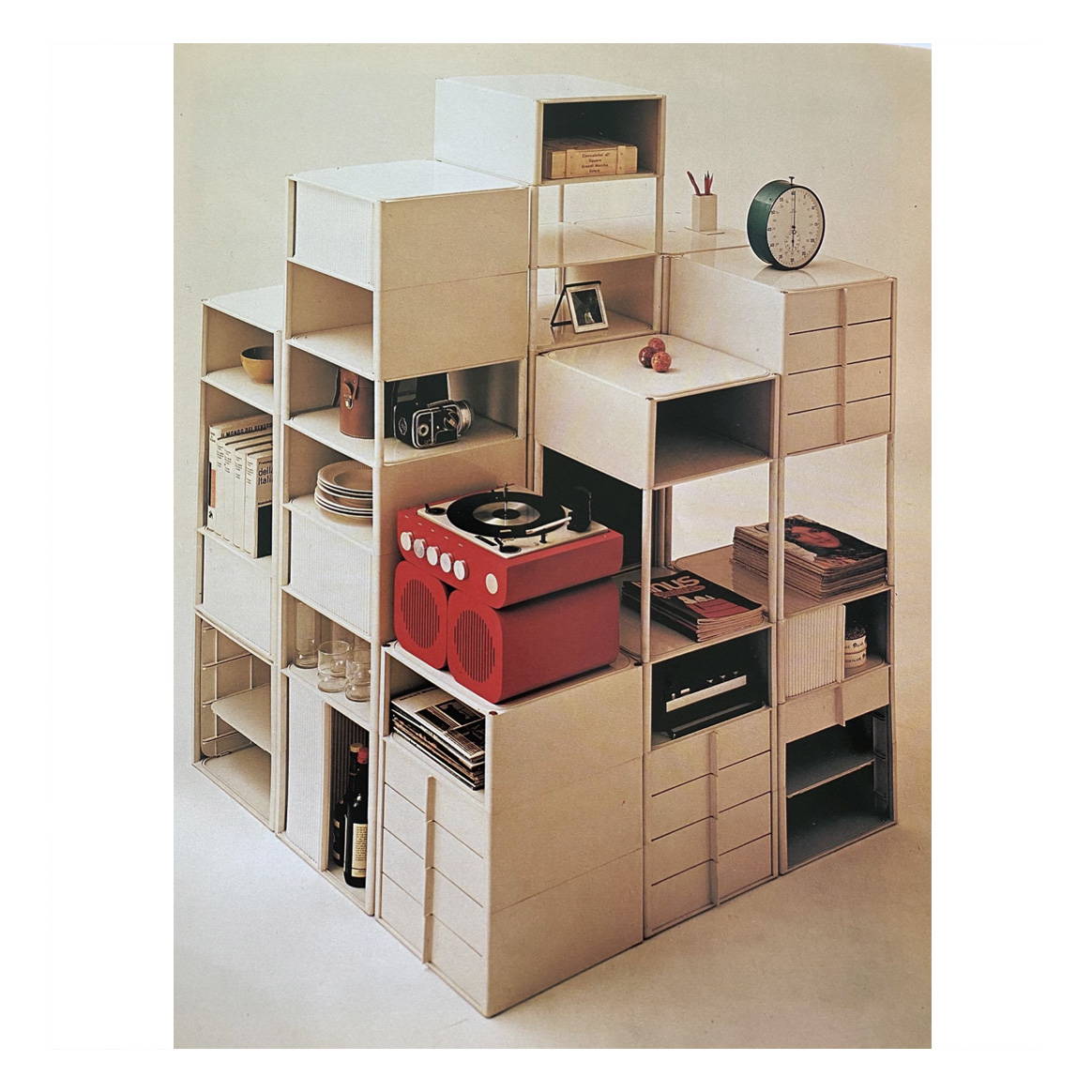 EXTENDING PROJECT BOUNDARIES
Charles and Ray Eames, Storage Unit Bookcase, USA 1956, Herman Miller, today produced by Vitra; Case Study House, Pacific Palisades, California 1949, external view of home and detail of living room. Photo by Herman Miller



One of the first flexible shelving systems that can be changed up and arranged as needed. Around long before modular units and high tech entered the design lexicon, Charles and Ray Eames used industrial manufacturing techniques to expand the boundaries of design and create a modern design aesthetic.
This is a classic product because it can be easily reproduced on an industrial scale. It has a minimal galvanized metal structure that can be adjusted in height for any space and can accommodate books or other objects and can hold containers and drawers in different materials. Pictured above is the bookshelf in the private home of the creative Eames couple.
The Eames' home pictured above is also an example of modern architecture: an example of the Dutch De Stijl Movement, this house features a revolutionary prefabricated construction and is essentially a "kit house" composed of modular elements, transparent glass and solid-coloured panels arranged in a grid pattern with double-volume height, supporting structure, and a courtyard with a brick floor and potted plants.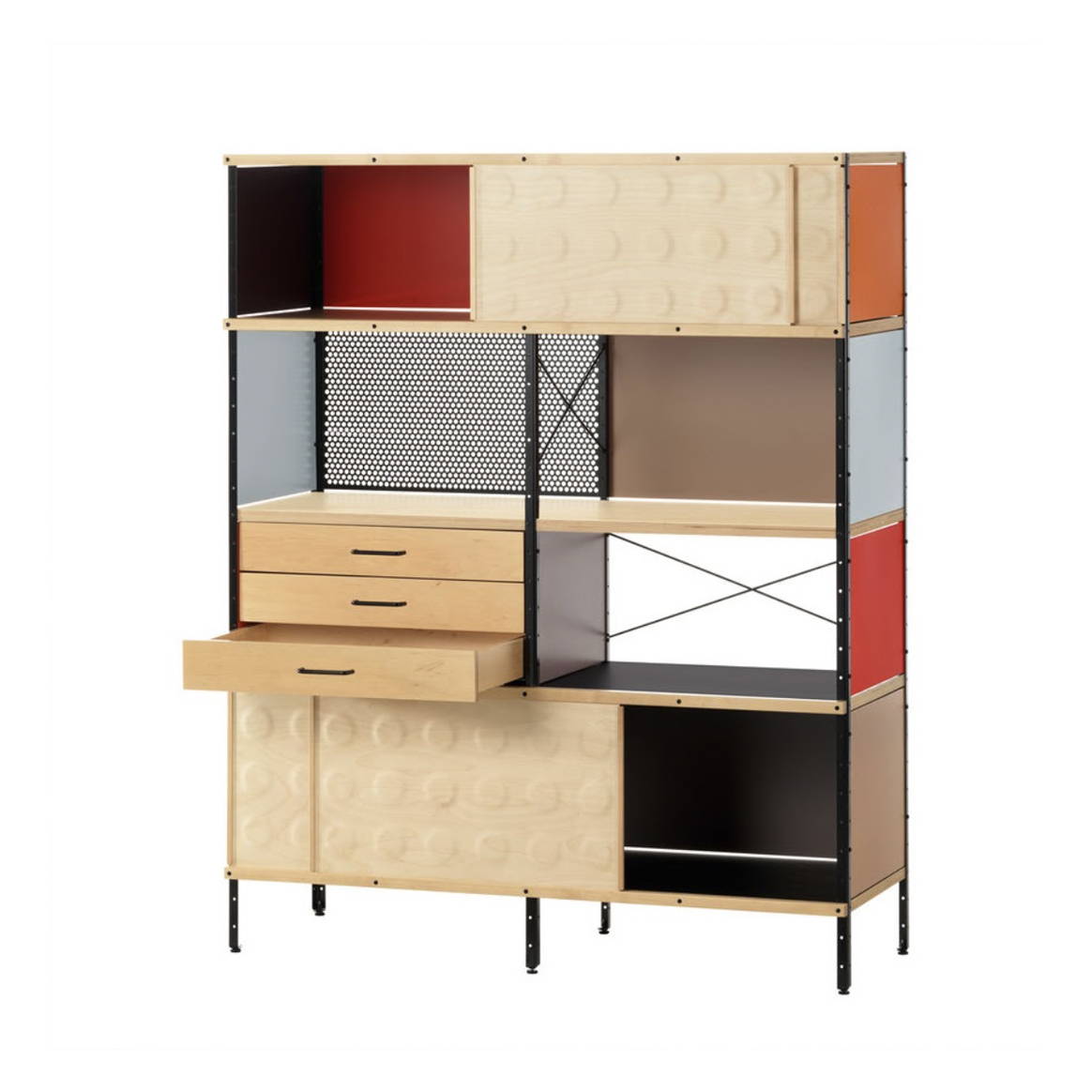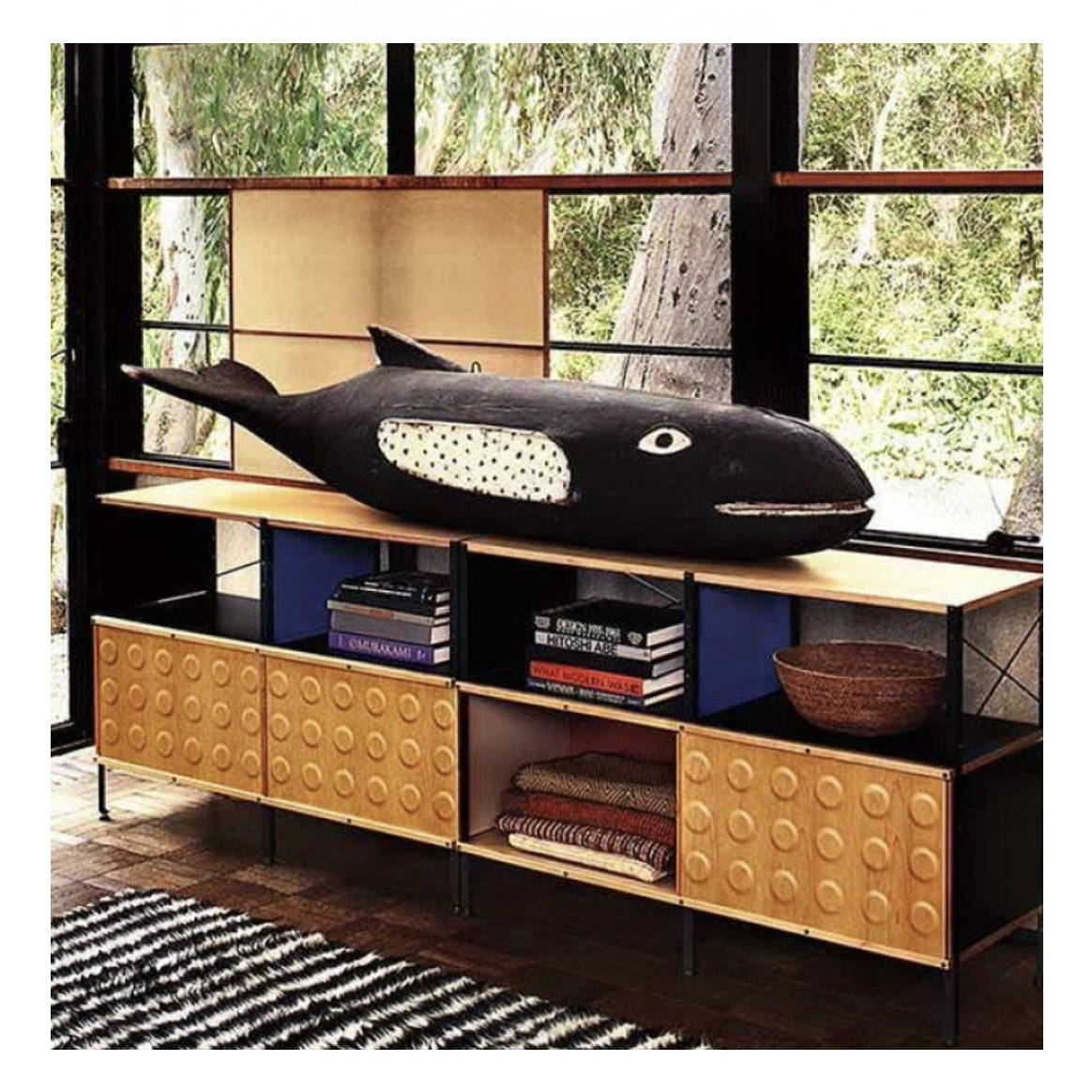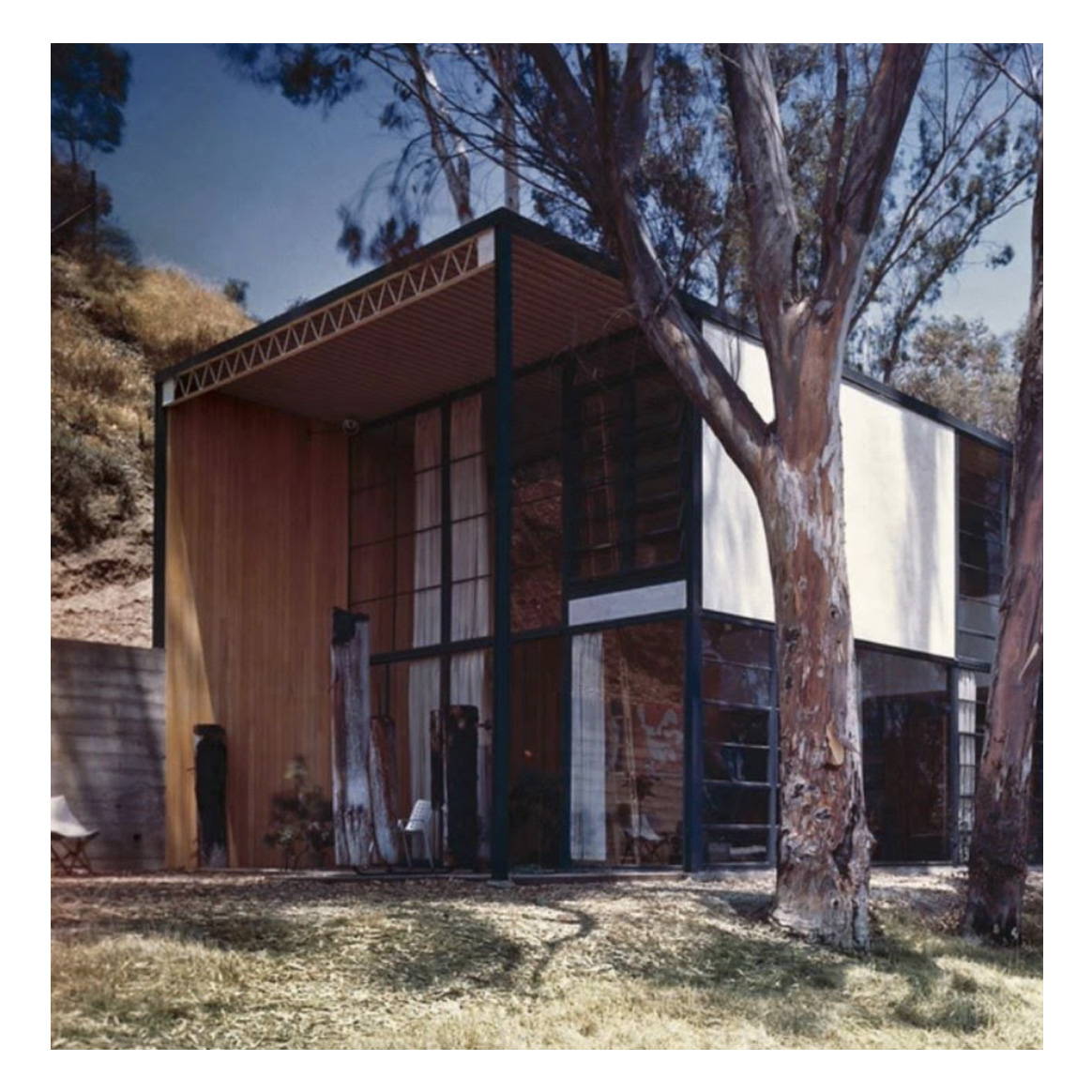 Vico Magistretti, Nuvola Rossa bookcase, Cassina, Italy, 1977.


In this bookshelf some might notice the initials of the great designer, "V" and "M". Made completely from solid wood, this piece has the perfect shape: 1x 2 metres. Chic, balanced and elegant, multiple pieces can be placed together for a light, geometrical structure.

When Vico Magistretti was asked what the concept of Nuvola Rossa was, he said: "Less is more", as Mies van der Rohe wrote. Ever less and ever more. A simple object, but one that is not just a game but a way of thinking".
This bookcase was created thanks to the designer's previous research, as he wanted to design something that would be extremely affordable by eliminating as many structural elements as possible. This was the first bookcase to be created based on the concept of a ladder.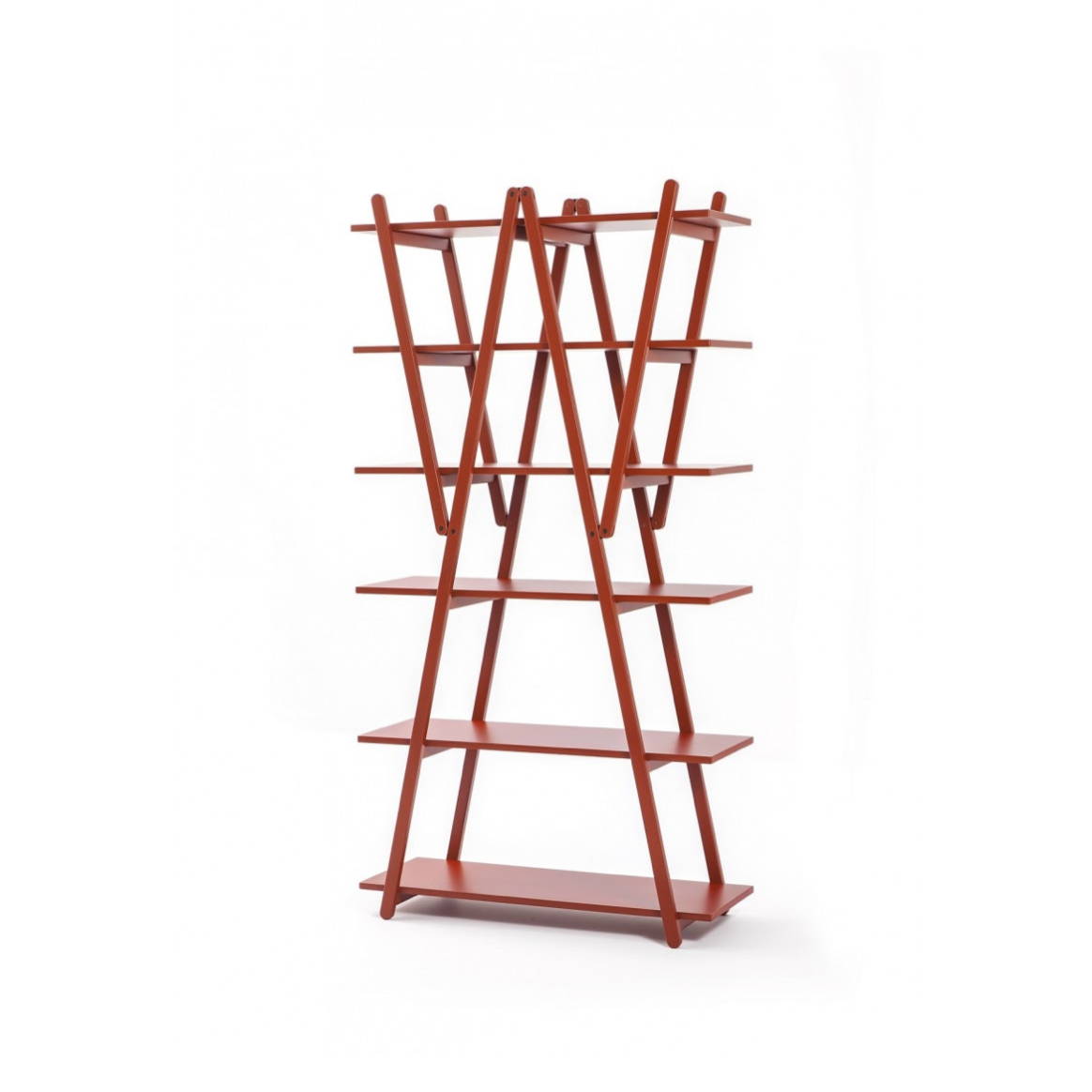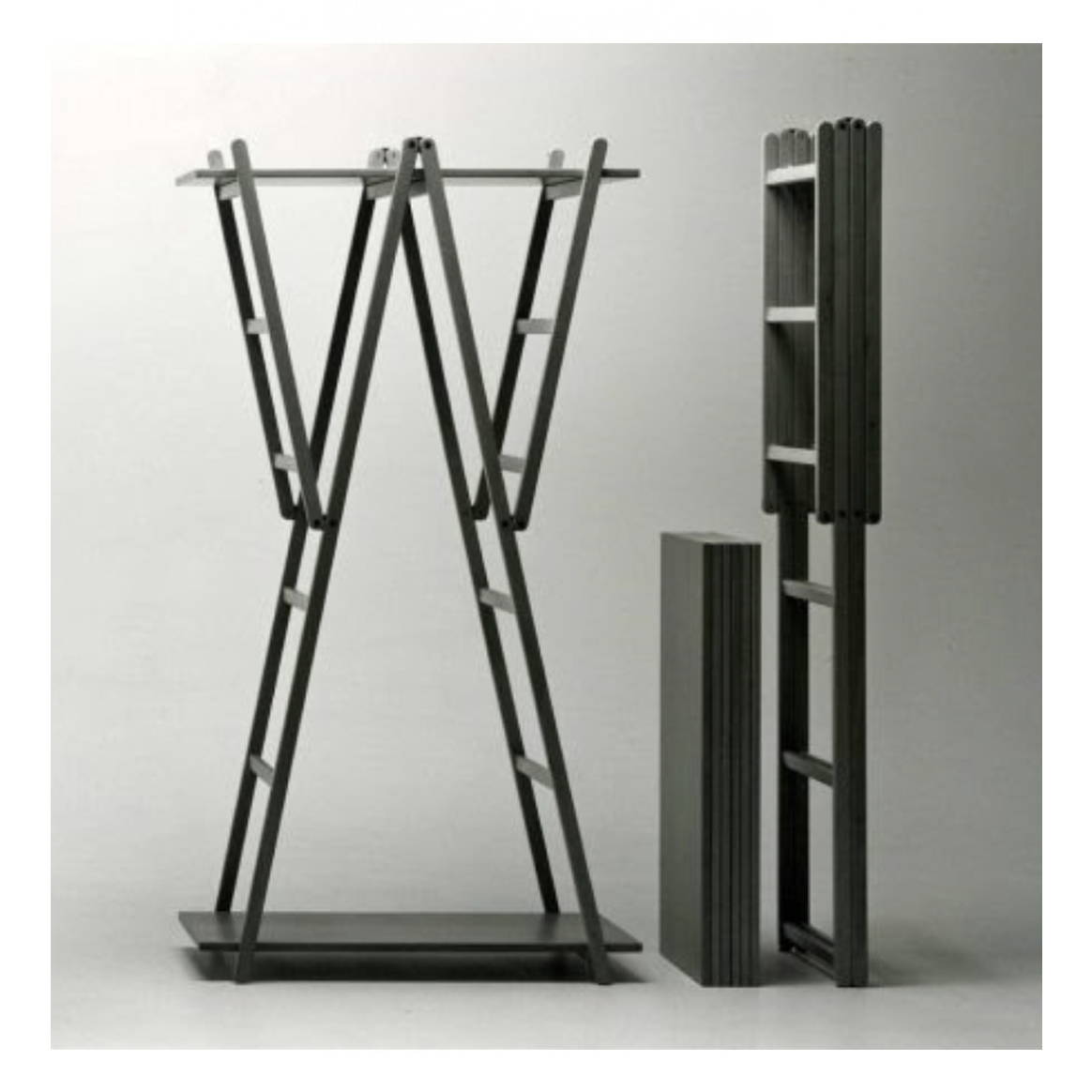 Samer Alameen, Eret console, JCP Universe, Italy, 2018


Meccano was the construction game set invented in 1901 in Liverpool by the great inventor Frank Hornby and was originally called Mechanics Made Easy before being patented. It was a game that, with its metal strips, screws and bolts, made you feel like an engineer, giving you the possibility to create bridges, machines and robots.
Who knows how many designers discovered their vocation as children with this fun set. It was educational, taught basic principles of mechanics, and was the inspiration for Eret, a console made from perforated stainless steel rods and bolts and with adjustable shelves.
A smart piece. Just like Meccano.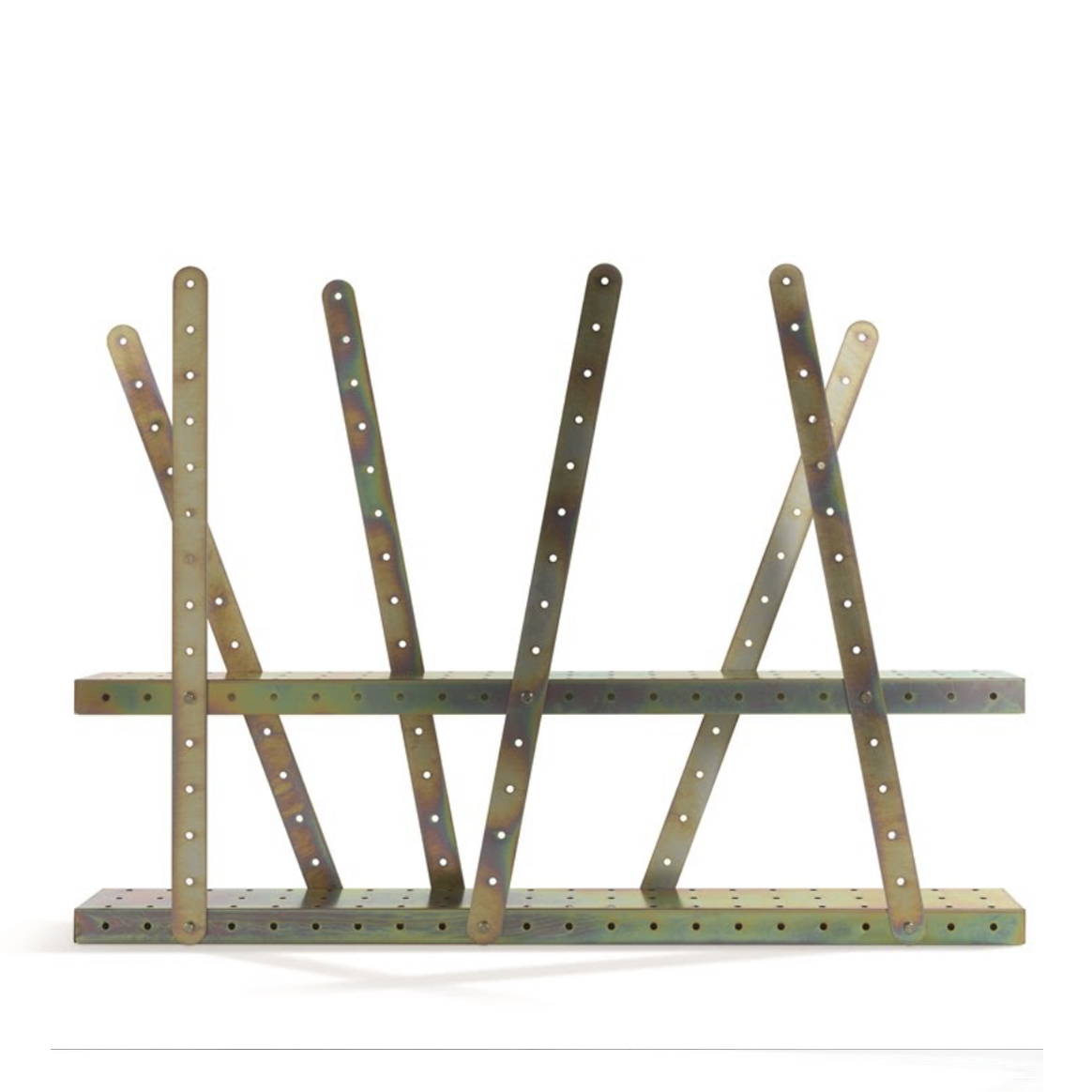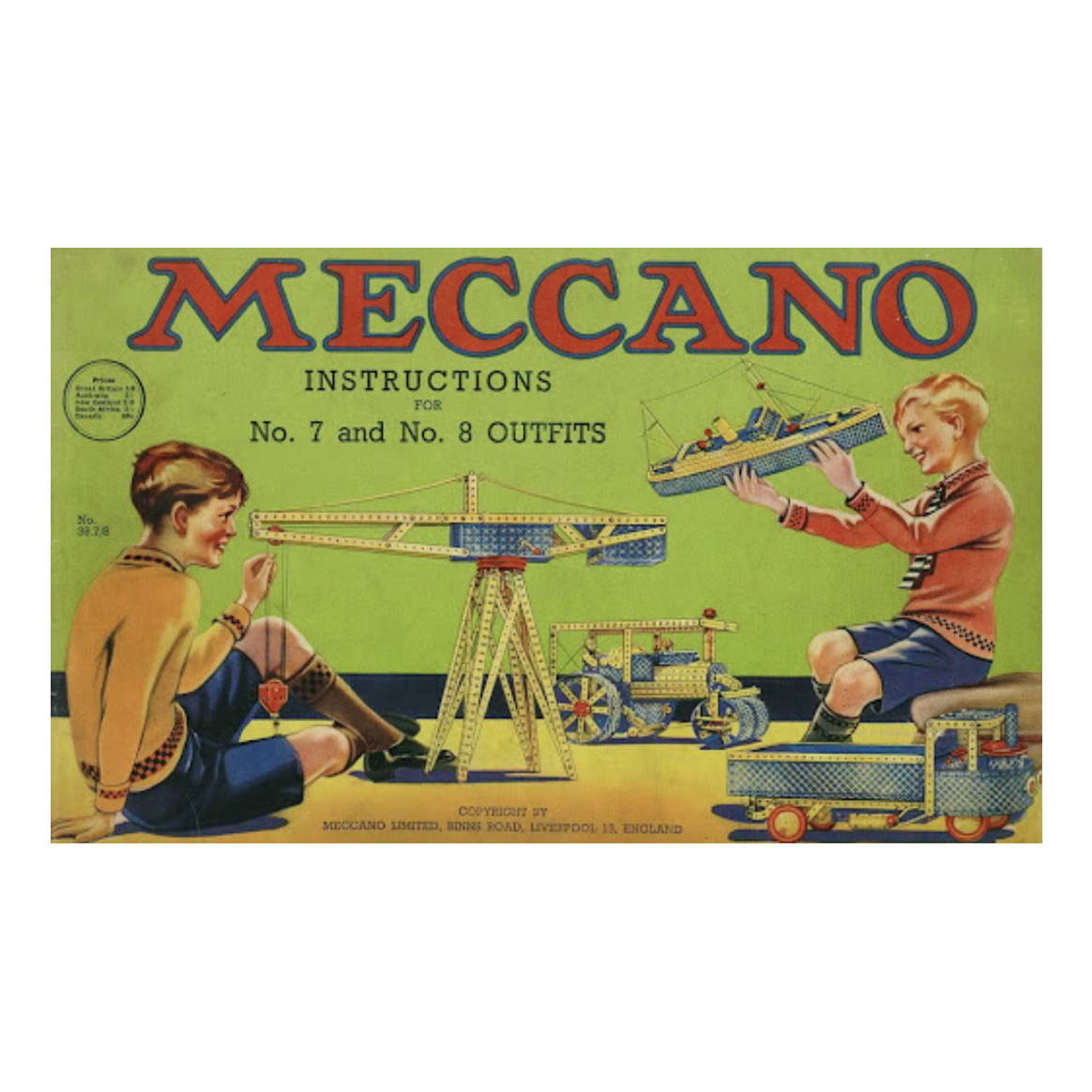 Ron Arad, prototype of This Mortal Coil bookshelf, 1993, private collection, and Bookworm 8005 bookshelf, Kartell, Italy, 1994
This brilliant steel coil-shaped bookshelf was created by Israeli designer Ron Arad, who has always been somewhere in the middle of industrial design and contemporary art. He breaks the mould with his designs, using lateral thinking and moving us away from the belief that a bookshelf should only have horizontal shelves.

This Mortal Coil was the prototype of the ironic Bookworm bookshelf. With flexibility and customization being some of the most sought-after qualities in design today, there perhaps is no bookshelf more "free" than this one, as it leaves ample space to the imagination when assembling it.

Kartell's complex thermoplastic polymer certainly plays a fundamental role due to its being an extremely resistant and durable material.

The name "Bookworm" is also apt, conjuring up the image of a tiny little worm that spirals its way up a book, devouring its contents, just like those who love to read.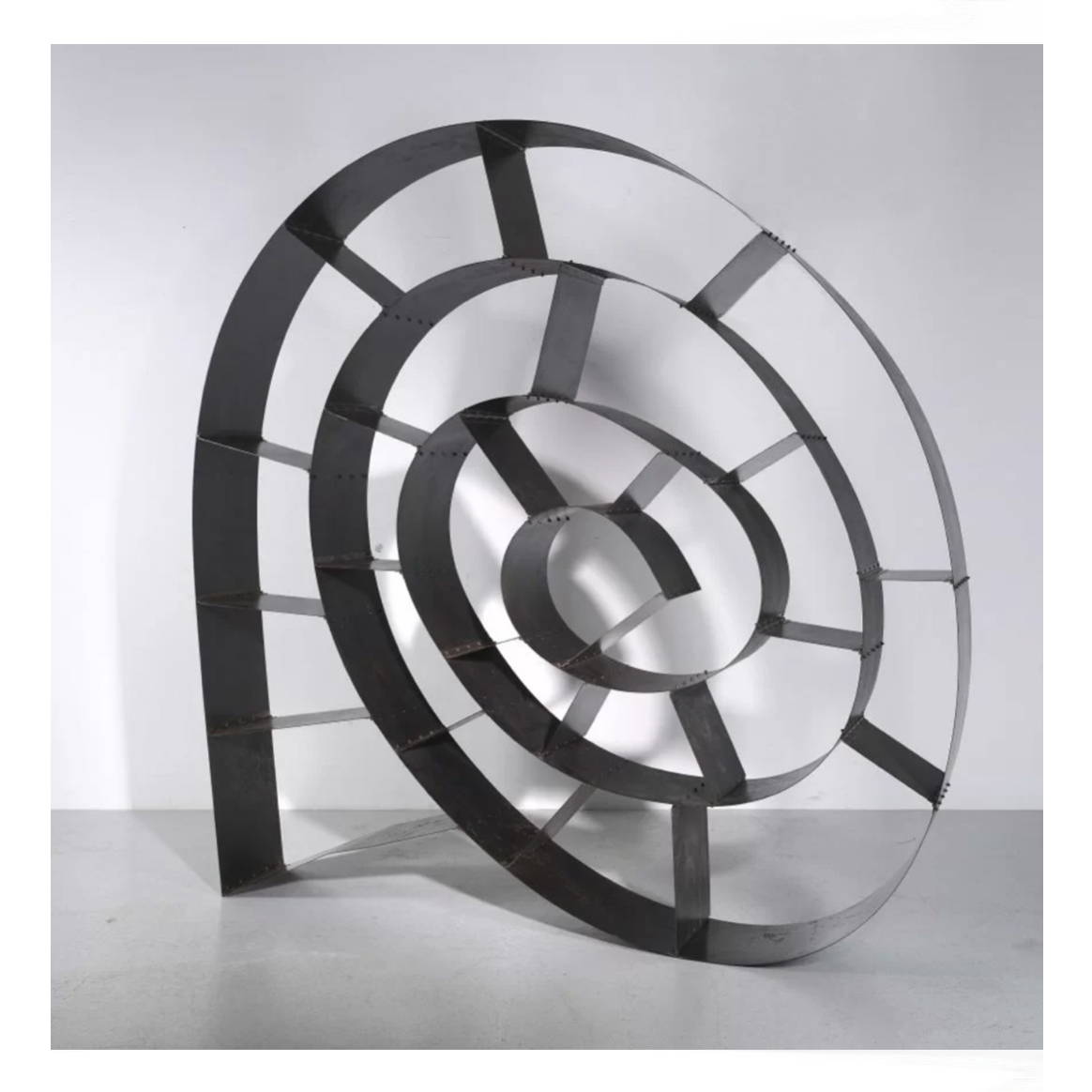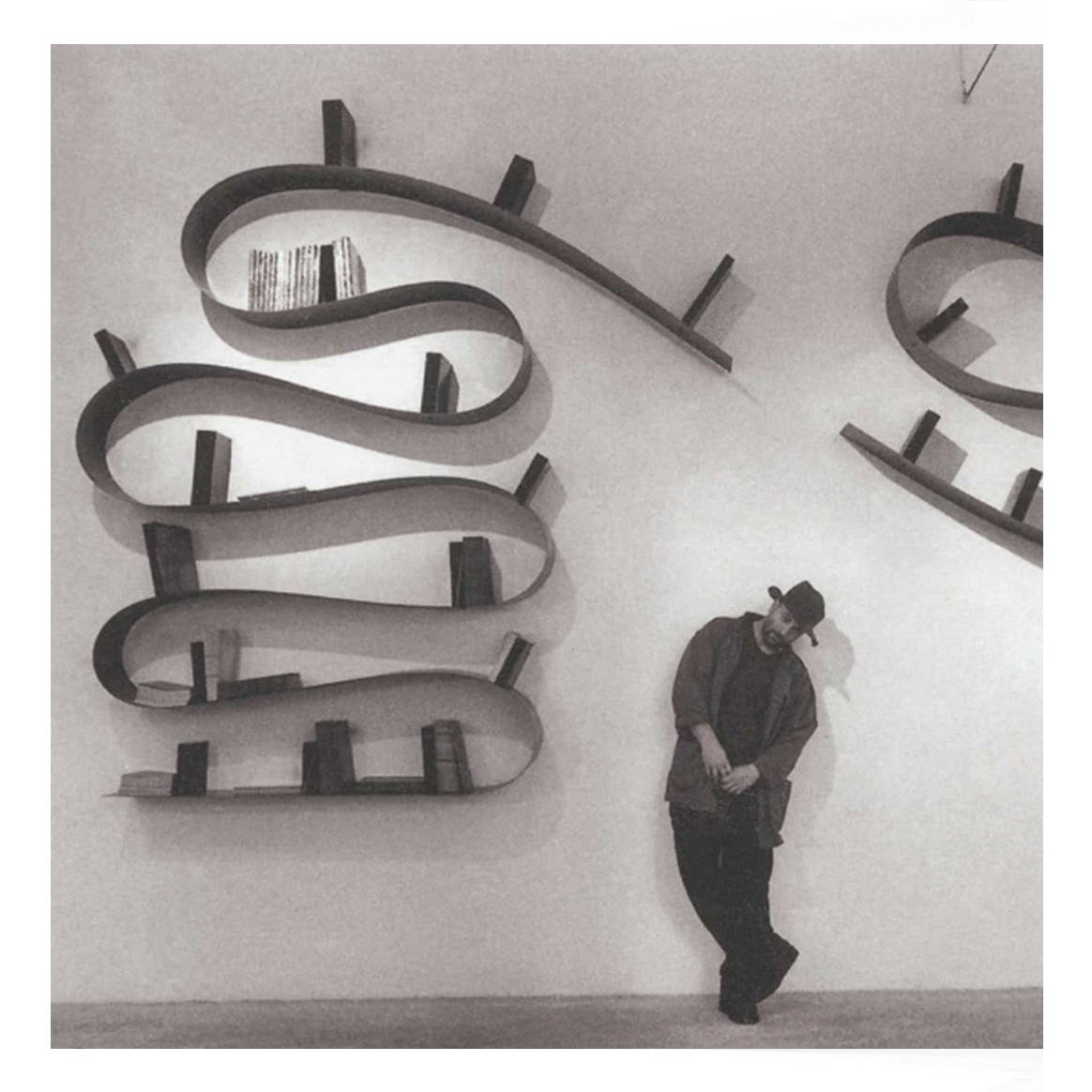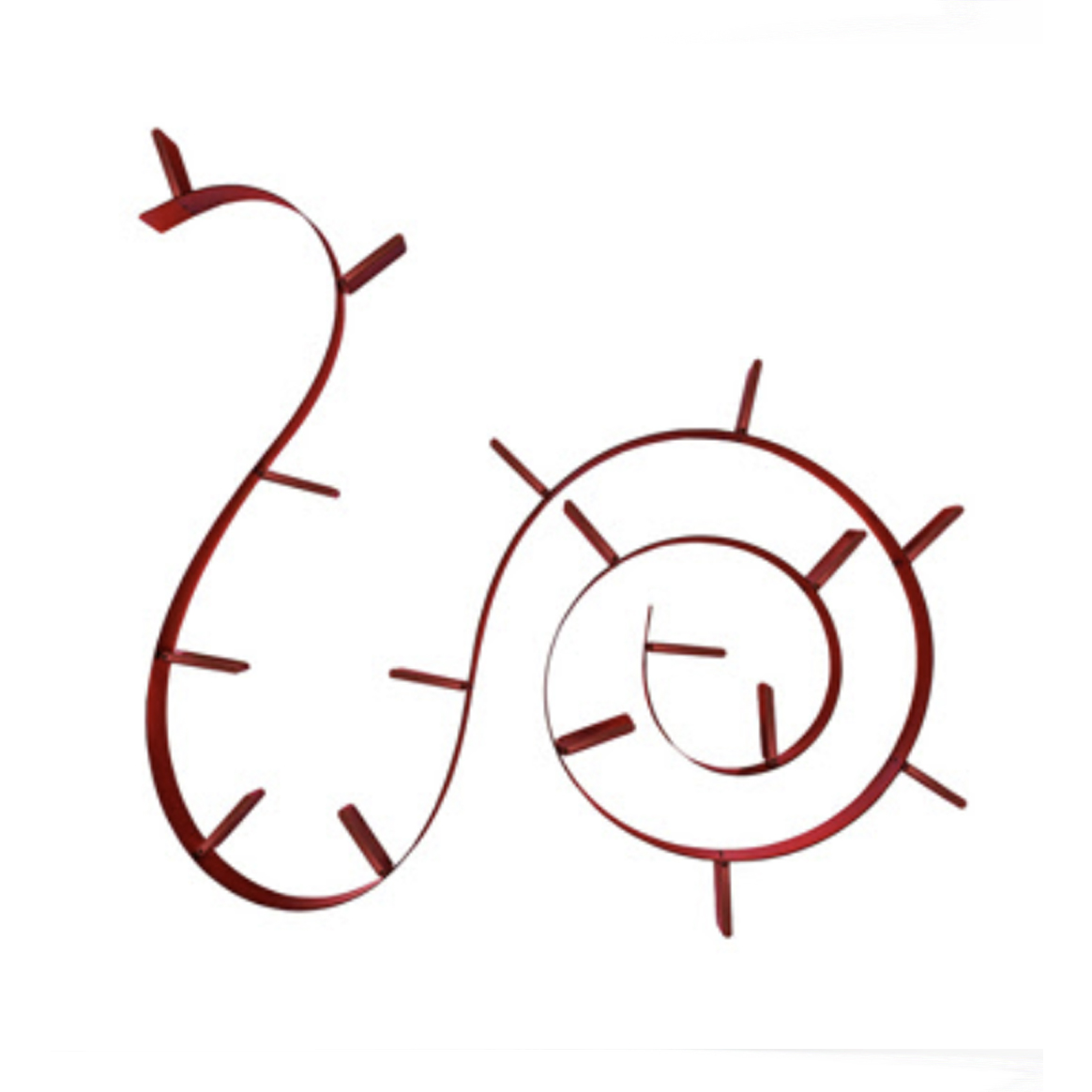 WHAT'S THE BEST WAY TO PLACE BOOKS?
Bruno Rainaldi, Sapiens bookstand, BBB Italia; image from the personal library of Karl Lagerfeld in Paris.
Many of us have far too many books at home. I have hundreds of them on the floor, creating unique bedside tables or tables. There's less and less space, and frankly it's becoming a challenge to find them. There are those who are able to rationally organise their books by publisher or topic, and books laying in a horizontal position make it easier to consult them.
Stylist and photographer Karl Lagerfeld had a huge library of over 300,000 volumes in his Paris apartment, and all his books lay horizontally. Thin steel shelves were attached to the walls, with shorter spaces than for normal bookcases so it was easier to take down a book lower in the pile.
This is why Rainaldi's Sapiens bookcase is so innovative. Designed for this type of horizontal book storage, it's a free-standing, vertical structure with metal shelves painted with epoxy powder coating and it can be placed anywhere around a room to keep your books handy. Available in a variety of heights, it's perfect for any space.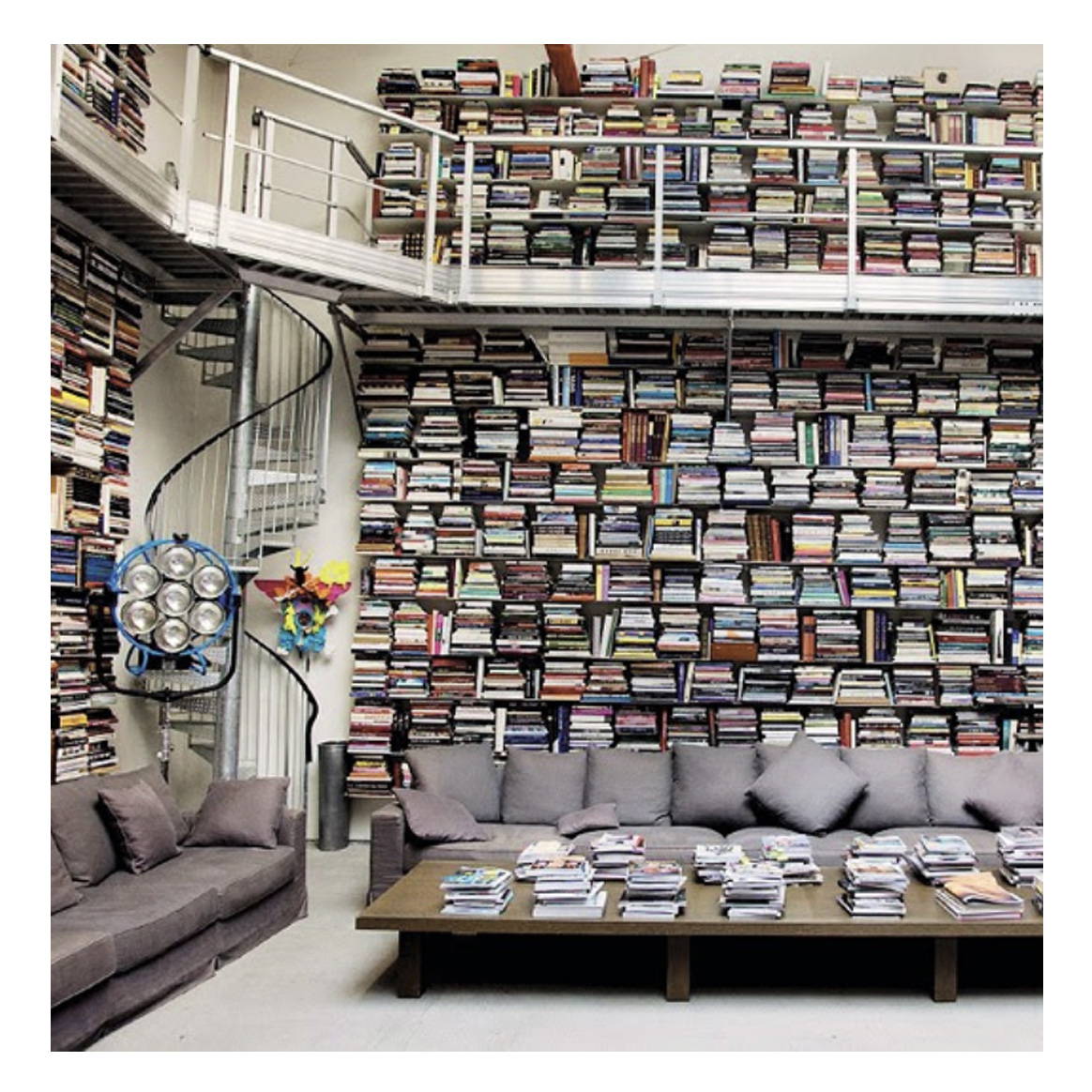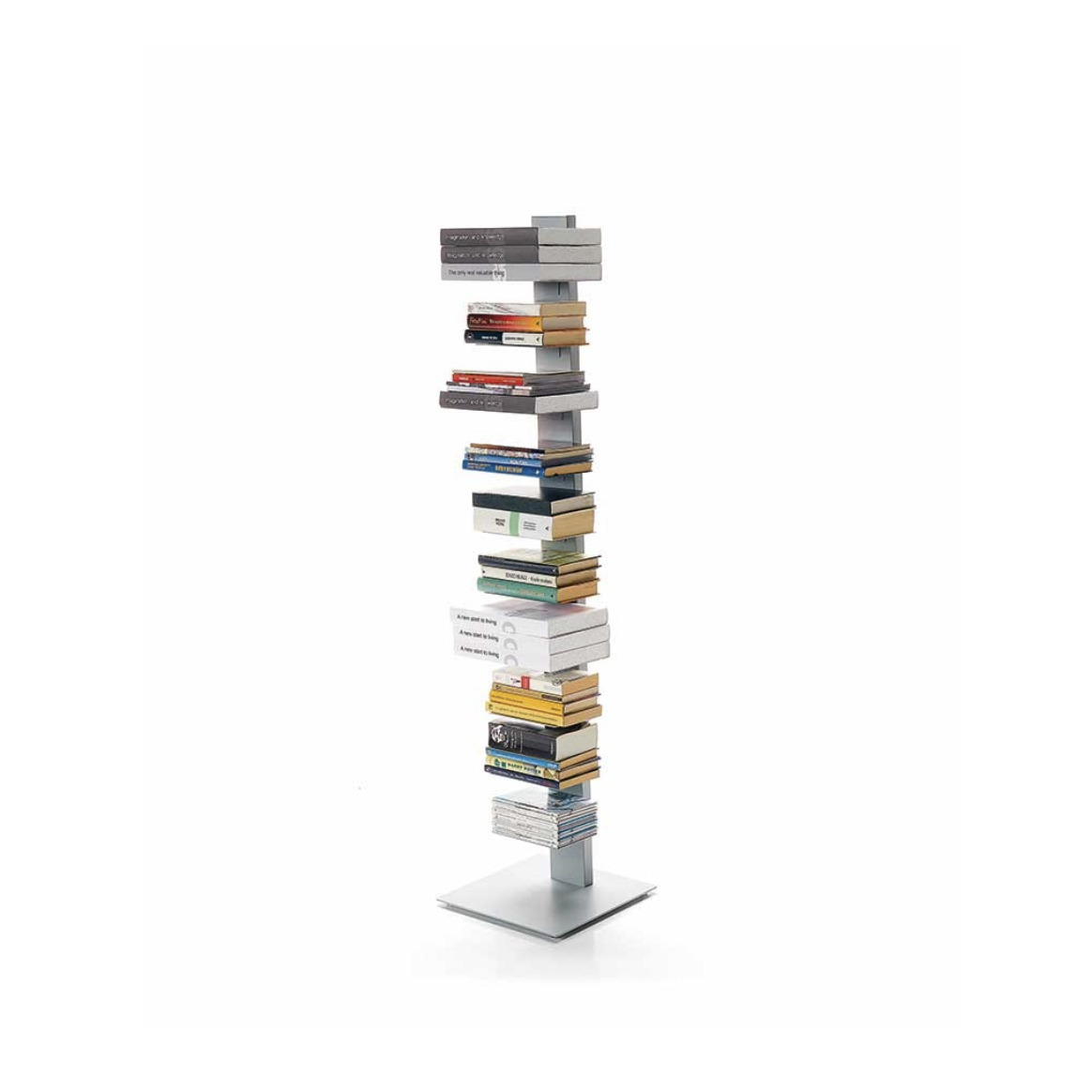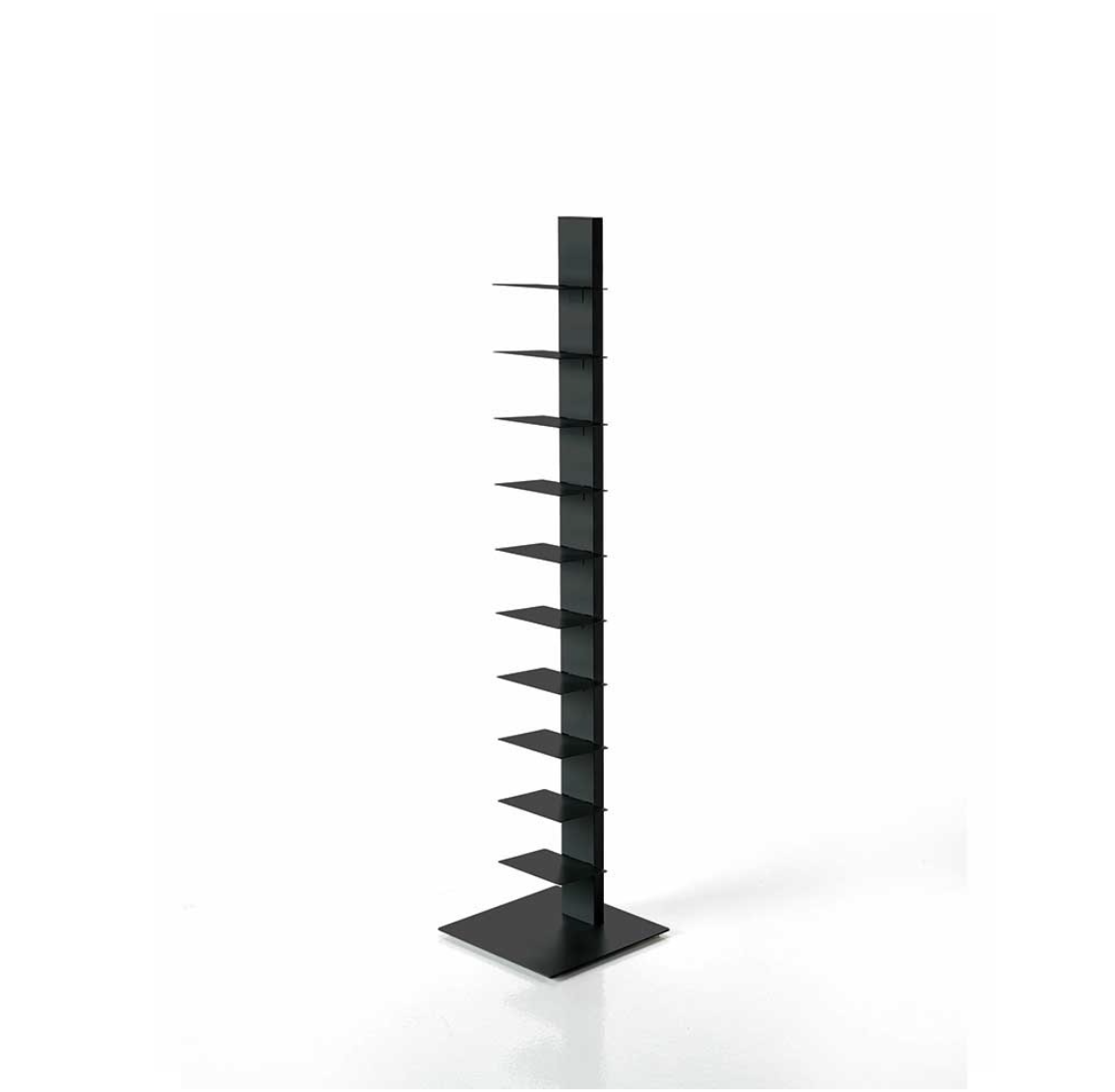 THE MAN WHO MADE DESIGN AN ART
Pierre Paulin, Elysée bookcase, Magis, Italy, 2009
This bookcase was one of the last projects created by French designer Pierre Paulin, who was famous for changing the style of French living in the 1950s and one of the most beloved designers of the 1900s due to his innovative use of materials and the novel, sinuous shapes of his designs.
This bookcase was part of a series of furnishings designed first for the apartment of Georges Pompidou and then for François Mitterrand in the Élysée Palace in Paris, hence the bookshelf's name. It consists of multiple identical stackable modules of curved maple plywood in a natural or wenge finish. It offers endless combinations, just like a house of cards, where not only are the rules dictated by balance but also by the imagination.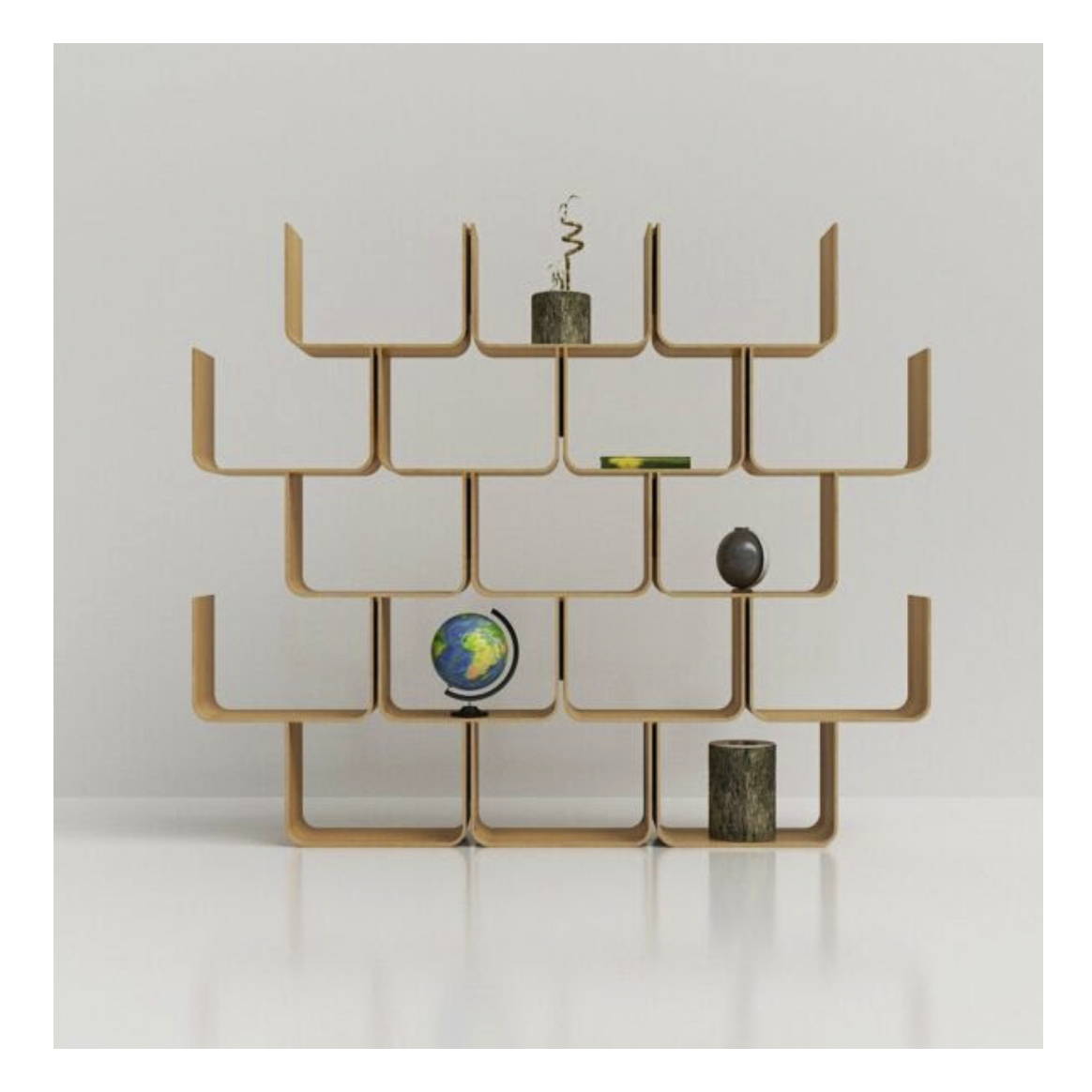 Bruno Rainaldi, B.Blos bookstand, BBBItalia, Italy


Bruno Rainaldi ironically defined himself a "sidewalk designer", alluding to the fact that he was self-taught. He loved reading and was an avid collector of books, which he used as inspiration for his work as a designer and art director. He then ended up in the world of innovative marketing with new ways of selling design (in Milan, with the famous shop High Tech that he successfully ran, and his collaboration with Maddalena De Padova).
Regarding this bookstand and the other ones he designed, he wrote: "Piles of books on the tables in the study, so many that you had to walk around them with a dust rag. Books stacked on the tables around the house, and you had to move them to set the table. A stack on the left bedside table and on the floor next to the bed. A few stacked on the right, too. Books stacked in the gaps between organised books on the shelves. Quite unmanageable […] This is my house. This is true of all homes where one nourishes oneself with books, an essential support in life."
I met him in the 1990s along with Enrico Baleri, whom he was working with at the time. I remember Rainaldi as being kind, sincere, dry and very quick-witted.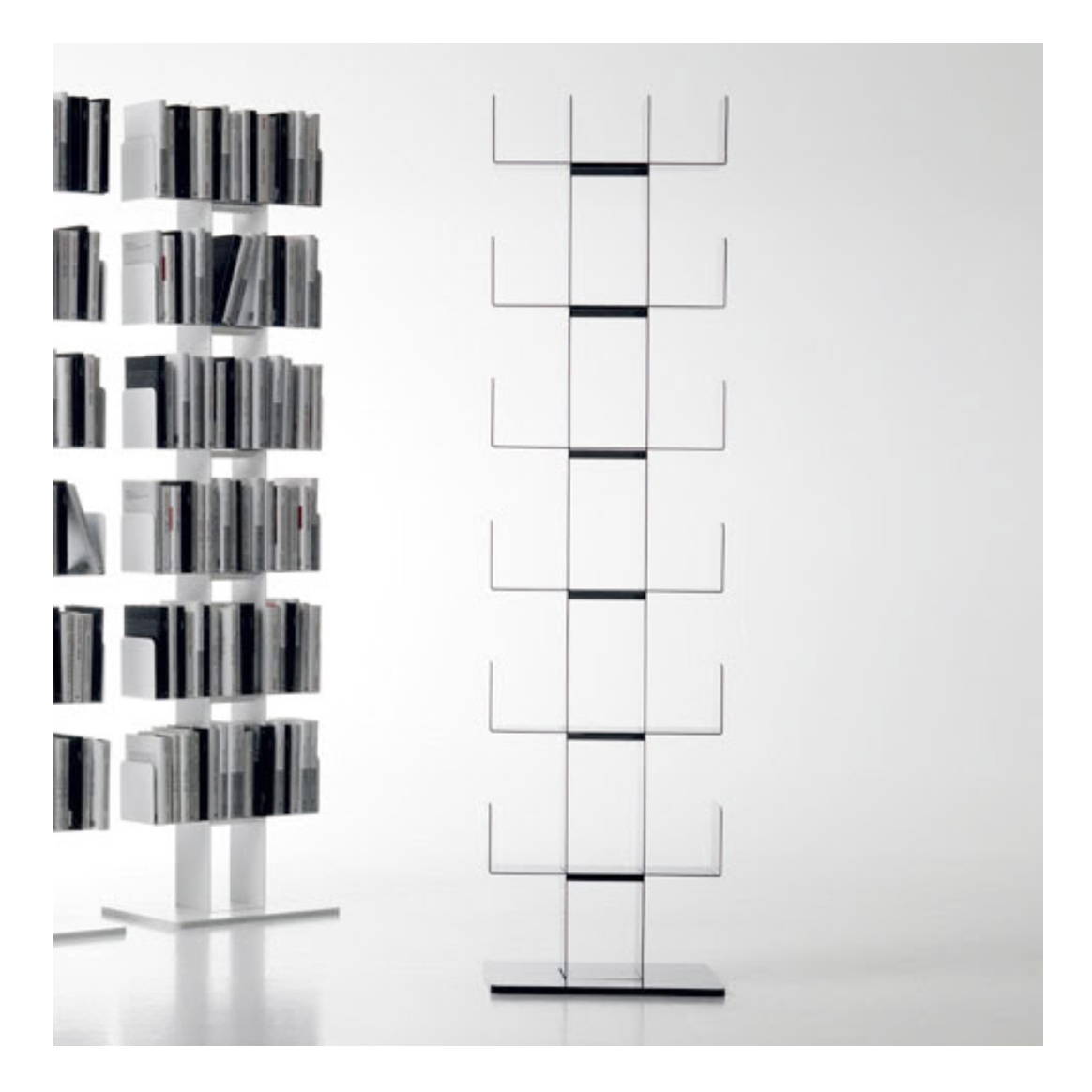 A LIGHT AND AIRY STRUCTURE
Franco Albini, 838 Veliero bookcase, Cassina, Italy, 1940
This visionary bookcase embodies the thinking and research of great architect Franco Albini.

A clear nod to nautical carpentry, this piece calls to mind the stays of a sailboat, with thin glass shelves almost seeming to float in space, defying the laws of gravity. This bookcase was highly experimental and typical of the work of Albini, who perpetually sought out lightness.

He created a single piece for his private home in Milan, and only in 2011 did Cassina decide to recreate it, leaving its intrinsic values untouched.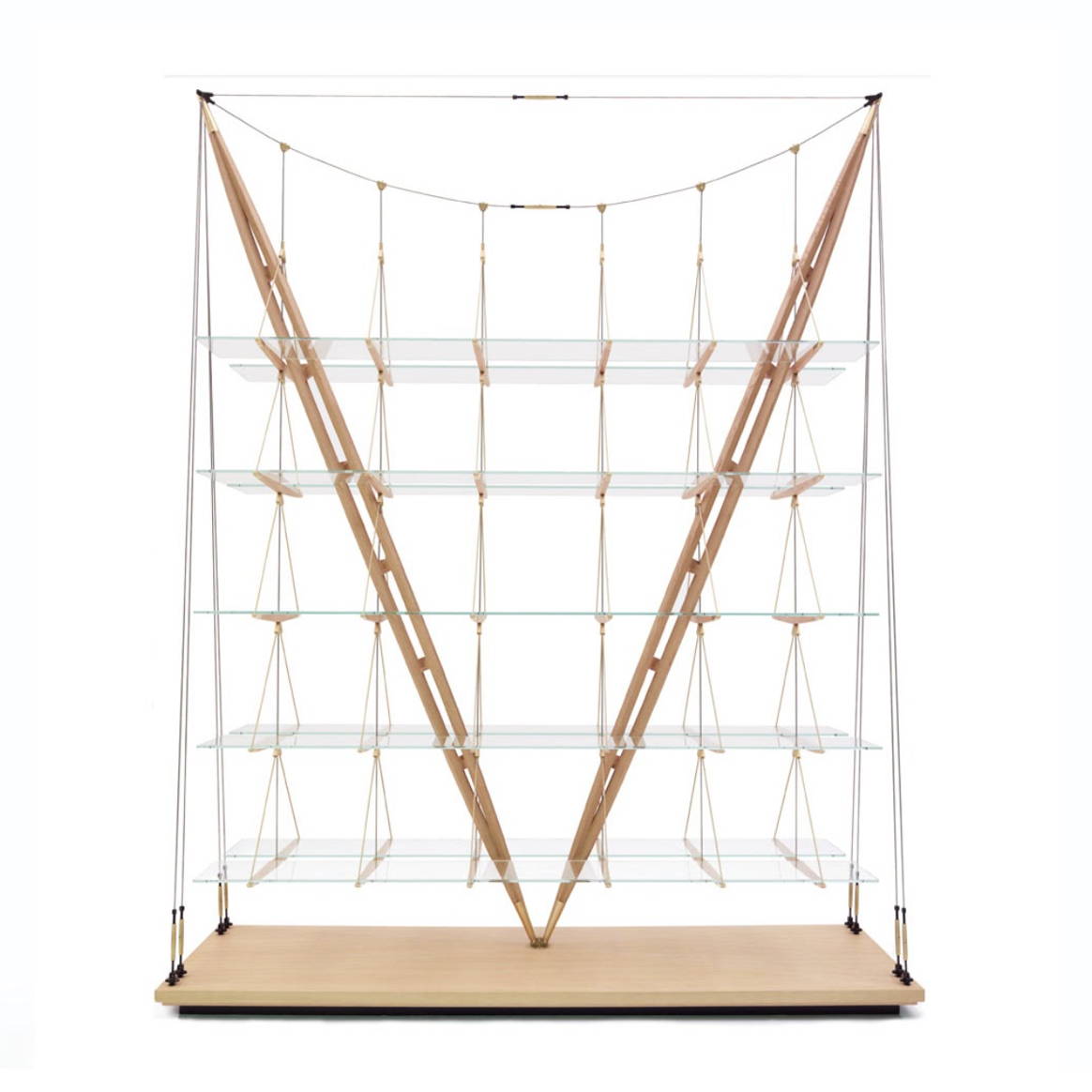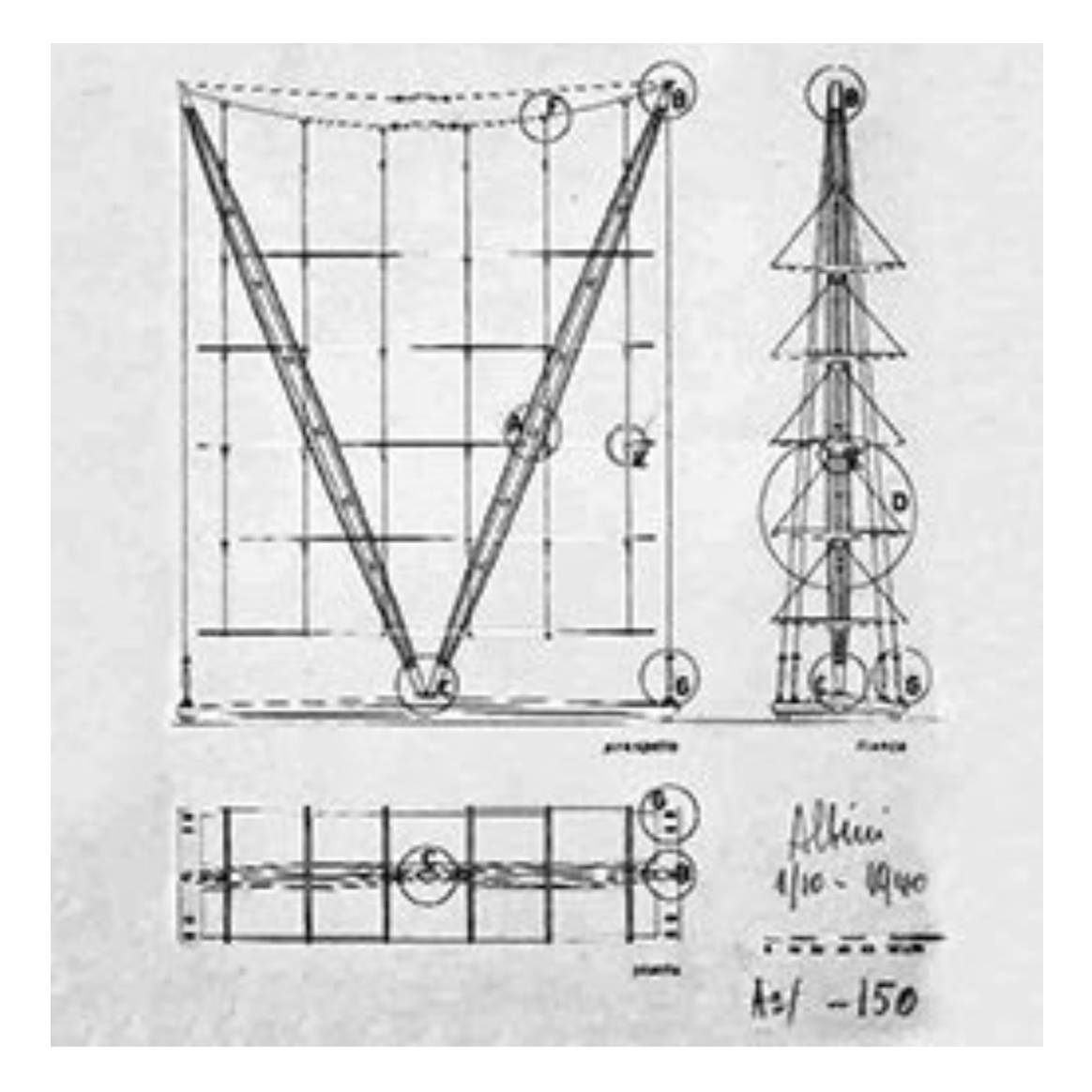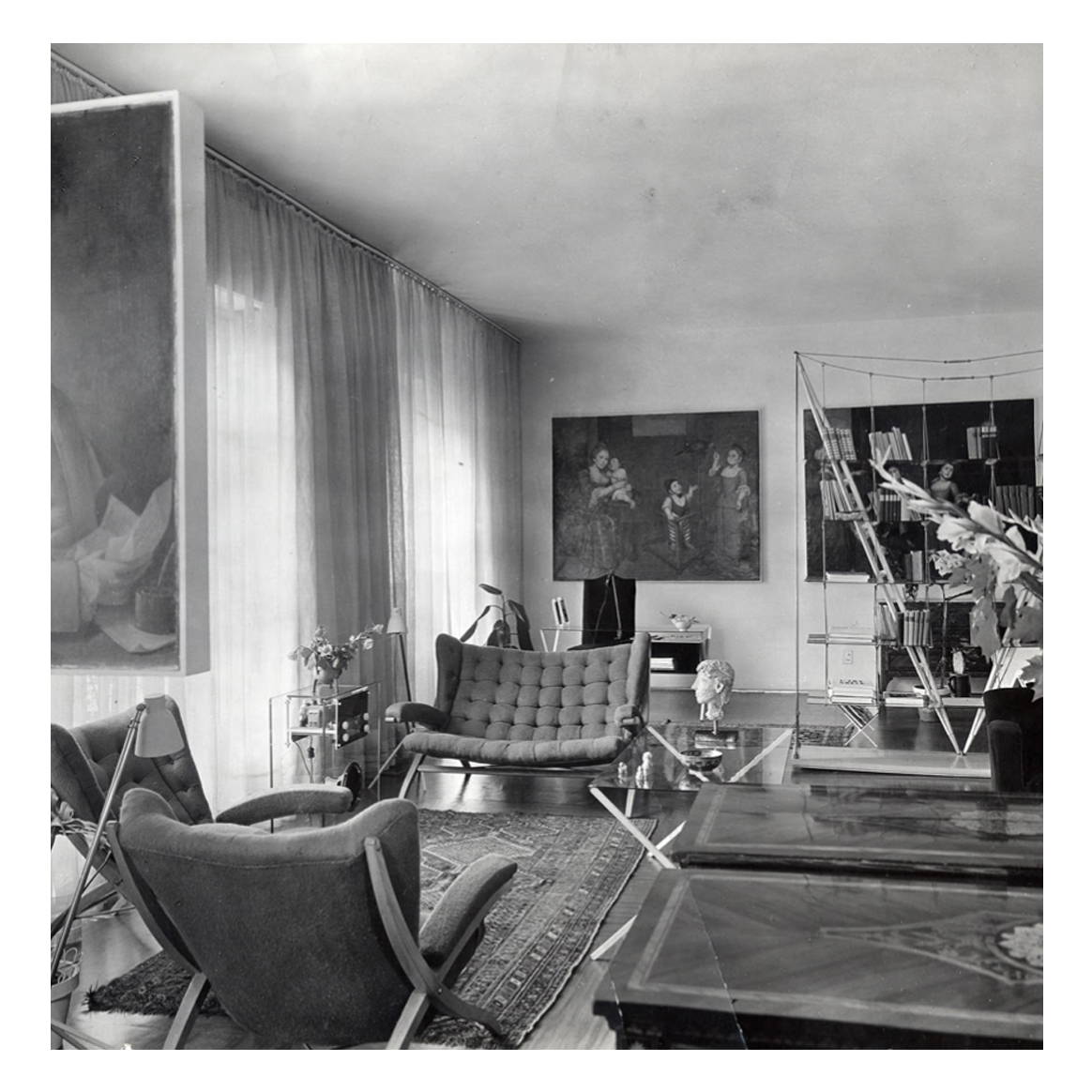 SIMPLICITY THAT HIDES COMPLEXITY
Franco Albini and Franca Helg, LB10 bookcase, 1956-57, for Poggi, now produced by Cassina, Italy


Likely the most famous bookcase in the history of design, this piece has a modular, self-supporting structure. Franco Albini had a gift for making technically complex things appear simple.
The light and airy presence of this bookcase is unparalleled. It features upright supporting sections, storage units and shelving, and offers endless combinations. The height-adjustable upright sections can be adjusted between the floor and ceiling to make it easy to assemble, both against a wall or in the middle of the room.
Cassina has been producing this bookshelf since 2008.
To learn more about Franco Albini's work, book a guided tour of the Franco Albini Foundation in Milan. An enlightening journey for design enthusiasts: www.fondazionefrancoalbini.com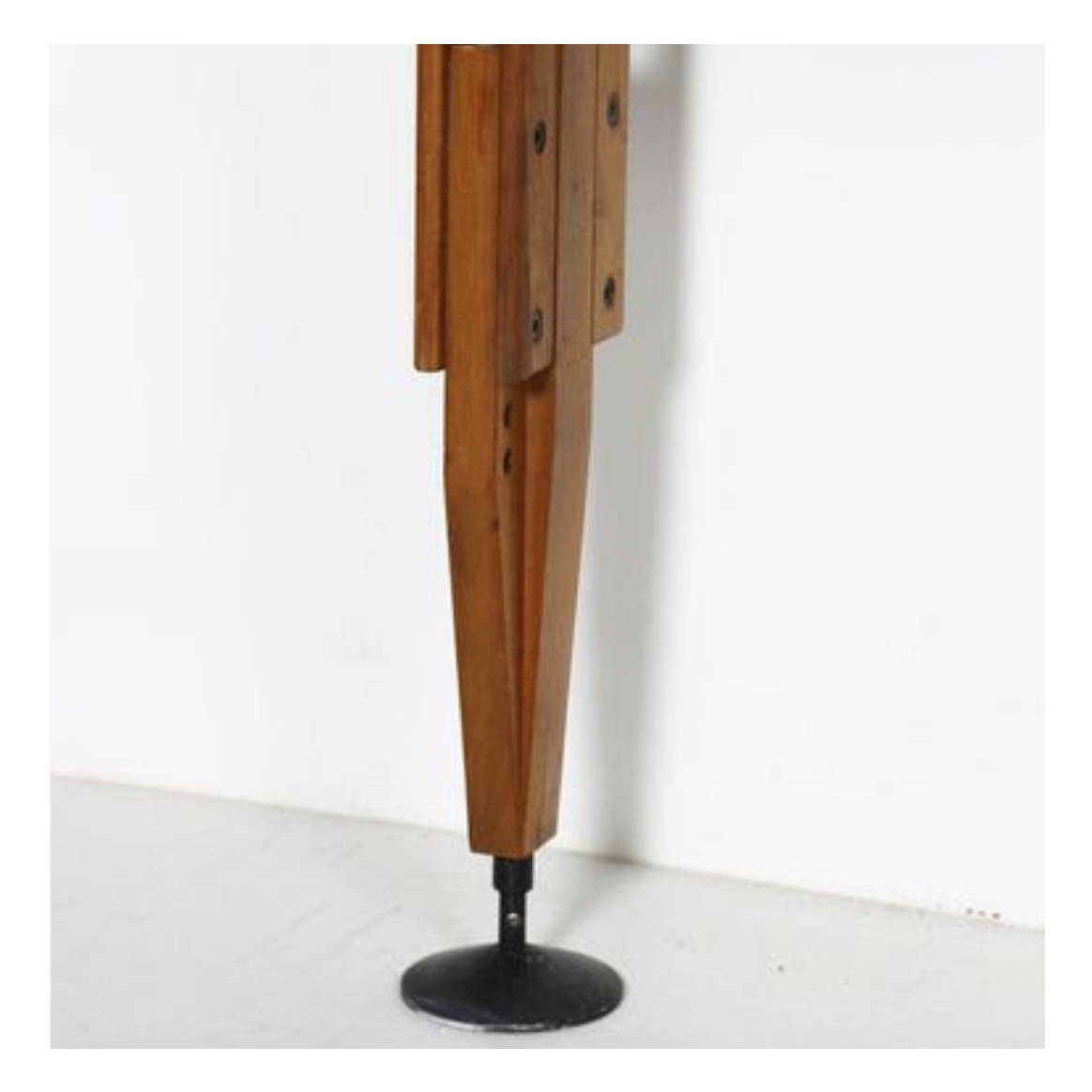 Billy Liljendahl,Billy System, Ikea, Sweden, 1979
Named after its creator, the low-cost modular "Billy" bookcase is the best-selling one on the planet, with an estimated one Billy bookcase per 100 people in the world.
Initially created with an oak or walnut finish, thanks to its popularity it also became available in white, with or without doors, and with varying depths.
Easy to assemble, we've all seen a Billy bookcase somewhere. It's a classic that can also be combined with even the most sophisticated pieces of design. After all, Ikea is like Zara: they go well with designer pieces if you know how to mix and match them. And while you shouldn't expect sensational performance, durability or finishes, it offers excellent value for money.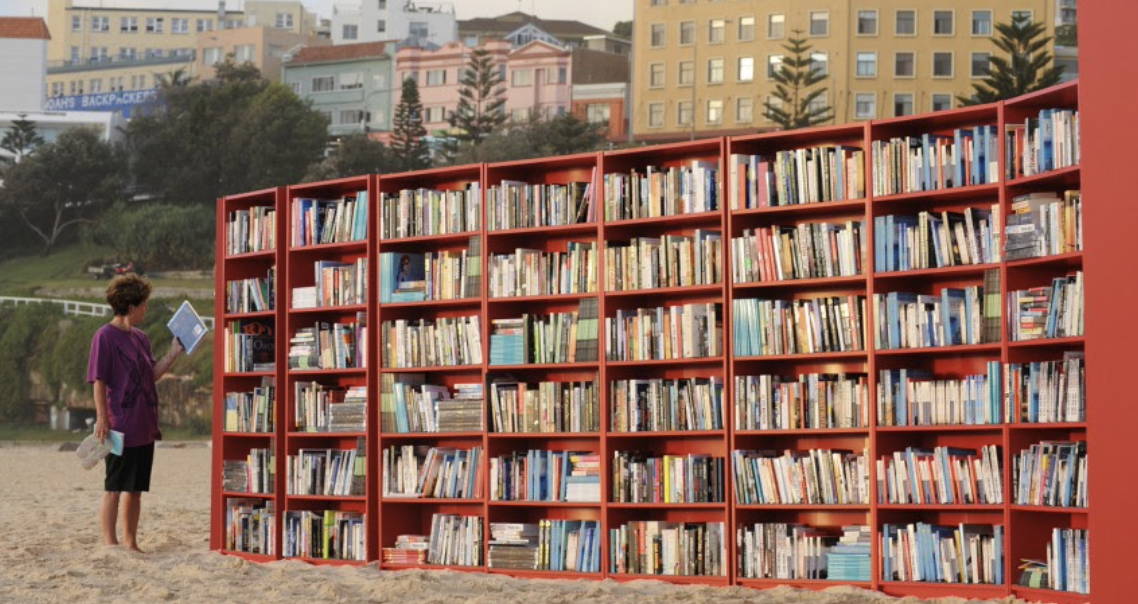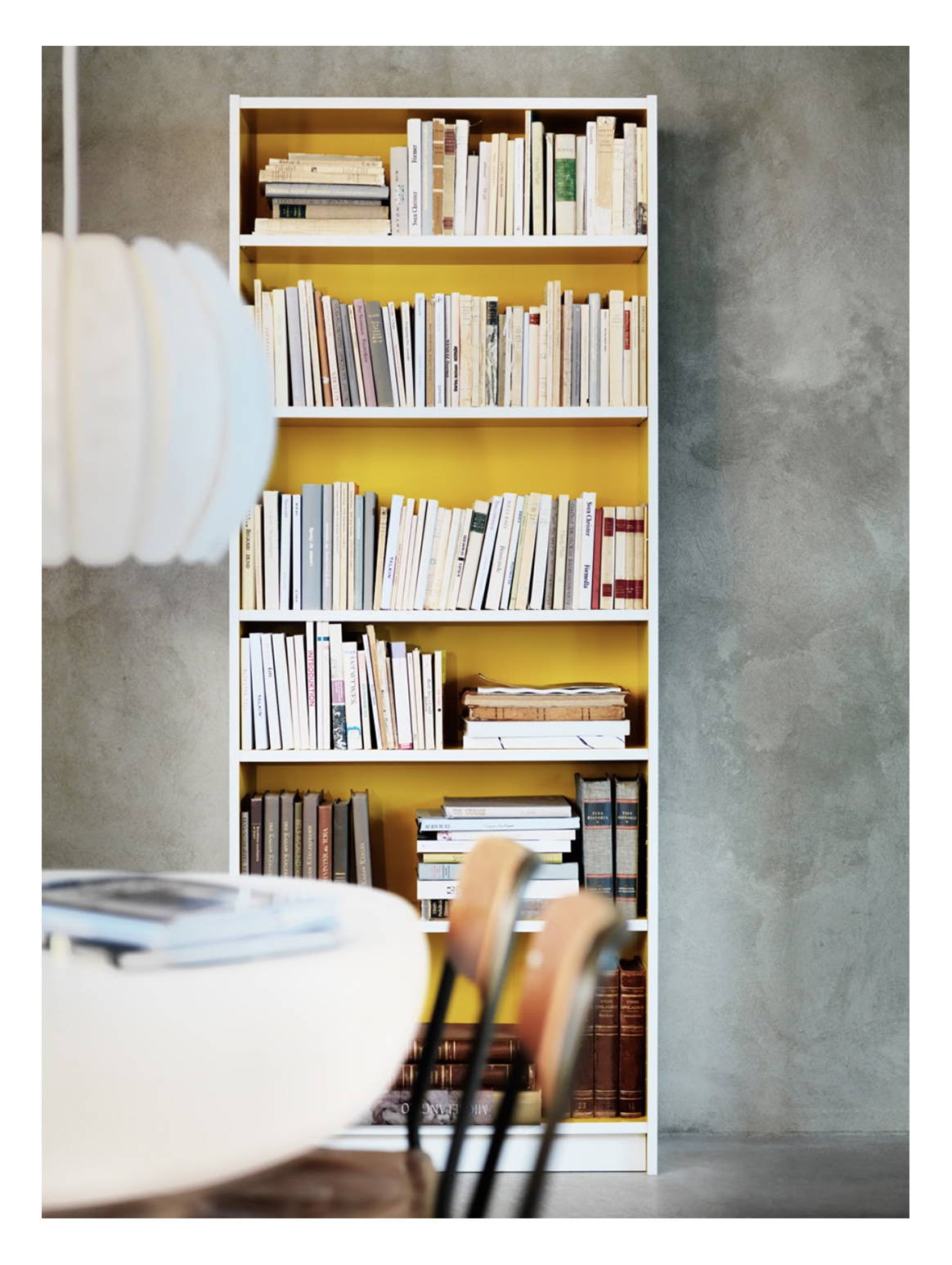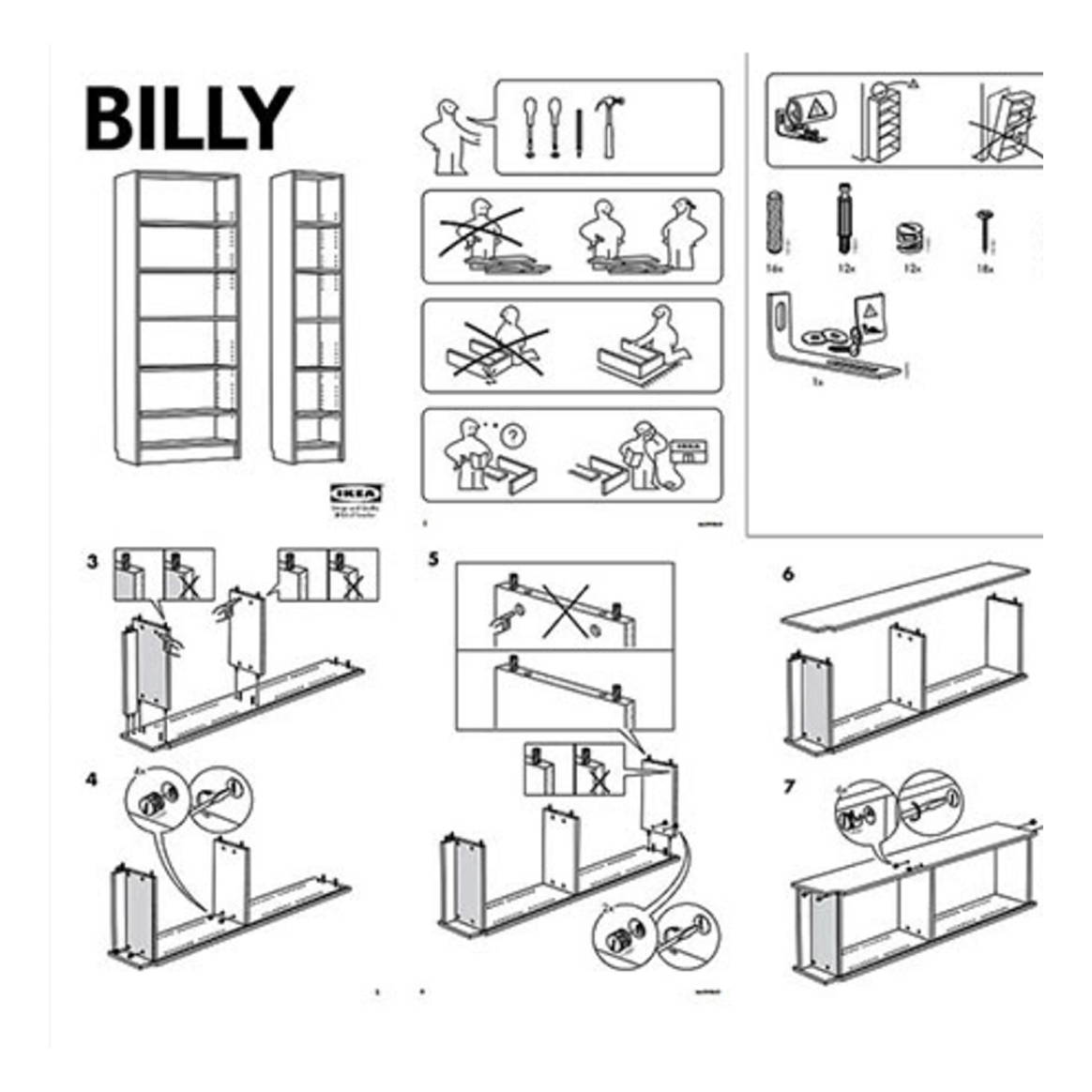 Expedit system, 1980s, then Kallax in 2014, Ikea, Sweden
In April 2014, the global community of record collectors went into uproad: Ikea had announced that it was going to stop producing the Expedit bookcase, a classic piece from the Swedish company that had been in its catalogues since 2000.

The drama arose from the fact that the bookcase, with its basic design and modest price, had 33x33cm modules that were perfect for storing LP records. It might not seem like that big of a deal, but this shelving format wasn't easy to find. In fact, any LP collector in the world likely owns at least one Expedit bookcase.
But the uproar didn't last long, and Ikea replaced Expedit with Kallax, promising that the measurements would stay the same, the shelves would be more stable, the colours more vibrant, and the external edges smoother. And so LP records were saved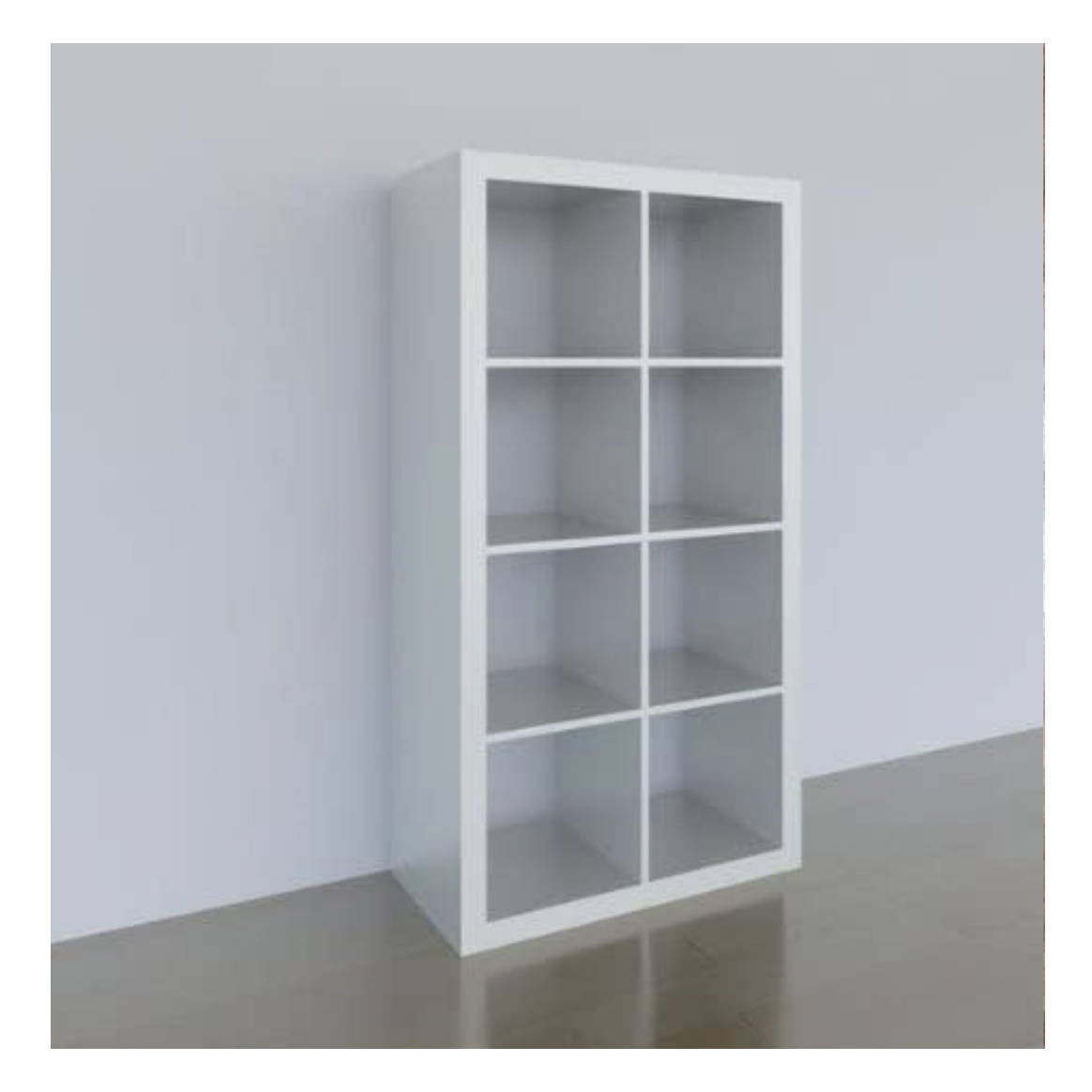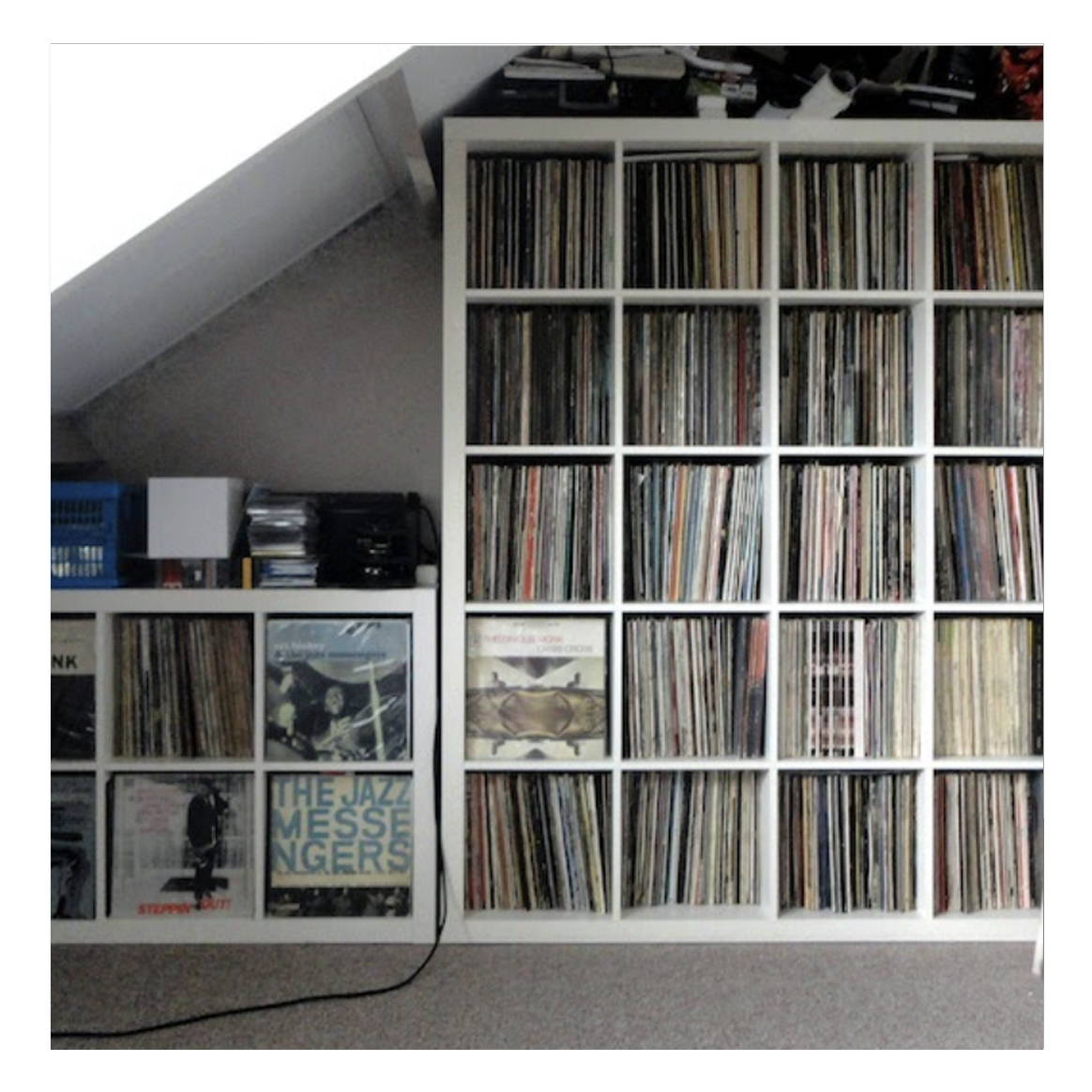 Ronan and Erwan Bouroullec, Cloud, Cappellini, Italy, 2004
This self-supporting, double-sided bookcase makes a big impact. Of particular interest is that it is completely modular and can be assembled in a multitude of ways thanks to its independent sections that are clip together.
Made from white polyethylene and created thanks to rotational moulding technology, this method presents the advantage of creating zero waste as all the plastic loaded into the mould is used to create the product.
Rotational moulding technology involves four stages: mould preparation, mould heating, mould cooling, and mould unloading. During the first step, a hollow metal mould (at room temperature) is loaded with a predefined quantity of powdered (or fluid) plastic material that is equal in weight to the final product. These were advanced sustainable production concepts for the time this piece was created.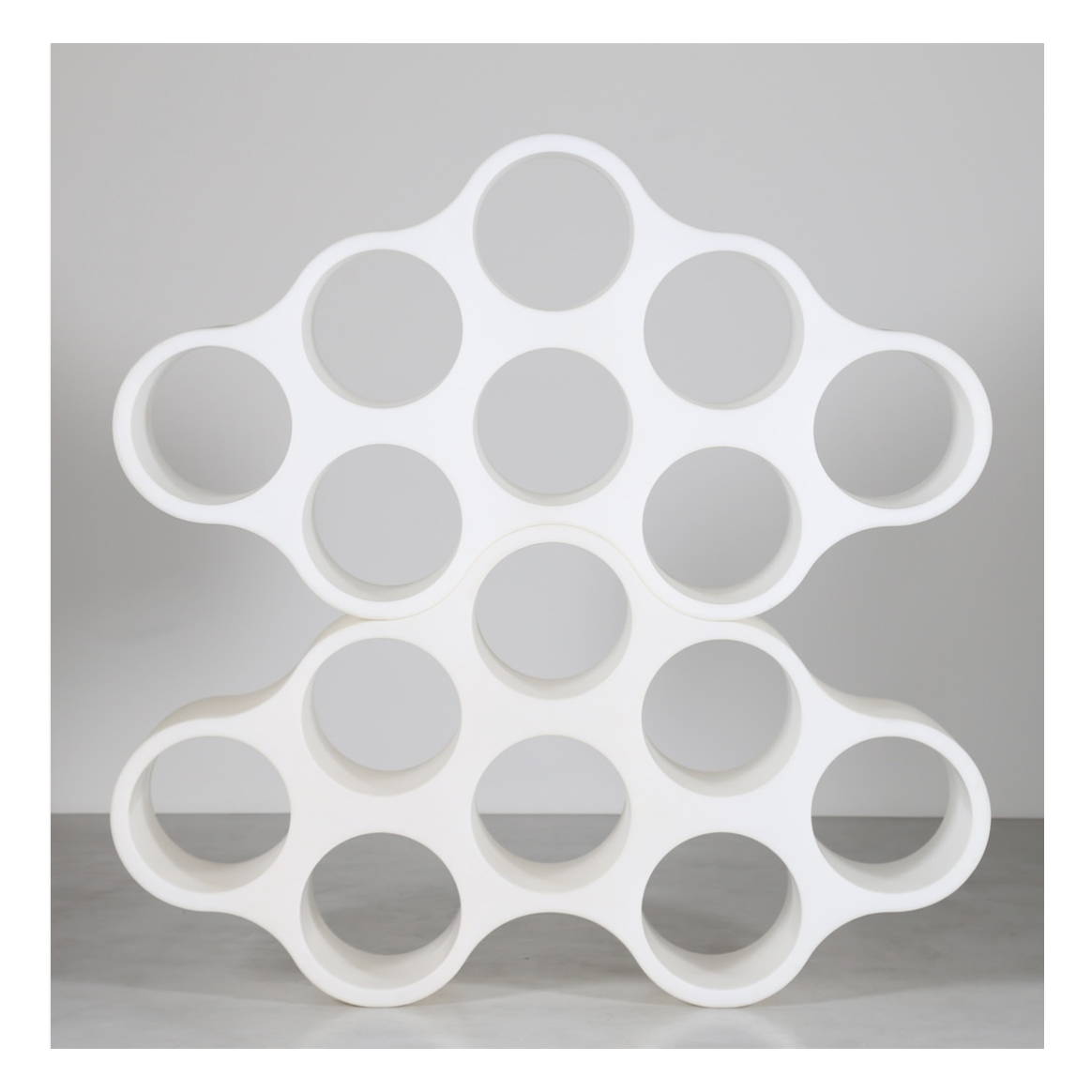 Dieter Rams, 606 Universal Shelving System, for Vistoe, 1959, distributed in Italy by De Padova
This shelving system was designed by the legendary Dieter Rams, who was head of German company Braun and was a skilled industrial designer and technology expert.
With upright sections made from extruded aluminium and with very thin aluminium shelves, this bookcase is structurally and visually light, flexible in its various configurations, and resistant. This is a minimalist piece of furnishing that is available as a suspended version, that can be set up against a wall, or positioned in the center of the room thanks to a self-supporting structure. One of the most versatile bookshelves in the world, Rams loved to express his philosophy with a variation on Mies van der Rohe's famous motto "Less is more" which he adapted into "Less, but better".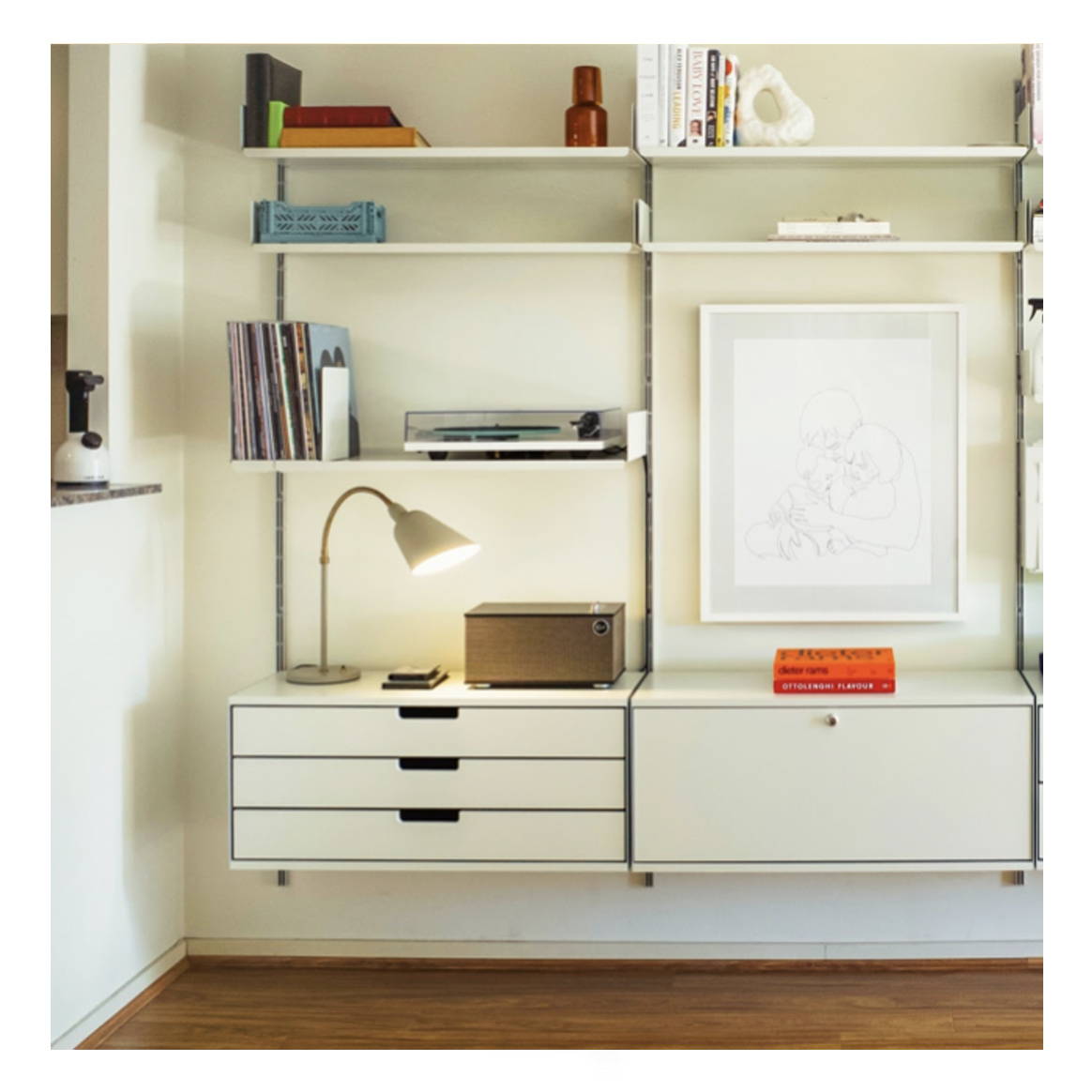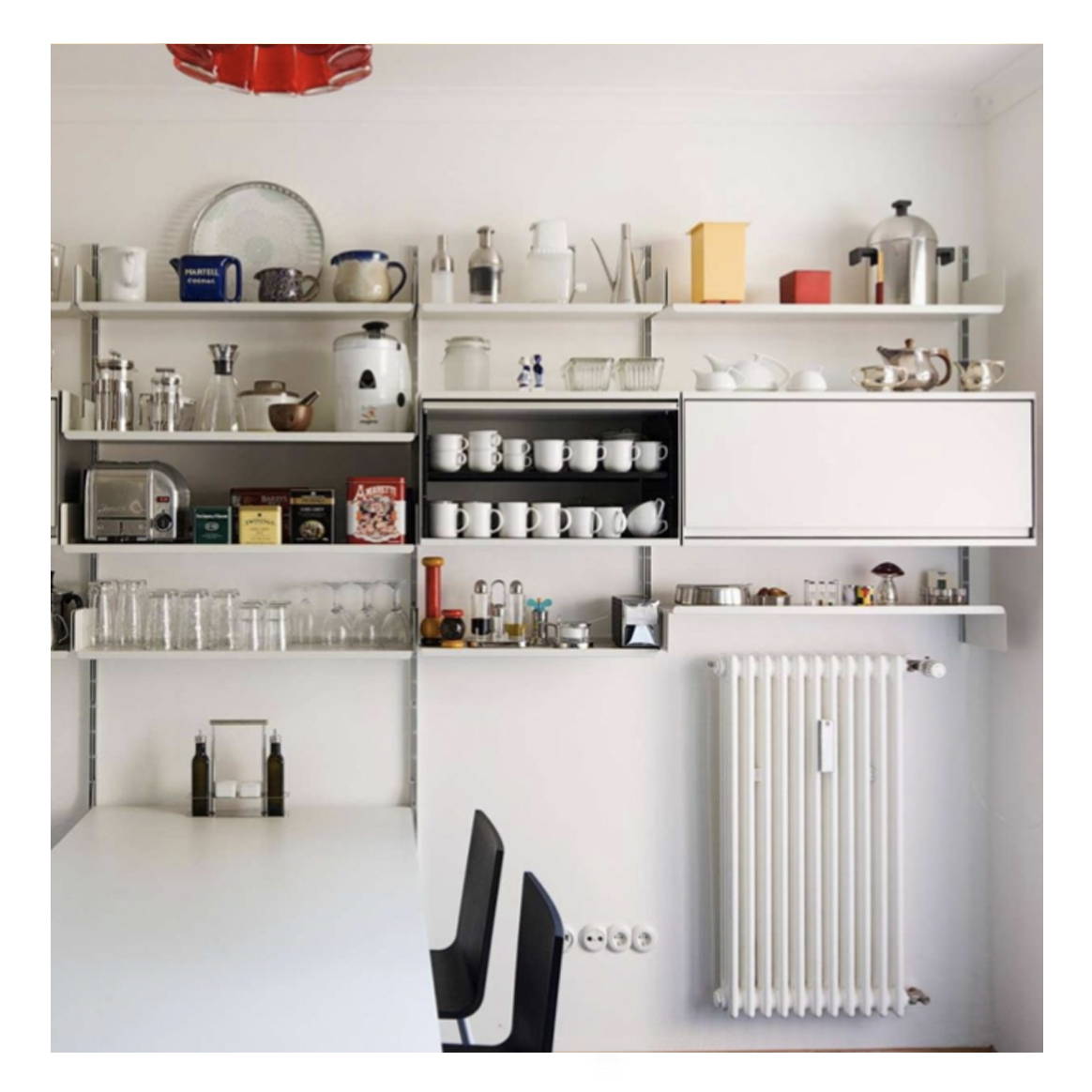 1980s and 1990s: THE BRILLIANCE OF BALERI AND STARCK
Philippe Starck, Mac Gee bookshelf designed for Baleri Italia, Italy, 1984
Photo @designstreet
This was one of the first projects created by Philippe Starck at the beginning of his career. His fortuitous encounter with visionary entrepreneur and designer Enrico Baleri provided him the opportunity to become part of the world of Italian design.
Baleri was a magician in his work, and thanks to his core values – authenticity, coherence, discretion, lightness, evolution, ecology, irony, internationality and non-obsolescence – we have extraordinary pieces of his designs in museums all around the world.
The Mac Gee bookshelf is one of these and is an absolute classic. A modular piece offering endless possibilities, it has a central upright support in steel sheet metal that is anchored to the wall, and has five shelves with decreasing depths that were inspired by airplane propellers.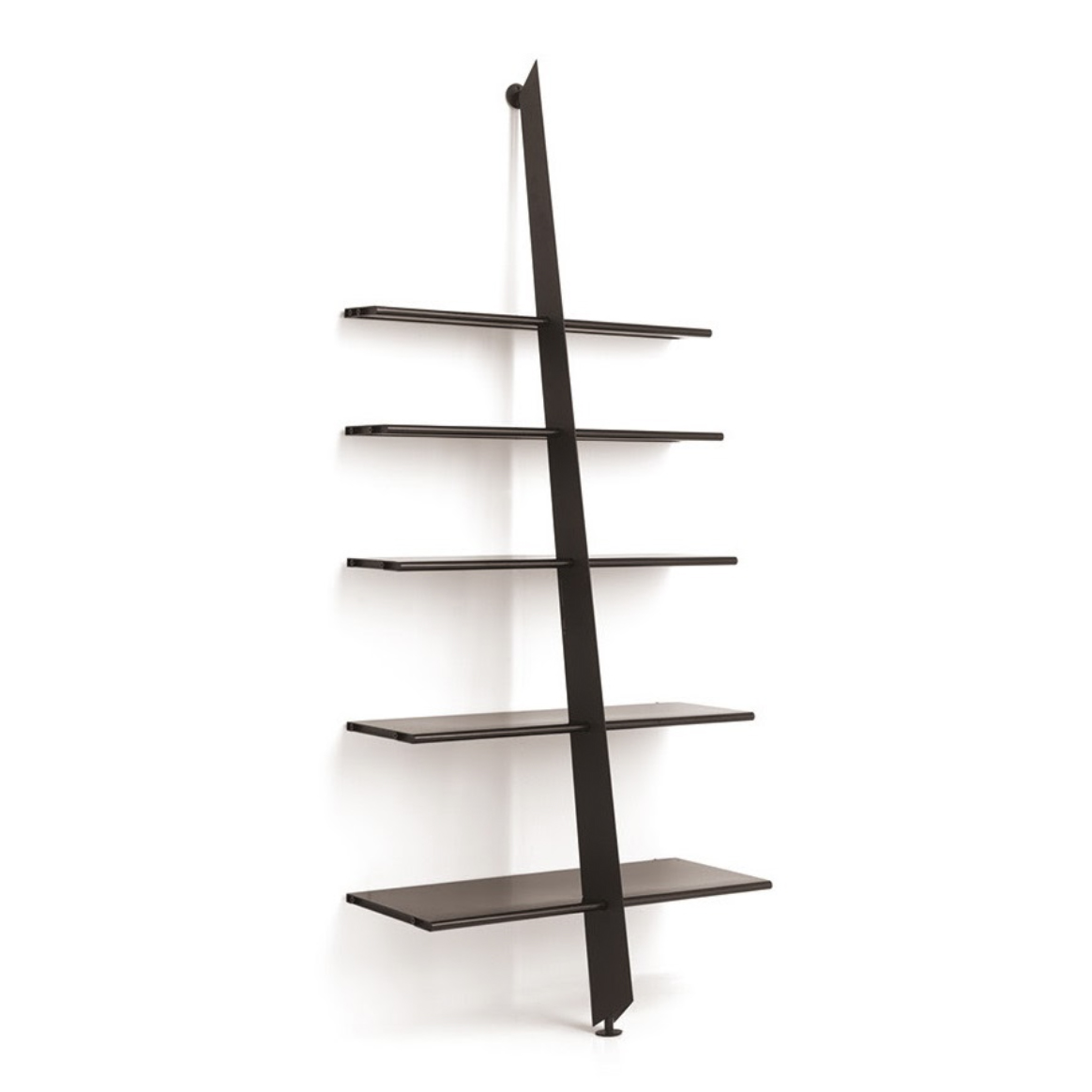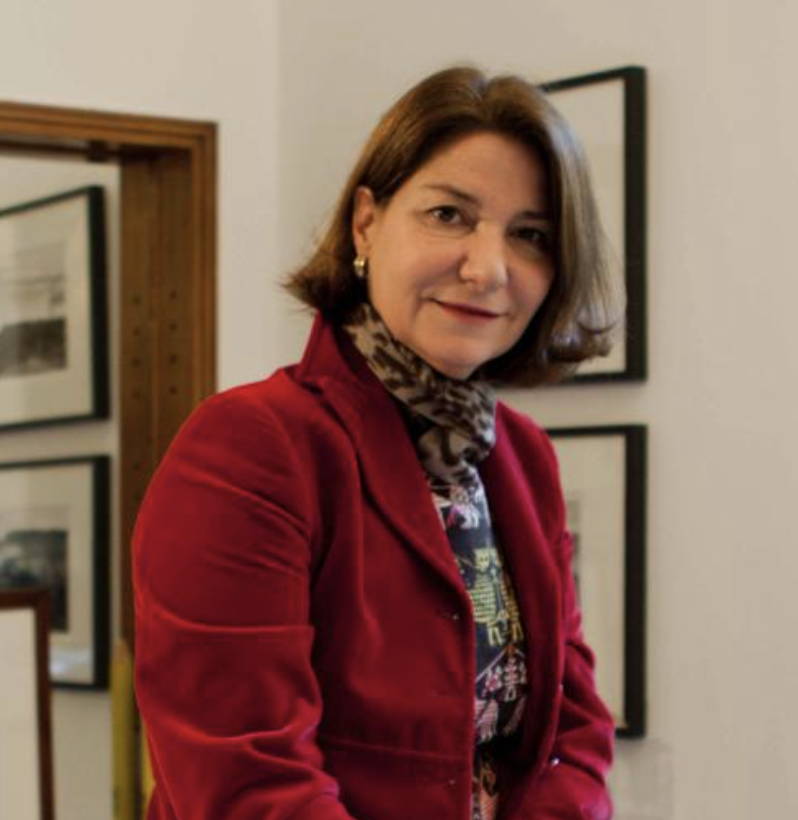 Antonella Dedini is an Italian architect, an interior designer and a University professor.
As a design curator, she found the Milano Design Film Festival, an internationally recognized event that she co-curated until 2019. In addition, she is the editorial author of a unique and atypical Instagram profile named Deden Design List, founded in September 2020, to prove that good Design improves your life.
From August 1st 2021, she collaborates with Design Italy to draw up a monthly list by category of objects, themes, and spaces.
The List is a thematic editorial selection of about 20 pics.
Let's keep an eye on Antonella's selection every month.