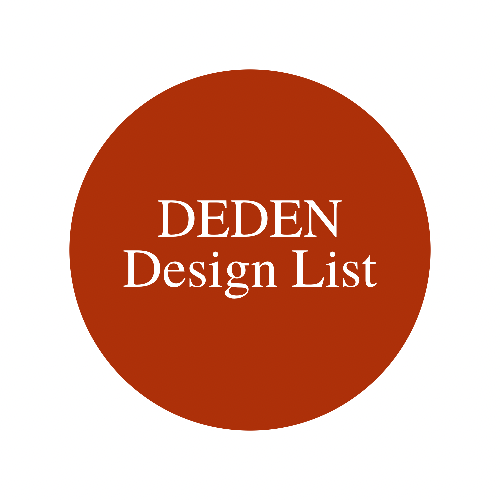 A monthly list curated by Antonella Dedini
GATHERING AROUND THE TABLE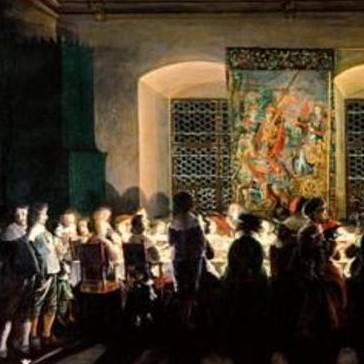 Christmas is quickly approaching, and many of us are looking forward to gathering around a good meal, socialising and enjoying a newfound appreciation for spending time with friends and loved ones. Not to mention those of us who can't wait to exchange gifts.
At this time of year, the concept of conviviality is expressed through being together around the table while exchanging ideas and sharing delicious food. Food is what connects us as "a system of communication, a body of images, a protocol of usages, situations, and behavior" as Roland Barthes wrote.
This month's "The List" is dedicated to all things festive and food enjoyed around the table. We'll explore various examples in art and cinema that portray the symbolic and expressive power of gathering around the table. Paintings, installations and films help us to remember that, as philosopher Kant stated, the highest good is the dinner party: eating well, in good company, at a beautifully laid table.
This painting is a depiction of a royal event: a festive celebration where nobles of the time gathered for a banquet in the majestic Knight's Hall at the Hofburg Palace in Vienna, Austria.
Wolfgang Heimbach was an important 17th century German painter, and the atmosphere in this work is particularly fascinating and somewhat mysterious, with soft lighting created by the candles reflected in the stained glass windows. To enhance this, there were contre-jour (backlit) lighting elements, so that the light was not distributed evenly, leaving the coffered wood ceiling and the conviviality in the shadows.
The tiled stove in the left-hand corner and the Brussels tapestries on the walls which served as curtains, are the only well-lit elements that frame the banquet. The lighting here places emphasis on the table and tableware consisting of crystal, silver and gold centrepieces and candleholders, ceramics, and food from all over the world.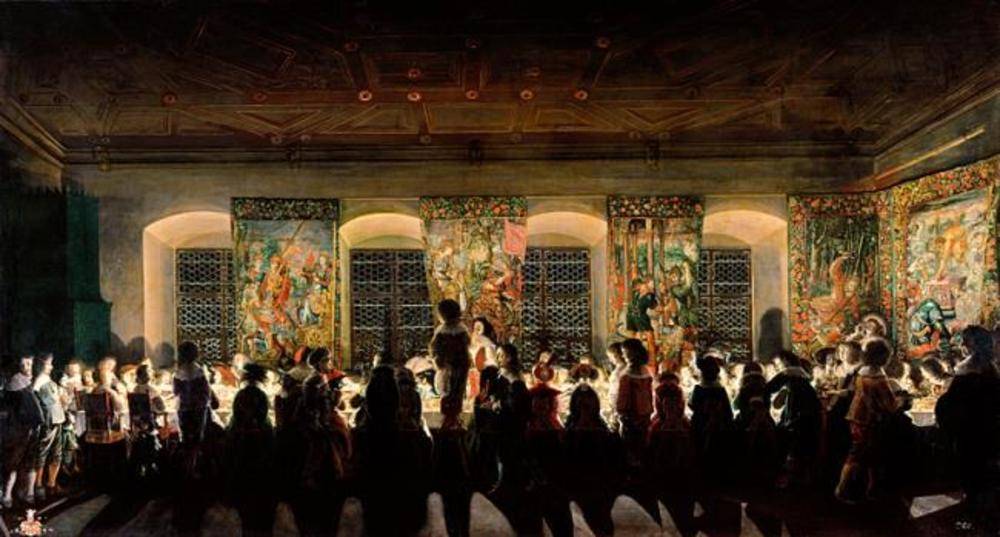 Wolfgang Heimbach, Banquet at Night, Germany, 1640, oil on copper,
Kunsthistorisches Museum, Vienna
Recreate the look with these pieces:
SET ANOTHER PLACE AT THE TABLE
This fresco, depicting the banquet that Bartolomeo Colleoni, a famous condottiero, or Italian military captain, hosted in his home on behalf of the King of Denmark, is rich in detail.
On the table, a linen cloth is spread out over a Turkish rug. The X-shaped folding chairs, also known as 'Savonarole', have velvet-covered armrests, while the back and seat were made of the same material, set with studs and edged with fringe.

Marcello Fogolino, Banquet in Honor of King Christian of Denmark
Recreate the look with these pieces:
This was a new painting technique for Matisse, who was always looking for new stimuli. He would define this style as 'Impressionist', with references to realism and the Japanese technique of depicting scenes of domestic life from a high point. The woman in the painting, perhaps a maid, is concentrating on putting the finishing touches on a lavishly laid table. She carefully arranges the flowers on the centrepiece, which sits on a tablecloth in a cheerful yet muted colour.
The fruit trays, laden with colourful fruit that we can almost taste and smell, and the table, set with beautiful plates and crystal glasses, create a perfect still life. In the corner is cutlery that still has to be set in place, and we see glasses of different sizes as well as generously filled carafes of wine.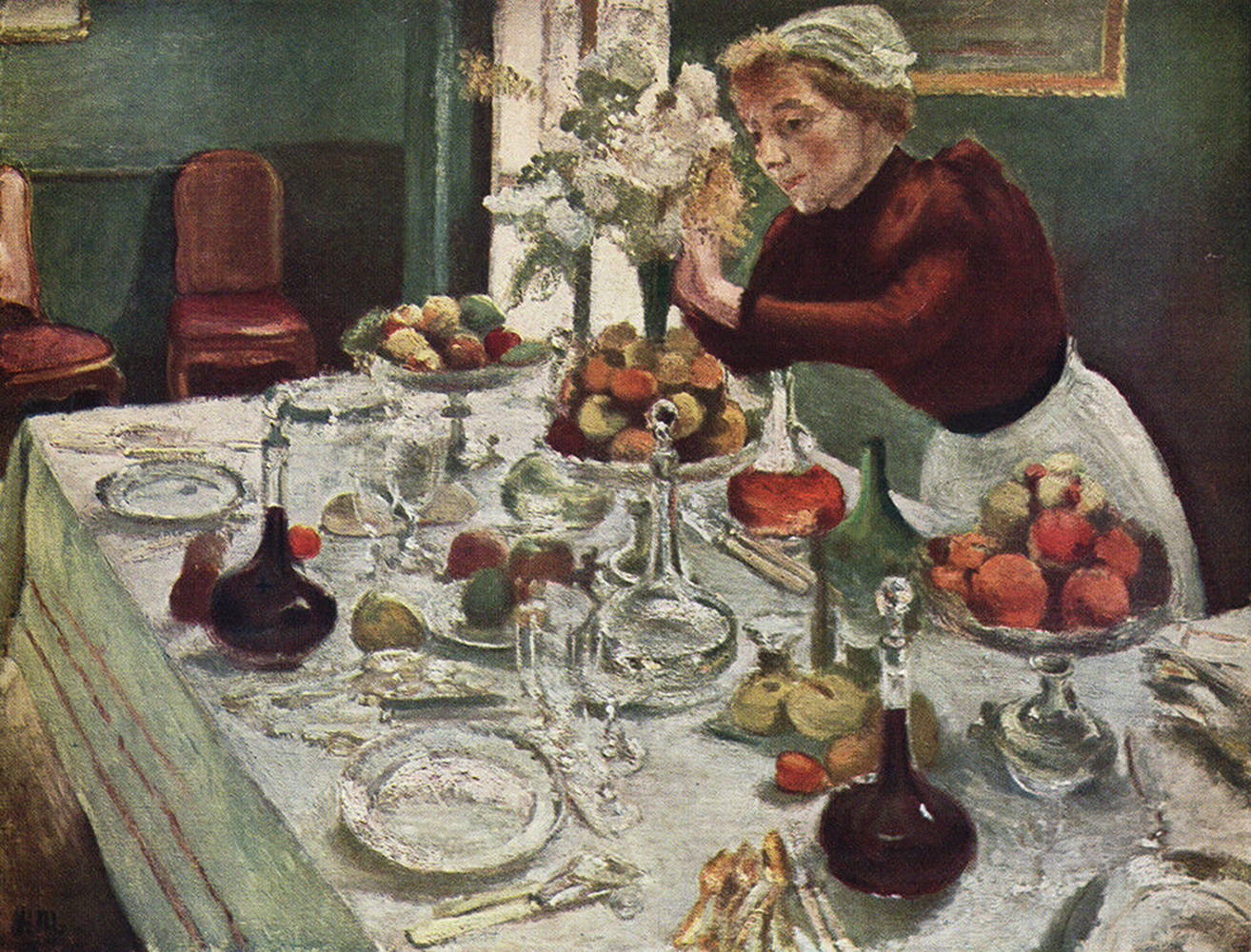 Henri Matisse, The Dinner Table (Original title: La desserte), oil on canvas, painted between 1896 and 1897, private collection
Recreate the look with these pieces: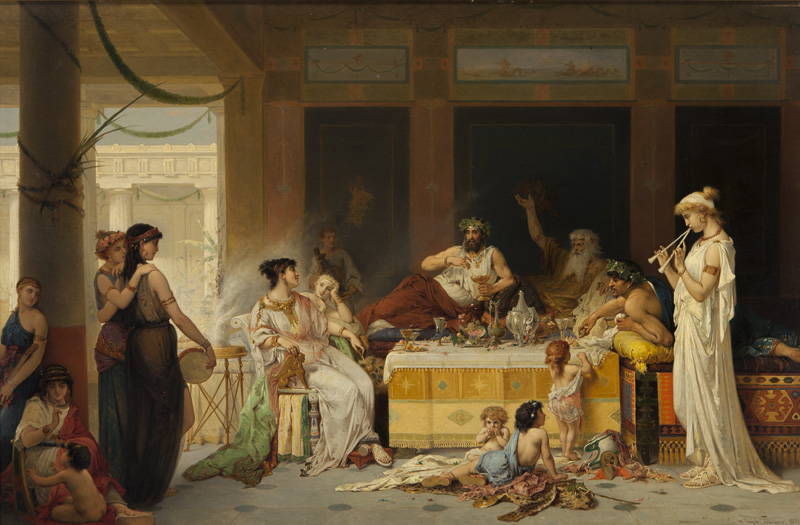 Pierre Olivier Joseph Coomans, Roman Banquet, Belgium, 1876, oil on canvas, private collection
Recreate the look with these pieces:
Saturnalia was an ancient Roman festival and holiday in honour of the god of agriculture, Saturn. The Age of Saturn was a time in pagan mythology when crops grew without human effort and humanity lived in harmony with nature.
The first celebration was held in 497 BCE at the Temple of Saturn in Rome. It was so popular that it was extended to three days, and then for a whole week from 17 to 23 December. The festivities began with large banquets and sacrifices, and there was also the exchange of small symbolic gifts called 'strennas'.
During the Saturnalia celebration, it was customary to decorate one's home and table with holly and evergreen garlands, candles, glittering star decorations, and metal ornaments, and to enjoy good food, drinks and games.
This book of hours was commissioned by Duke Jean de Berry. This miniature depicts the month of January, set in a castle of the duke, and shows the day on which it was customary to exchange gifts. A bountiful table had been set, and animals were allowed to take part in the festivities. On the right-hand side of the table is a valuable object that represents the wealth and benevolence of the Duke: a golden salt cellar in the shape of a ship, mentioned in the court inventories as 'le salière du pavillon'.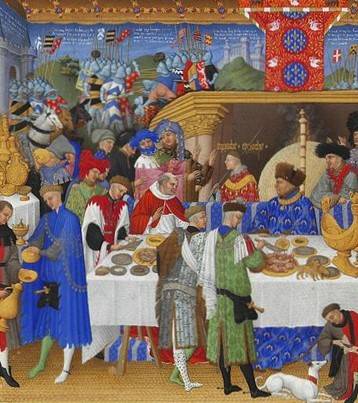 Limbourg brothers, Très Riches Heures du Duc de Berry, book of hours, 1412-1416, Musée Condé, Chantilly, France
Recreate the look with these pieces: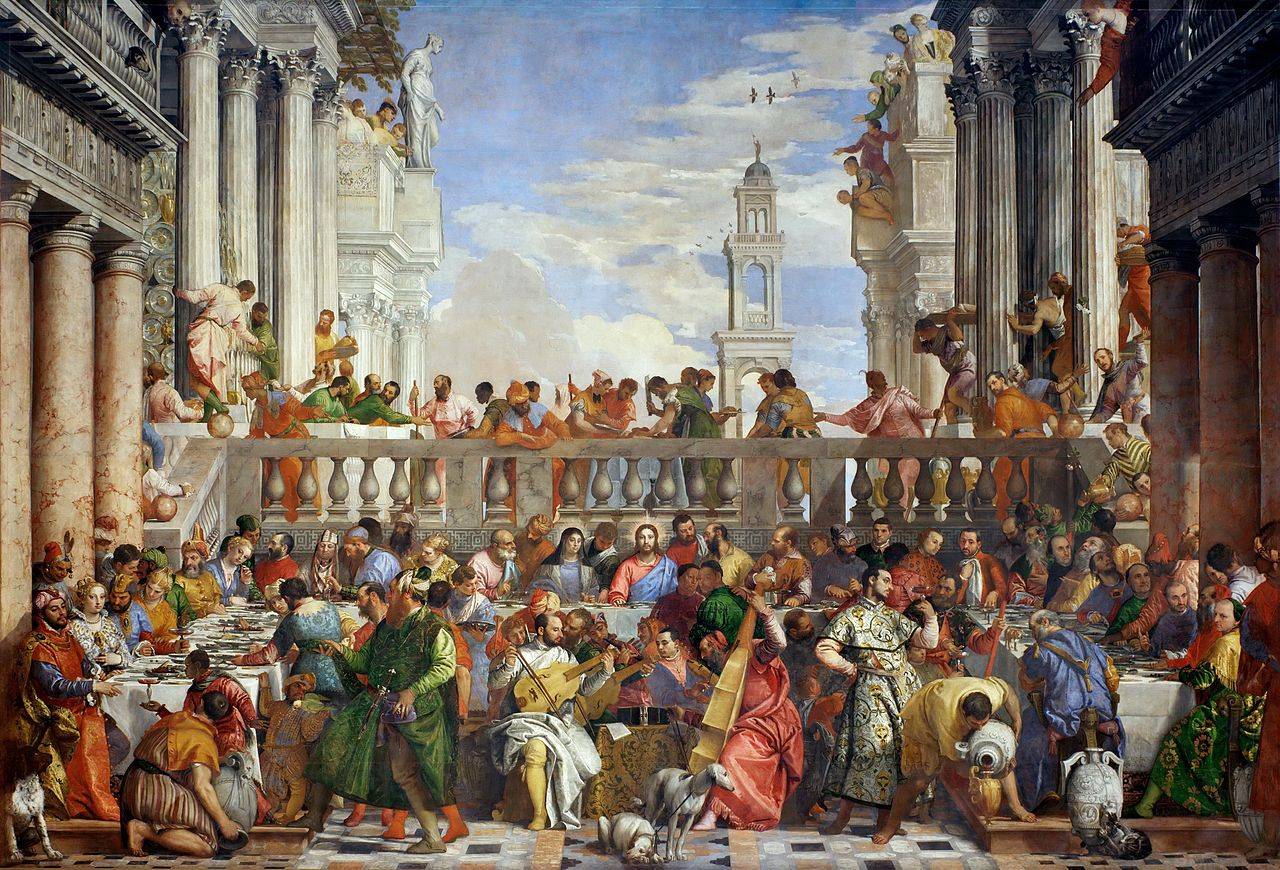 Veronese, The Wedding Feast at Cana, 1563, for the San Giorgio Monastery in Venice, now in the Louvre, Paris, 660x990 cm
Recreate the look with these pieces:
Veronese's paintings are full of depictions of banquets – most of all sacred banquets – intended to encourage prayer and reflection by monks and priests during meals. In fact, these 'sacred meals' celebrated the sacred along with the pomp of worldly Venice.
Here, we see a luxurious Renaissance banquet, with a splendour that expresses joie de vivre, an ideal interpretation of the intellectually free yet joyful way of life of Venetian society at the time.
We see a marvellous and festive atmosphere, bright colours, and the imposing figures of the guests. The artist animates the canvas with women and men donning clothing made from beautiful, refined fabrics and embellished with glittering jewels.
By using bright colours and dazzling shades, the artist creates a joyful and intense light. Here, ordinary mortals mingle with imaginary celestial figures. And when observing the painting, you almost find yourself sitting among the protagonists of the scene.
A 1970s Italian cult film, this movie is about four friends and members from a small club of gourmands who decide to meet in a dilapidated villa outside Paris for an orgy and to eat themselves to death. The movie is full of scenes of stunning dishes, exotic foods, and tables laid in a grotesque and at times extremely seductive manner.
The protagonist is Ugo Tognazzi, who in addition to being a great actor was also a truly great chef. Tognazzi personally supervised the recipes and table settings for the film, designing the dishes and sculptures. The other main protagonists of the film were Marcello Mastroianni, Philippe Noiret and Michel Piccoli.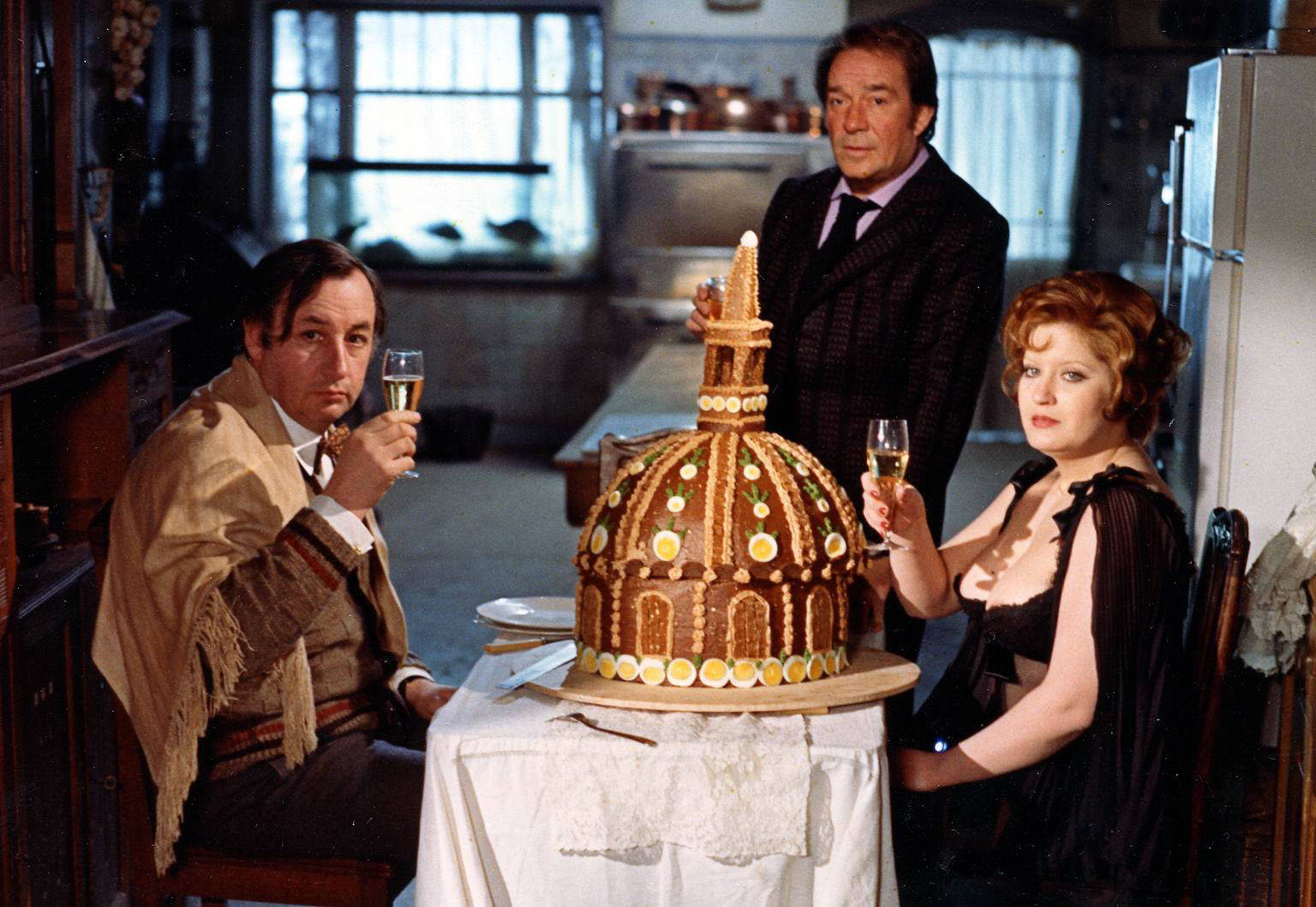 La Grande Bouffe, directed by Marco Ferreri, Italy-France, 1973, 123 minutes
Recreate the look with these pieces:
Another cult classic film for food lovers is Babette's Feast. The screenplay is based on the novel by great twentieth-century Danish author Karen Blixen. The film, as is rarely the case, manages to perfectly recreate the sensations and emotions in the book.
The movie tells a story that refreshes and rekindles the soul, thanks to the extraordinary meal prepared by Parisian and Catholic protagonist Babette, who arrives by surprise in a bigoted community of Protestants in a small village in northern Denmark. The film tells a story that speaks of faith and the meaning of life.
It is also a story of sacrifice: Babette spends her entire lottery winnings to prepare, for the guests of the home where she works as a maid and for the entire community, the best meal they have ever had.
And it is precisely thanks to that shared experience that the divided and closed Lutheran community rediscovers the joys of life.
Babette's Feast, directed by Gabriel Axel, Denmark, 1987, 102 minutes
Recreate the look with these pieces:
Daniel Spoerri, Daniel Spoerri, Hahn's Supper, 1964
Hahn's Supper, 1964
On 23 May 1964, artist Daniel Spoerri invited friends to dinner and asked them to bring their own tableware. After the guests had eaten, Spoerri glued everything to the table so that the table top could be hung like a picture on the wall. That way, the table became a reminder not only of the evening spent with friends but also of the guests themselves who had set a truly unique table with their personal table settings.
Spoerri called these works of art 'trap pictures'. They represented a moment in time that had been 'trapped', and in which a piece of everyday life had become an image. He also founded the Eat Art movement, and many of the tables he created have become a fascinating representation of the joy of sharing meals with others.
Recreate the look with these pieces:
One of Vanessa Beecroft's projects is a video performance where 32 diners – chosen from among the Savoy nobility, friends and relatives of the artist, models and performers – sit around a long, transparent table for seven hours in a row with a detached attitude as they take part in a lavish banquet.
Time lags by, accompanied by the slow movements and empty gazes of the individuals, who are in contrast with the colourful foods at the table.
The courses and drinks come onto the scene according to a colour theme, from white to red, to green, to orange and purple. This work, like others by Beecroft, symbolises her difficult relationship with food. Originally, the project was a performance at the Rivoli castle in Turin, but now a video projection is available at Rumma gallery of Milan.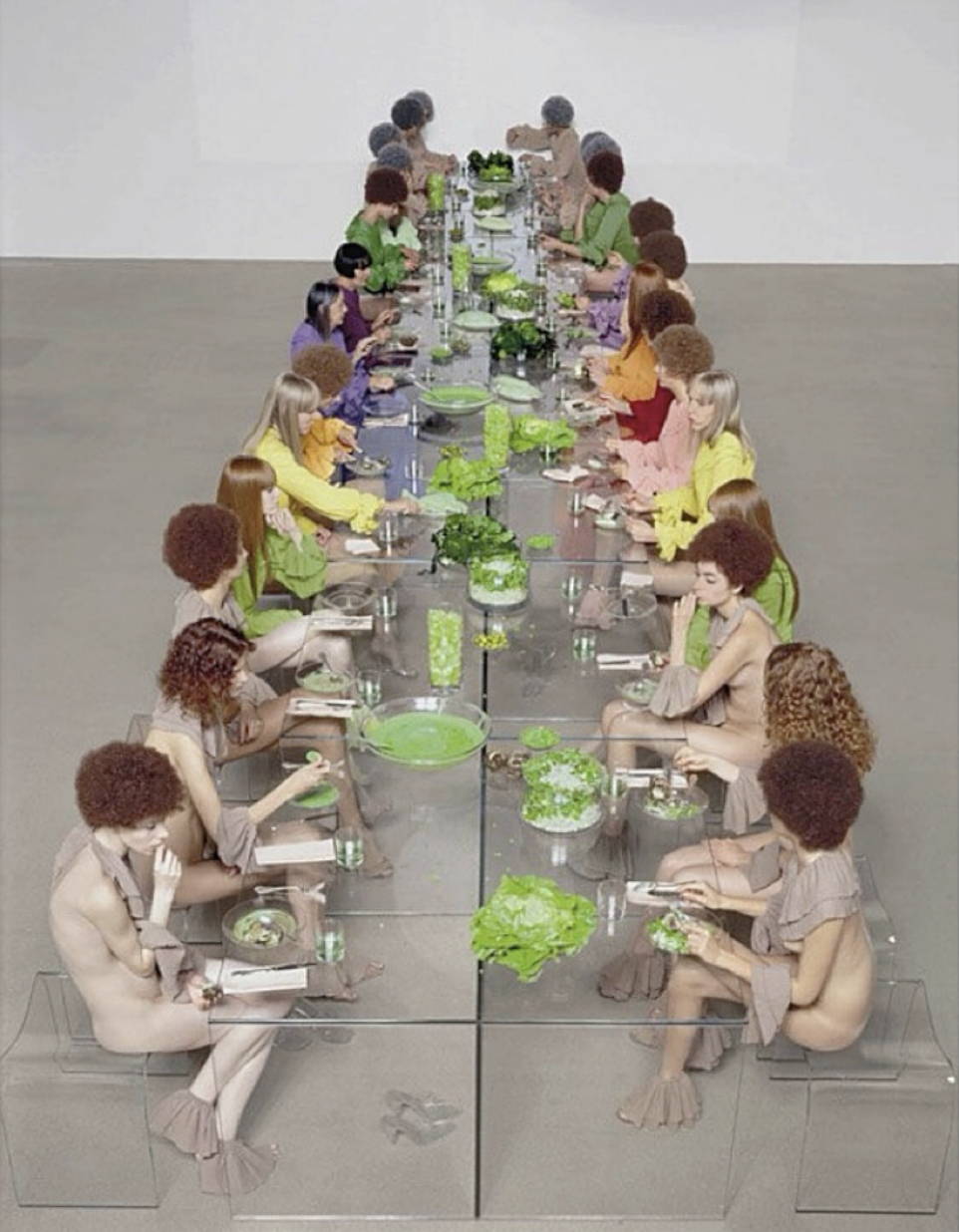 Vanessa Beecroft, VB52 video projection, Rivoli Castle, Turin, Italy, 2003
Recreate the look with these pieces: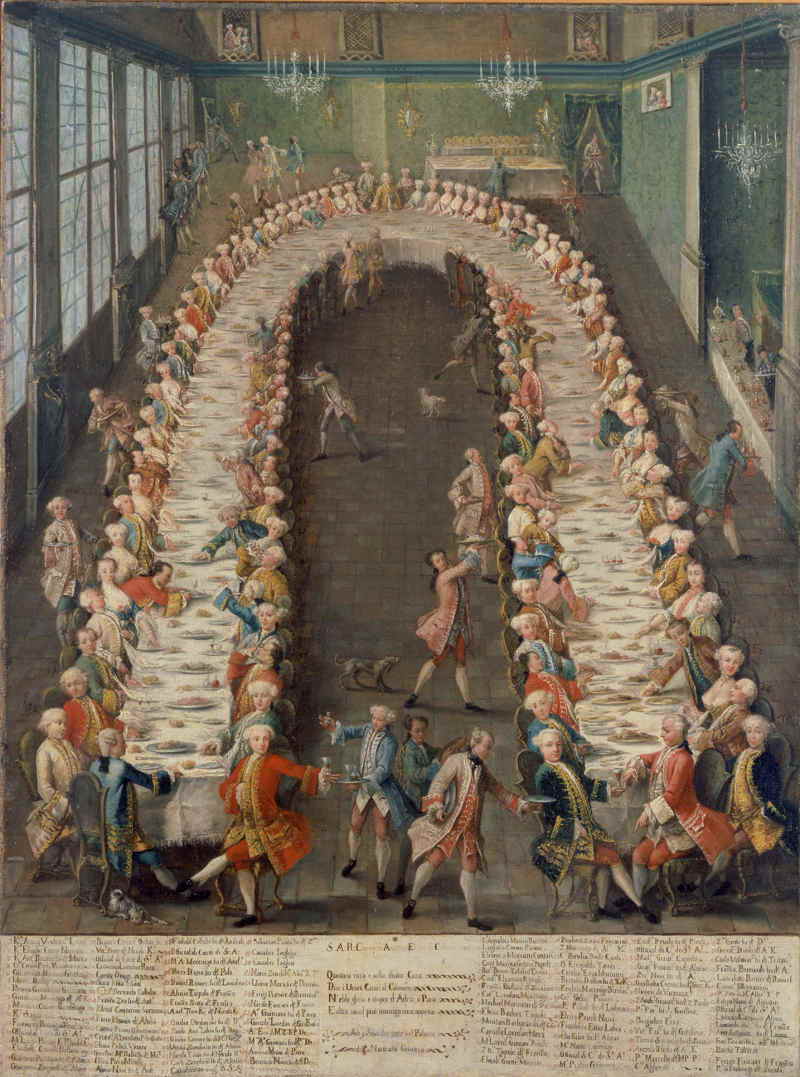 Pietro Longhi, The Banquet at Casa Nani in Giudecca, Cà Rezzonico, Venice, 1775
Recreate the look with these pieces:
This painting shows a luxurious, horseshoe-shaped table where one of the most sumptuous meals in the history of the Serenissima, or Republic of Venice, was held.
Archbishop Clement Augustus (brother of German Emperor Charles VII), who was madly in love with Venice, visited the city under the guise of the Count of Werth in 1755.
The realistic painting of the banquet, held in his honour by the Nani Mocenigo family in their sumptuous Venetian palace, reveals the customs, traditions, opulence and wealth of banquets and table setting in 18th-century Venice. It is said that gold plates and cutlery were borrowed for the occasion by the doge to make an even greater impression on the guests.
THE ALLURE OF CHRISTMAS EVE
This is a film full of Christmas spirit, humour and romance. The Christmas dinner scene is perhaps the film's best one: while waiting for midnight, anything can happen. Just like in real life, you might fall in love or get bored, make a confession or be betrayed, not knowing if one season is over or if another is just beginning. Proposals, promises, smiles and tears are all part of this wild ride called life.
And despite all the craziness, you're happy. Because you missed it all in the midst of the pandemic over the last two years.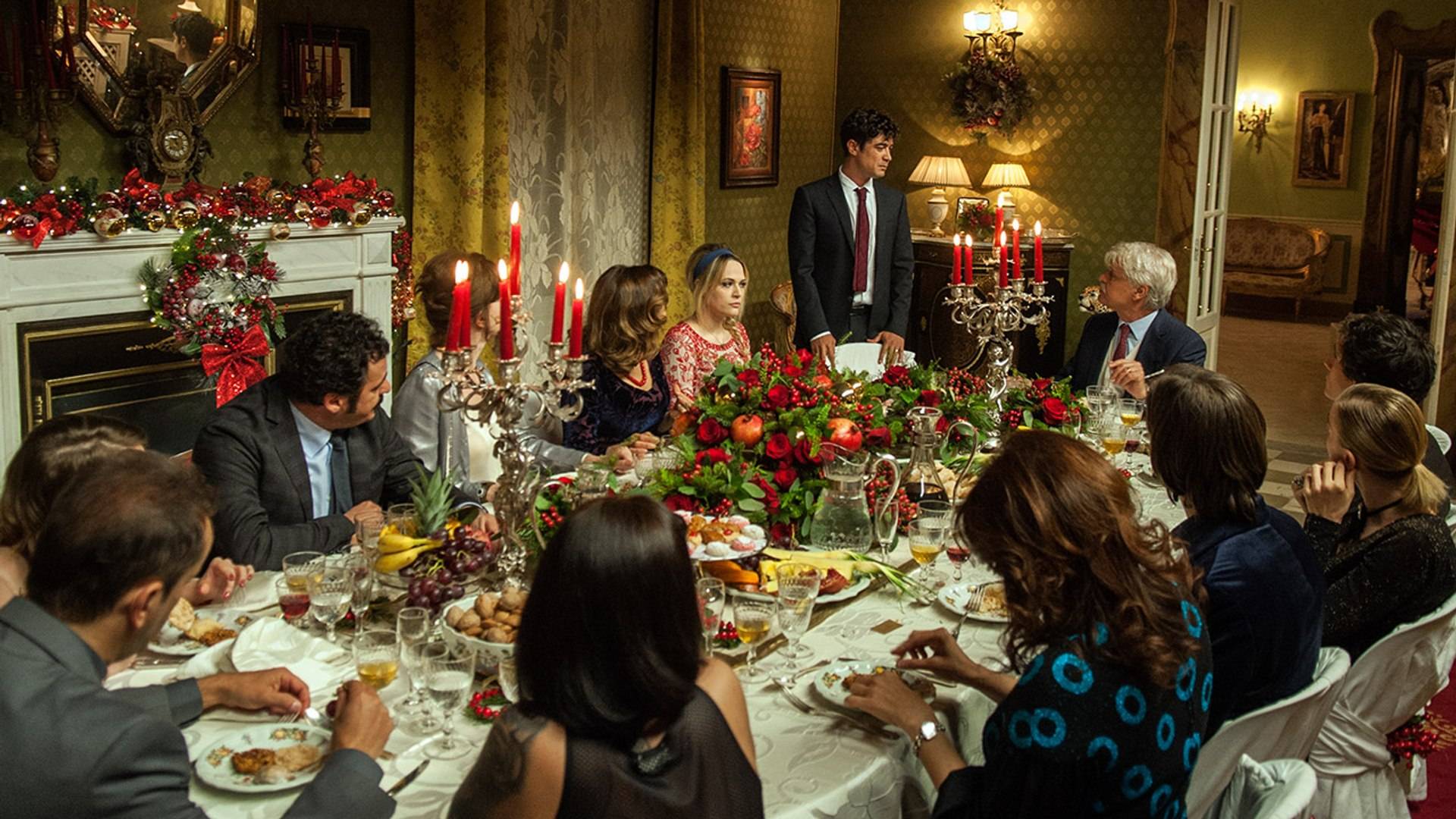 The Christmas Dinner, directed by Marco Ponti, Italy, 2016, 95 minutes
Recreate the look with these pieces: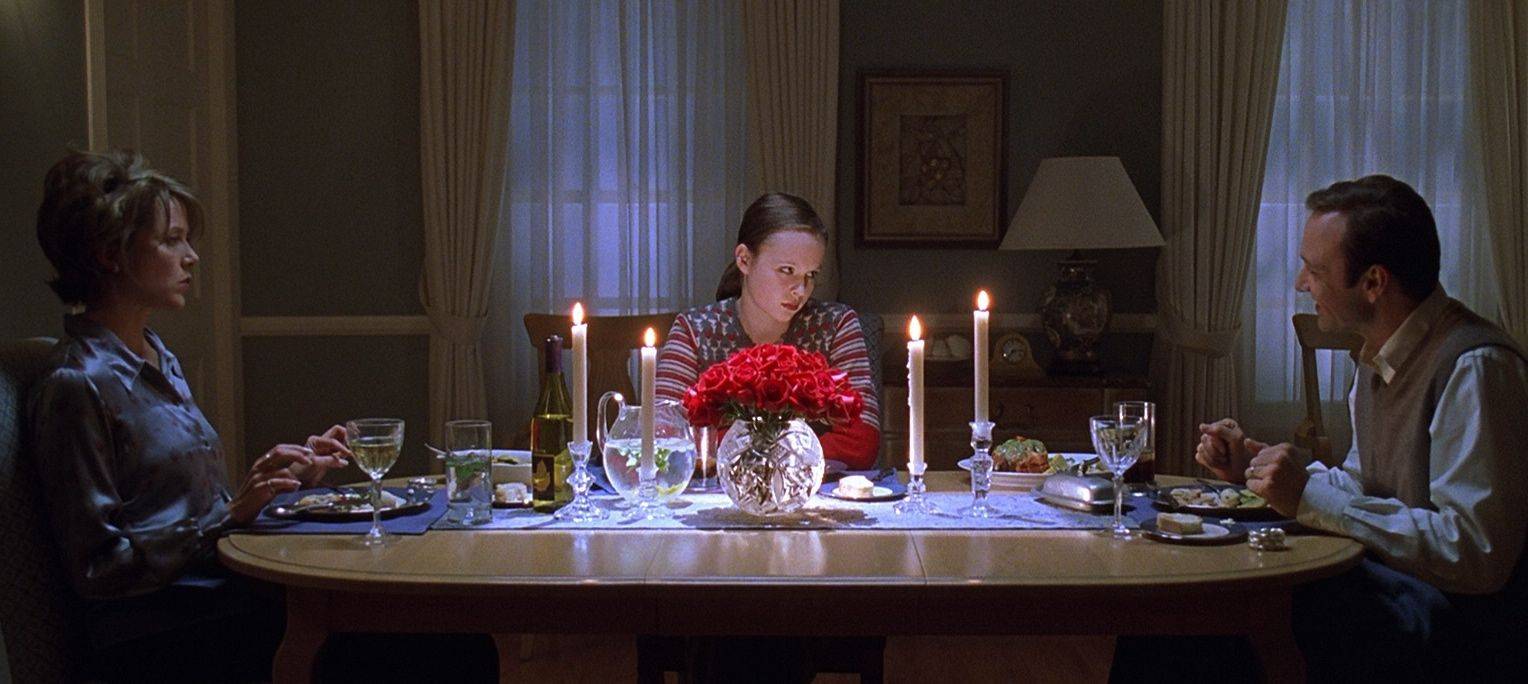 American Beauty, directed by Sam Mendes, USA, 1999, 121 minutes
Recreate the look with these pieces:
This film is all about beauty in its various forms and the possibility of discovering it in the most unexpected ways in an eccentric slice of American life.
Director Sem Mendes gives a sentimental tone to the film's scenes. He has been defined as a 'visual artist' who manages to portray the protagonists' feelings in a spatial relationship. Mendes is a great observer of the unpredictable realities of life and of the preconceptions typical of those who, when they least expect it, are surprised by the seduction of emotions.
A TABLE FOR GREAT WOMEN IN HISTORY
This installation by artist Judy Chicago is considered to be the most important pieces of art produced on behalf of the American feminist movement. Judy Chicago succeeded in staging the largest representation of a table setting celebrating the achievements of great women in Western culture.
The installation is a huge triangular table measuring over 14 metres on each side and with 39 different place settings representing and celebrating the achievements of women in arts, crafts and research.
This work is a celebration of women on various levels: not only does it recognise women who have not yet taken their place in history, but it also offers a powerful opportunity for those traditionally 'female' works that have been unjustly relegated to the world of crafts and excluded from the world of "art", including ceramics, embroidery, sewing and floral decorations.
The table settings include embroidered runners, gilded goblets and utensils, and painted porcelain plates whose central motif celebrates women.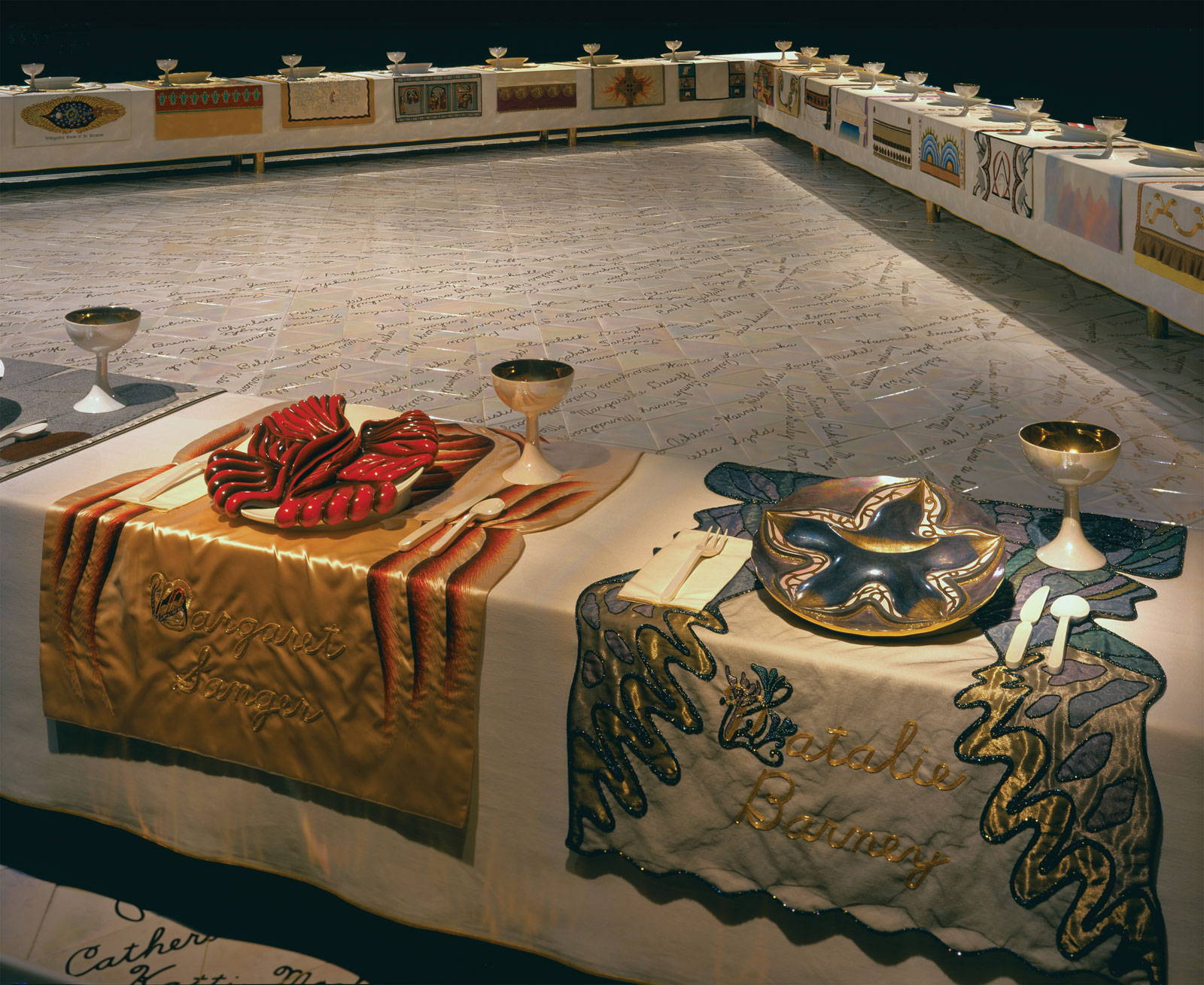 Judy Chicago, The Dinner Party, Brooklyn
Museum, USA, 1970, permanent collection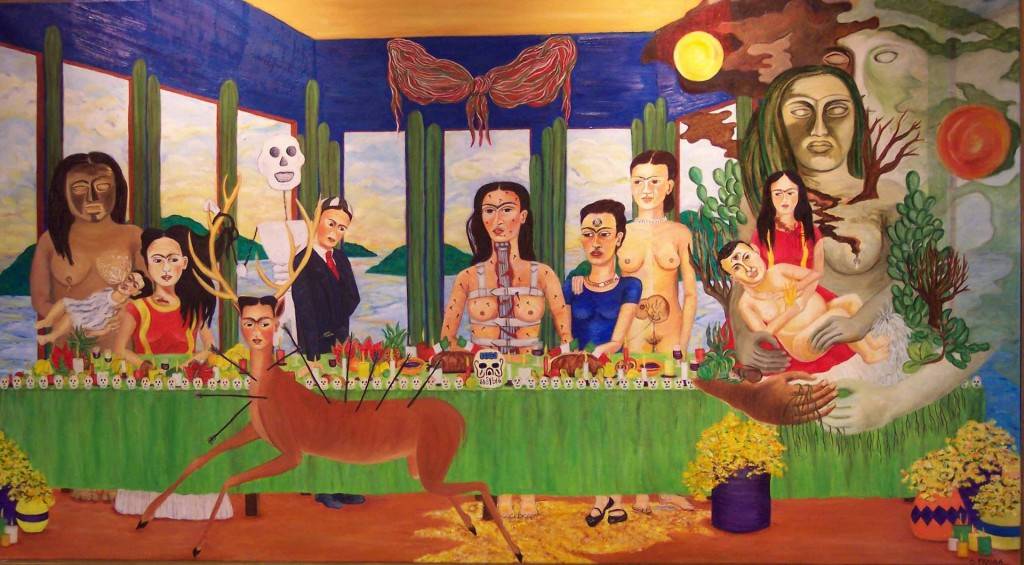 Frida Kahlo, The Wounded Table, Mexico, circa 1938, lost painting
Recreate the look with these pieces:
"I never paint dreams or nightmares. I paint my own reality", said artist Frida Kahlo. The artist, with her powerful autobiographical art, managed to immortalise her life, loves, passions, obsessions, and immense suffering.
Her life was a difficult one, and she found relief from these challenges thanks to her great love for animals. In the garden at her colourful blue house, 'Casa Azul' in Mexico City, she had a parrot, a fawn, an eagle, parakeets, macaws, chickens, sparrows and a monkey, all animals that were part of her mysterious and symbolic world.
Red and orange are the colours that are most often found in her paintings and are symbolic of joy and life. With bright and floral tones, these colours also come alive in her clothing, which she bought from the matriarchal communities of the Isthmus of Tehuantepec: women who were famous for being beautiful, intelligent, dignified and courageous.
Women once again celebrating women.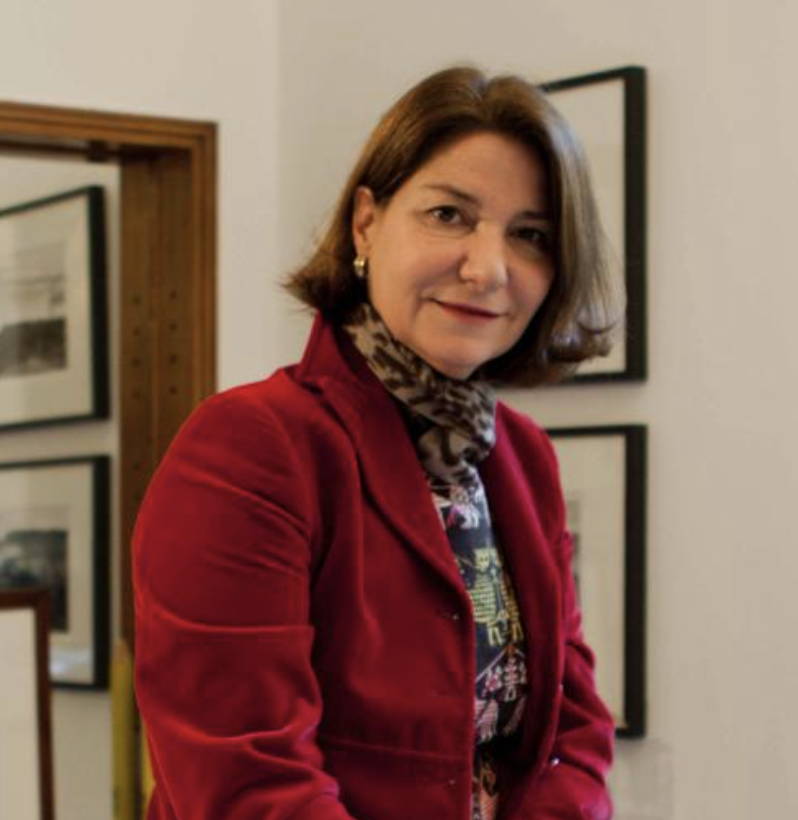 Antonella Dedini is an Italian architect, an interior designer and a University professor.
As a design curator, she found the Milano Design Film Festival, an internationally recognized event that she co-curated until 2019. In addition, she is the editorial author of a unique and atypical Instagram profile named Deden Design List, founded in September 2020, to prove that good Design improves your life.
From August 1st 2021, she collaborates with Design Italy to draw up a monthly list by category of objects, themes, and spaces.
The List is a thematic editorial selection of about 20 pics.
Let's keep an eye on Antonella's selection every month.